Richard "Alex" Murdaugh, the disgraced South Carolina attorney found guilty of killing his wife and youngest son, has been in the spotlight since his murder conviction on March 3, along with his well-connected legal family from South Carolina's low country.
The former attorney, descended from generations of attorneys, made headlines in July 2022 when he was charged with the murders of Maggie and Paul Murdaugh, his wife and youngest son.
Authorities said the double murder set off a chain of events, including a botched murder-for-hire plot that Murdaugh, 54, intended for his surviving son, Buster, 26, to collect on his life insurance payout, and an investigation that led to dozens of charges alleging he committed financial crimes at his law firm.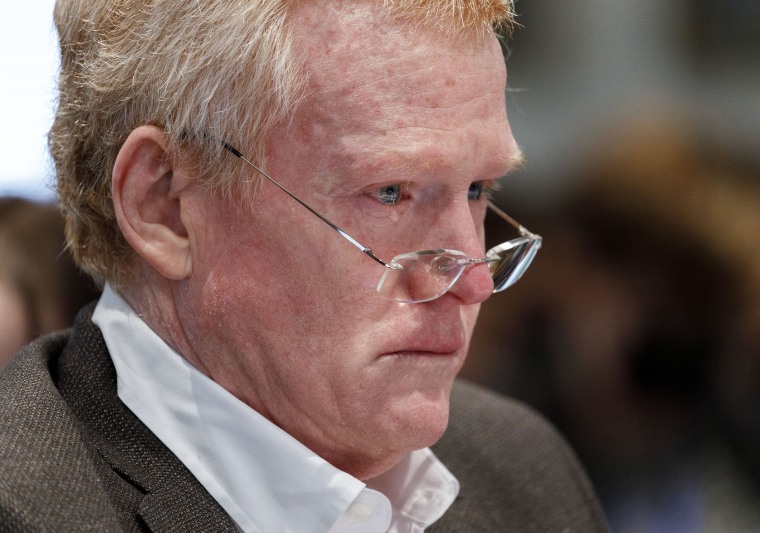 Murdaugh has since been disbarred and has been accused of stealing nearly $8.5 million from his clients at his law firm, according to the South Carolina Attorney General's Office. 
In addition to facing nearly 100 criminal charges Murdaugh is now the subject of the Netflix documentary, "Murdaugh Murders: A Southern Scandal," which explores his stunning downfall since the deaths of Maggie and Paul Murdaugh in June 2021.
Was Alex Murdaugh involved in the deaths of his wife and son, Maggie and Paul Murdaugh?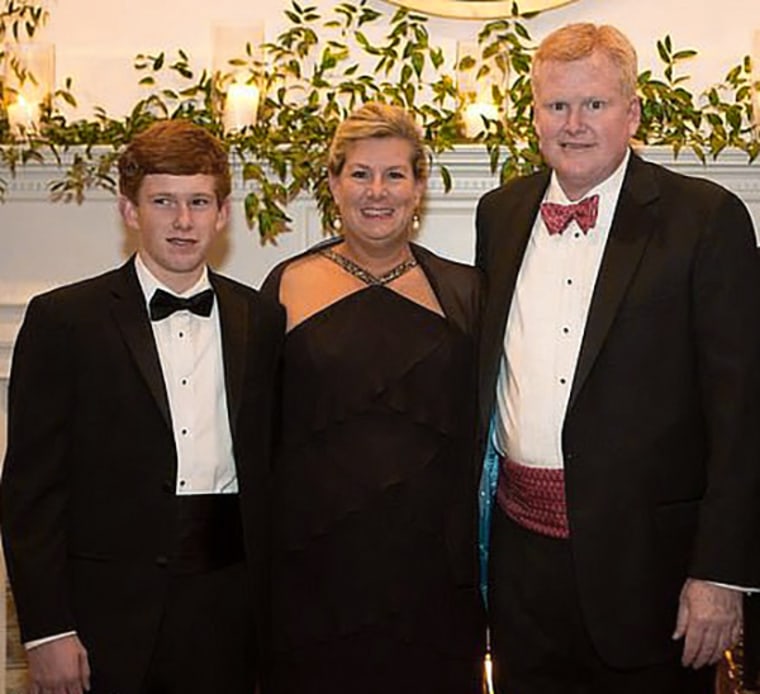 Murdaugh called 911 at 10:07 p.m. to report he found his wife Maggie and youngest son Paul Murdaugh shot dead near dog kennels on their family property about 65 miles south of Charleston, South Carolina.
"I need the police and an ambulance immediately," Murdaugh told the 911 operator, per audio released by the South Carolina's State Law Enforcement Division and published by a Savannah, Georgia news station. "My wife and son were just shot badly."
Prosecutor Creighton Waters revealed in his opening statement on Jan. 26 Paul Murdaugh, 22, was shot in the chest, shoulder and head with buckshot loads from a 12-gauge shotgun, causing "devastating damage" to his body.
Maggie Murdaugh, 52, was shot with a rifle and had gunshot wounds to her leg, abdomen and head, Waters said. He added the two did not have any defensive wounds, "as if they didn't see a threat coming from their attacker."
Their killings went unsolved for more than a year until a grand jury indicted Murdaugh on two counts of murder and two counts of weapons possession charges on July 14, 2022, per NBC.
Murdaugh pleaded not guilty to the charges in July 2022, per NBC affiliate WCSC.
How was Paul Murdaugh involved in a boat accident?
Paul Murdaugh, Alex Murdaugh's youngest son who was found shot dead along with his mother in June 2021, had legal troubles of his own before his death, which became the subject of a 2022 Dateline episode. 
On Feb. 23, 2019, Paul Murdaugh, 19, took his family's boat out for a night of partying on the Beaufort River, as shown in the first episode of "Murdaugh Murders." The boat crashed and resulted in the death of 19-year-old Mallory Beach, who was on the boat.
Paul Murdaugh was charged with three felony counts of boating under the influence, and had pleaded not guilty to the charges, NBC affiliate WSAV reported.
At the time of his death, Paul Murdaugh was out on bail — but he would never face trial for the charges, as he was killed on June 7, 2021.
The charges against him were dropped in August 2021 after the South Carolina Attorney General's Office received his death certificate, NBC affiliate WSAV reported.
Beach's mother filed a legal claim against the estates of Paul and Maggie Murdaugh on Jan. 24, 2022 to get money they believe they are owed as a result of the accident, per NBC.
A settlement was reached between Beach's parents and other survivors of the crash and two of Murdaugh's family members in January 2023, per court documents published by WTOC.
Did Alex Murdaugh hire a man to murder him?
Murdaugh made headlines on Sept. 4, 2021, just months after the murders of Maggie and Paul Murdaugh, when he was found with a gunshot wound to the head in Hampton County, South Carolina, per NBC. 
Jim Griffin, one of Murdaugh's attorneys, told news outlets Murdaugh had pulled over after his vehicle got a flat tire when a person inside a pickup truck passed by and opened fire.
Authorities described Murdaugh's injury as a "superficial" head wound on Sept. 5 per NBC, and the following day Murdaugh announced his resignation from his family's law firm to seek treatment at a rehab facility. 
By Sept. 14, authorities alleged Murdaugh arranged for his former client, Curtis Edward Smith, to kill him so that his surviving son, Buster Murdaugh, could collect on his $10 million life insurance policy, per NBC.
Smith was arrested on Sept. 14 on charges of assisted suicide, assault and battery of a high aggravated nature, pointing and presenting a firearm, insurance fraud and conspiracy to commit insurance fraud, per local news station WTOC. Smith admitted his involvement to authorities, per WTOC.
Murdaugh turned himself in to authorities on Sept. 16 after he was charged with insurance fraud, conspiracy to commit insurance fraud and filing a false police report, per NBC, and was released on bond.
Murdaugh's defense attorney, Dick Harpootlian, agreed to the authorities' allegations that Murdaugh had hired someone to execute him. His attorneys blamed Murdaugh's "addiction to opioids" for his actions in a statement given to NBC.
"He was in a dark, dark dark place and wanted to help his son, the remaining son, Buster, in any way he could, and he thought this was the only way he could leave him with anything," Murdaugh's attorney, Dick Harpootlian, said on TODAY in September 2021.
The attorney for Curtis Smith said, during an appearance on TODAY in September 2021, that his client was being "set up" by Murdaugh. Smith denied shooting Murdaughon TODAY.
Was Alex Murdaugh involved in housekeeper Gloria Satterfield's fall?
South Carolina authorities announced a criminal investigation into the death of Gloria Satterfield, the Murdaugh family's housekeeper, on Sept. 15, 2021, per NBC.
Satterfield died in February 2018 at the Murdaugh family's home in what was described during a 911 call as a fall. Hampton County Coroner Angela Topper said the death was not reported to the coroner, and an autopsy was never performed, per WLTX.
Murdaugh agreed to a $4.3 million wrongful death settlement for Satterfield's family, and admitted "liability to the (Satterfields) for the claims asserted against him" in a confession of judgement filed in June 2022, according to court documents obtained by NBC affiliate WCBD.
The decision to open the investigation came after questions arose regarding why her manner of death was ruled as "natural" on her death certificate, which a coroner has said was inconsistent with injuries sustained in an accident, per a letter written by Hampton County Coroner Angela Topper in September 2021.
Authorities arrested Murdaugh on Oct. 14, 2021 as he was leaving a rehab facility in Florida, NBC News reported, on two felony counts of obtaining property by false pretenses after millions of dollars from Satterfield's wrongful death settlement went missing, the South Carolina Attorney General's Office said.
Attorneys for the Satterfield family released documents, per NBC officiate WCBD, that claimed to prove Murdaugh had defrauded Sattferfield's sons out of a wrongful death settlement. 
Murdaugh admitted he owed the Satterfield family $4.3 million in June 2022, and asked the court to uphold a judgement ordering him to pay the amount in restitution, according to court documents reviewed by WCBD.
On June 3, 2022, South Carolina authorities said they had permission from Satterfield's family to exhume her body as part of the investigation into her death.
What are Murdaugh's financial crime charges?
The same day Murdaugh announced he was resigning from his law firm, the firm, Peters, Murdaugh, Parker, Eltzroth & Detrickhe, released its own statement alleging Murdaugh had misappropriated company funds.
South Carolina authorities opened their own investigation into the allegations, and announced on Nov. 19, 2021 multiple indictments against him totaling 27 counts including charges of breach of trust with fraudulent intent, obtaining signature or property by false pretenses, money laundering, computer crimes and forgery.
"Altogether, Murdaugh is charged with respect to alleged schemes to defraud victims and thereafter launder" nearly $4.9 million, the state attorney general's office said.
By June 28, 2022, the state attorney general's office had charged Murdaugh with more than 80 criminal counts, alleging he had stolen nearly $8.5 million over the course of about 11 years.
The South Carolina Supreme Court formally disbarred Murdaugh on July 13, 2022, one day before he was charged with the murders of Maggie and Paul Murdaugh, per NBC.
On Dec. 19, 2022, a grand jury indicted Murdaugh on nine counts of tax evasion, bringing his total financial-related charges to 99. Murdaugh has not entered any pleas on the financial crimes charges, South Carolina Attorney General's Office Communications Director Robert Kittle told TODAY.com, citing the Clerk of Court of the State Grand Jury.
Where is Alex Murdaugh now?
Murdaugh faced the charges of killing his wife and youngest son on June 7, 2021 during a six-wek trial that began on Jan. 25, 2023, and in a shocking twist, Murdaugh took the stand in his own defense on Feb. 23, telling jurors he did not kill Maggie or Paul Murdaugh.
"I did not shoot my wife or son, any time, ever," Murdaugh testified.
During his testimony, he admitted to lying to law enforcement about his whereabouts on the night of the shootings. Earlier in the trial, prosecutors introduced video evidence that appeared to show Murdaugh at the family property just before the time of the killings.
He apologized to his family for lying to investigators. "What a tangled web we weave," he said on the stand. "Once I told a lie — then I told my family — I had to keep lying."
But Murdaugh insisted that he would never hurt his family. "I would never intentionally do anything to hurt either one of them — ever," he told jurors.
Murdaugh's surviving son Buster Murdaugh, 26, also testified in his father's defense, telling jurors about the first time he saw his dad after the slayings.
"His demeanor was destroyed, he was heartbroken," Buster Murdaugh told jurors on Feb. 21. "I walked in the door and saw him and gave him a hug and just broke down."
The jury deliberated for about three hours on March 2 before convicting Murdaugh for the murders of his wife and youngest son. He was sentenced to life in prison on March 3, and his attorneys said they plan to appeal the sentence.
Murdaugh was taken Kirkland Correctional Institution in Columbia, South Carolina, where he will remain for about a month for evaluation before he's transferred to a maximum-security prison to serve out his sentence.