Around the time former Tuscaloosa Police Captain Mike Flowers was hitting his 25 year mark with the department, another officer was retiring from the Alabama force after 30 years without taking a sick day.
"I made it my mission to beat out his record," Flowers told TODAY.com.
And he did just that.
So, on Oct. 3, Flowers, 59, handed in his badge and gun after 35 years of service without ever having called out sick.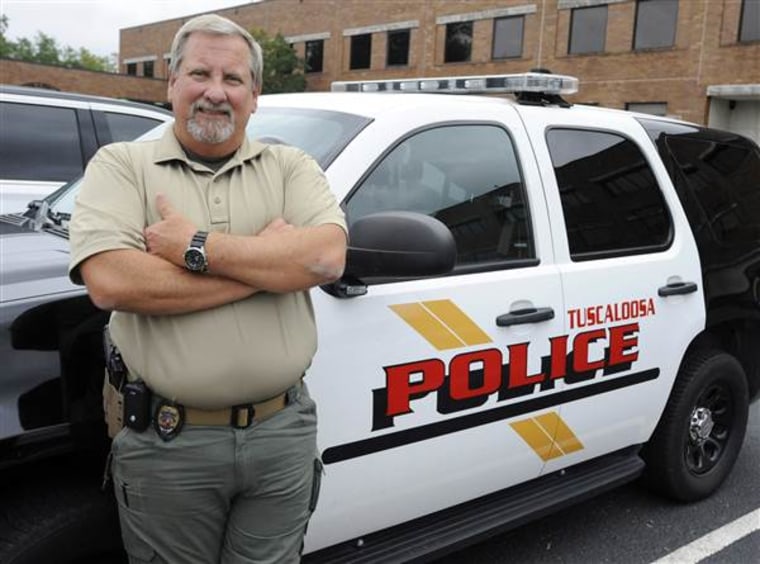 Flowers credited his iron man work ethic to his mother, who was never one to let him stay in bed with a bogus tummy ache.
RELATED: 'My grandmother poisoned me with ham': 10 absurd excuses for missing work
"No matter what, my mom always made me get up and go to school and it stuck with me through my adult life," Flowers said.
"She never came in and dumped a bucket of water on me, but she was the type of mom that when she told you to do something, you did it."
These days, he said, the department frequently gets calls from parents claiming their kids refuse to get out of bed, which boggles Flowers' mind.
"You'd be surprised how many parents can't get their kids out of bed and turn to 911 for help," Flowers said.
He felt fortunate to have had 35 years of good health, and to have passed his resilient genes onto his children, who never needed their dad to stay home with them.
The former lawman largely stayed mum about his impressive record, except for when he had to reprimand officers for taking off too much time.
It wasn't until the end of his tenure that colleagues to start finding out.
Reflecting on his career, Flowers said he enjoyed the adrenaline of being a cop.
"I never jumped out of an airplane or [did] anything crazy like that," Flowers said. "This was enough excitement for me and I truly enjoyed every minute."
And now?
"I've been retired a week and a half and I'm already bored," he joked.
"I've done just about everything around the house I needed to do. I'm going to have to find something to do that requires a lot less stress and effort than being a police officer."
Here's an idea: Catch up on some sleep.