Do we really know what it's like to live in Al Roker's neck of the woods? TODAY viewers got a glimpse Wednesday when everyone's favorite weather forecaster answered questions during a live Facebook chat.
We learned Al loves to cook with his family, even though they don't think he's as funny as we do. We also learned what role the Powerball could play in his future plans, as well as what scares him the most.
Here's what you wanted to know most about Al:
What's he always cooking up?
Amy Hitchmoth: What's in the water tumbler you always drink?
Al: A mix of GT Gingerade Kombucha and fresh ginger
Melissa A. Chapman: What is your favorite meal to cook for your family?
Al: Rack of lamb
Julie Bennett Woodring: What is your go-to comfort food? Love your cooking segments. I can actually recreate at home what you cook on the show.
Al: Short ribs
Lynn Warlick Cross: All time favorite meal?
Al: Grilled bone in rib eye, sautéed spinach, steak fries
How he maintains his healthy lifestyle after gastric bypass surgery:
Rosa Nava Krinksy: How many city blocks do u ride to work 1 way? And what if its too cold or raining/snowing? I live in Tex. Gulf Coast and have NO Idea of your type of weather.
Al: If it's dry, I ride. About 40 blocks
Gloria Ney: What's the one challenge in your life that you are most proud of?
Al: Losing weight
Stephanie Lewis: How much weight have you lost and gained
Al: 10,000 lbs
Diane K. Freestone: You are my motivation in my gastric bypass journey. I'm just in the beginning stages, but you are such a role model!
Al: Use your support group and remember it's a means, not an end
Marcia DeBoer: How are you keeping the weight off? Do you exercise regularly, any special food tips? You look great and very healthy, inspiring to see. Thanks
Al: Workout four days a week and watch what I eat
Paula ReGer: Have you had any complications from the weight loss surgery or problems keeping the weight off?
Al: Thank God, no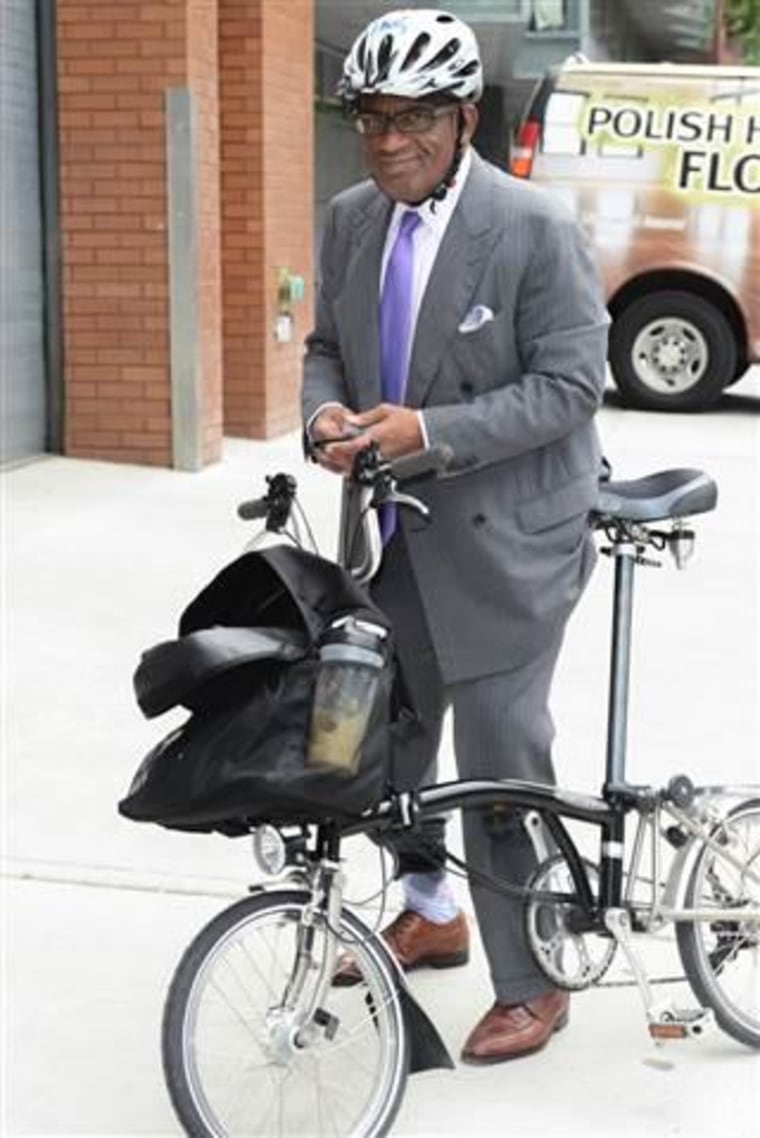 His family life:
Debra Lumpkins-Gruber: What is your favorite thing to do with your kids and family?
Al: Making dinner
Brittney Rodriguez: Al, recently Kim Kardashian was asked who she would most like to take a selfie with. If you were asked the same question who would it be and why?
Al: My kids. I don't see enough of them. They are growing so fast
Kara Davidson Elbaz: Do you keep your family laughing as much as you keep us laughing? My bet is your family must laugh a whole lot!
Al: They do not find me at all humorous
Sam Williams: What's the coldest and hottest places you have ever done a weather report from?
Al: My bedroom after ticking off my wife and Las Vegas
Sarah Davis: Are you a romantic type with your wife? What does she get from you on Valentines?
Al: I am, but I'm not telling
His favorite TODAY moments and how he juggles his many jobs:
Julie Harrison: Do you still have nightmares over the luge run?
Al: I wish for it longingly.
Diana Martin: How do you do it Al with your schedule on the Weather Channel and TODAY show and everything else you do!
Al: I am one of 6 clones
Karen Tallent Bogard: Was the Rokerthon hard to do? Did you do anything special to help you stay awake?
Al: I looked at pictures of Matt longingly
Teri LaCoy: What is the most memorable weather event you have ever covered?
Al: Superstorm Sandy
Nola Kars Lester: What type of weather scares you the most Al??
Al: Tornadoes
WATCH: Matt, Al crash into wall on second luge run
What he did in his previous life:
Helen Brown: How old where you when you became interested in weather?
Al: 19
Janice Mintz: How did you get to this profession? I watch and follow weather closely.
Al: By accident. A college professor put me up for it. I wanted to be a writer/producer
Linda Weiss: I would ask if you always wanted to be a meteorologist, and how did you get your start, and what other jobs have you held before you made your career in weather?
Al: Supermarket shelf stocker, radio DJ
His plans for the future:
Marie Jenkinson: I loved your book. Are you going to write another one?
Al: Stay tuned
Rachel Shamblin: Any one thing you want to still do in your professional life?
Al: Visit a volcano
Gerald Baker: What do you want to do later in life when retirement comes calling?
Al: Never retiring
Linda Long: Would you retire if you won the Powerball?
Al: In a heartbeat
His favorite hobby:
Sharon Simonelli Fujs: Why don't you draw cartoons anymore? I miss them from your Cleveland days.
Al: I might start again
Michael Stone: If you had to choose,what career would you do other than a weatherman?
Al: Animator
Tami Potter: What was your favorite person to interview?
Al: Charles Schulz
His personal idols:
Bob Labrec: You may sit down and have drinks with three historical figures, living or dead, who do you pick?
Al: Martin Luther King, Jr. Caesar, Jesus
Margaret Womble French: Who is the one person you admire the most and why?
Al: President Obama. I just ticked off a bunch of people but there it is
How he handles his critics:
Barbara Mary: Must you alway's shout!
Al: WHAT!!???!!
Nancy J. Townsend: Yes why is Al SHOUTING ughhhh
Al: WHAT DID YOU SAY????
Heather Nicole: Yea who said you're Americans favorite?
Al: The Russians
June Anderson: Why are weathermen so often wrong with their predictions?
Al: Everyone needs a goal
Who really takes care of TODAY's guide-dog-in-training:
Elese Hill Stover: Who cleans up the dog poop when Wrangler has an accident?
Al: Willie Geist
Check out these other Facebook chats: