It finally happened! After months of asking, Vice President Joe Biden joined TODAY Wednesday, delivering a birthday surprise to Al Roker as the TODAY anchor celebrated his 60th.
Biden appeared on the show from Washington. The special visit was just the latest development in a well-documented bromance between the two. 
Perhaps it stems from their homegrown roots, a mutual admiration from one blue-collar kid to another: Biden, the son of a used car salesman from Scranton, Pennsylvania, and Roker, a kid from Queens whose dad drove a bus. 
Here's a look back at key moments between the weatherman and the veep:

(1) A big handshake
The seed was planted on the day of their handshake at President Obama's second inauguration. Roker was manning the rope lines on Jan. 21, 2013, when the vice president walked by. Roker repeatedly called out to Biden until the vice president stepped away from the procession during the inaugural parade to run over and shake Al's hand.

The rest is (bromantic) history.
(2) Breakfast with Biden
In July 2013, Al made his first callout for the vice president to host TODAY's Take.

"Mr. Vice President, the door is always open," Al said. And Biden responded!
(3) Heat from the handshake
Two months later, Al interviewed the vice president after Biden toured several flood-ravaged communities in Colorado. During a lighter moment, Biden informed Al about all the flak he took for the inaugural handshake that first connected the pair.

"I got in so much trouble for coming over in the inauguration day parade with you," he said. "I got so much heat!"
(4) Cuff links to high places
Earlier this year, with a quick flick of the wrist, Al displayed a pair of cuff links featuring the vice presidential seal on them. And did he happen to mention where he got them from? 

"A little something from Vice President Joe Biden," he said while displaying his French cuffs.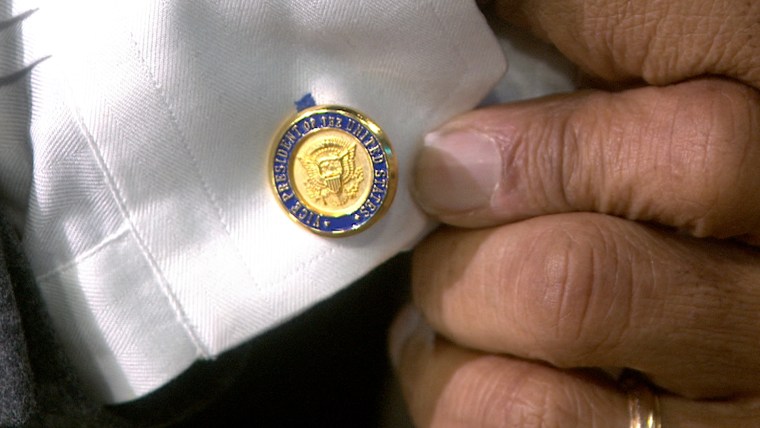 Al then used the occasion to beseech Biden yet again to co-host the show.
"It's the new year. Mr. Vice President. We're begging you, come on down. Come on up to New York City and co-host this fabulous program, 'TODAY's Take,'" he said. 
"We'll even bring you some of our TODAY's Take cuff links," Al promised, before ordering someone offstage to quickly design some.
Just weeks later, however, Biden delivered a crushing blow when he showed up as a guest on Seth Meyer's first evening as "Late Night" host. 
"He was right across the street," Al noted, just before he pretended (we think) to cry.
But then this happened:
(5) Hello, Al? 
While recuperating at home last April following shoulder surgery to repair a damaged rotator cuff, Al got a surprise get-well phone call from Biden.

"We're moving ever so closer to getting the vice president to come to the 9:00 hour," Al said.

"Even if I have to rip my arm off."