When it came Al Roker's turn to reveal his personal inspiration as part of TODAY's week-long #InspiredBy series, in which the anchors and fans on social media have reflected on people who have inspired them, the choice was easy: TODAY's weather reporter and centenarian birthday man, Willard Scott.
Willard's seemingly effortless reporting style, his caring nature and his charisma are what inspired Al. "He gives of himself," Al explained Friday. "A lot of people in this business when there's a young person coming up, they see them as competition. And Willard's not that way: He makes sure somebody else gets a fair shake."
Al and Willard first met when they both worked in Washington, D.C. At age 22, Al had taken a job as a weathercaster, and he couldn't believe that one of the most famous weathermen in the country had taken an interest in him and his career: "It was mind-boggling."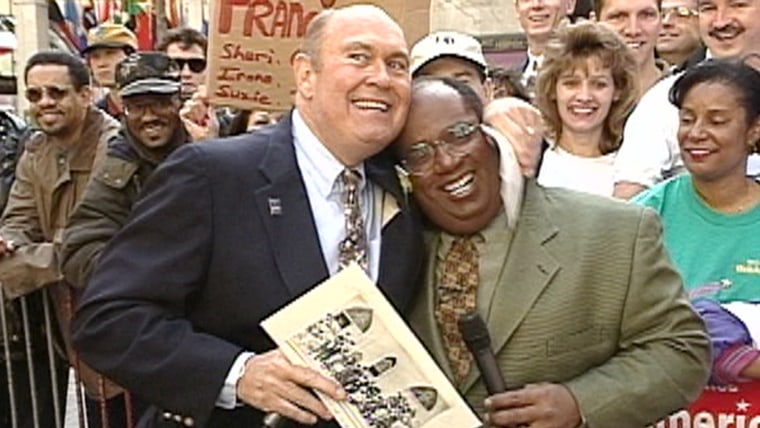 As for Willard, he said Friday on TODAY that he was quite surprised that Al chose him as his inspiration. But having spotted young Roker's potential when they first met, he's not surprised at how Al has succeeded.
"I saw a lot of me in him and I knew that he had that kind of personality where he loved people," Willard recalled. "I just always believed in him and I knew that his day was coming when he'd be a superstar." 
And sure enough, Al's career has skyrocketed since then. Not only has he been TODAY's weather and feature anchor since January 1996; in 2009 he also began co-hosting the morning show "Wake Up with Al" on the Weather Channel. And Willard has definitely been a huge influence.
"Best advice almost anyone's ever given was the two big things he told me," Al said Friday. "Never give up your day job: Don't give up on the weather. But more importantly, only be yourself." 
"We were kindred spirits," Al said. "I wouldn't be here doing the TODAY show if it wasn't for Willard."