He did it! After 34 hours, Al Roker now holds the Guinness World Record for longest uninterrupted live weather report. As you would expect of anything involving Al, there was enough fun to keep it going all weekend.
The co-anchors celebrated Al's record-setting forecast with balloons and confetti, but the highlight was a surprise congratulatory call from none other than Vice President Joe Biden.
"All that money for the USO! Thanks buddy!" said the vice president. "But you should have spoken to me earlier about live mics. I could have told you something."
Here are our favorite moments from Al's record-setting #Rokerthon (microphone incident and all):
1. Giving 'live stream' a new meaning
The evening's most memorable moment came when Al took his first bathroom break — with his microphone streaming sound to viewers. Al's take on the moment: "Live stream has a new meaning."
2. Al entertaining himself throughout his nights
Whether it was singing, dancing or hamming it up for the Guinness witnesses in the room, Al kept busy throughout the night in all the ways you'd expect him to.
3. Al's visitors

Al has already hosted a slew of guests throughout the first night of the #Rokerthon. Here are some of the highlights:
"Homeland" and "The Blacklist" actor Diego Klattenhoff helped him kick off the even at 10 p.m. ET Wednesday night.
After banging on the window to get Al's attention, his wife (and fellow journalist) Deborah Roberts made her way inside to deliver some hot chocolate and a quick smooch.
Ryan Eggold, also of "The Blacklist," stopped by to give Al his well-wishes during the first hour.

All of the anchors made time to visit, including Tamron Hall, who showed up in her pajamas around midnight to kick off the third hour of the weather marathon, bringing her dogs along to keep Al company.
TV icons Alan Alda and Candice Bergen crashed Al's weather report during TODAY on Wednesday to get an update on the day's forecast for New York.
Fellow weatherman Sam Champion checked in on Al to see how he was hanging in.
Al tried to talk "The West Wing" creator Aaron Sorkin into creating a a sequel series to "The Newsroom" all about weathermen.
Puppets invaded when ventriloquist and comedian Jeff Dunham brought his act to #Rokerthon.
Nick Lachey was heading back to his hometown of Cincinnati, Ohio, after his performance on Kathie Lee and Hoda Thursday, and tapped Al for a quick forecast on what kind of weather he could expect when he landed.
Willie Geist and wife Christina swung by Thursday night for an emergency barbecue delivery to help get Al through the night.
Near midnight on Thursday, Al received a very strange singing telegram from his TODAY's Take co-anchors.
And here's a collage of the famous faces who stopped by!
4. Strange one-liners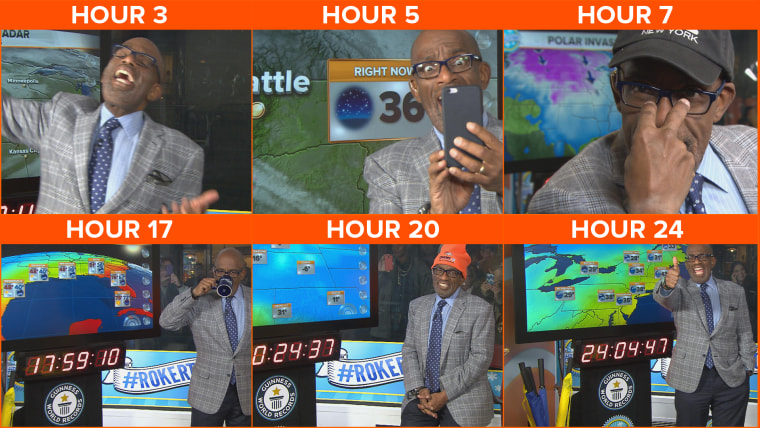 Al is known for his one-liners, and it didn't take him long to get them rolling in the #Rokerthon. Here are some of our favorite Roker-isms:
10:29 p.m.: "Are you a penguin?"
10:33 p.m.: "You can see how concerned they all are about me. They're all drunk!"
10:45 p.m.: "There's no place like Nome. Only 35 minutes in and crickets."
11:34 p.m.: "Chicken wings are like the weather — good cold or hot."
12:05 a.m.: "I'm sorry, I just napped there."
12:50 a.m.: "This fellow from South America is very lonely."
1:10 a.m.: "At some point are we going to have to change my batteries?"
3:30 a.m.: "That's it for this edition of #Rokerthon, tweets!"
3:47 a.m. "Livestream has a new meaning!"
5:18 a.m.: "If I see the groundhog, I'm slapping him."
6:04 a.m.: "I am the Liam Neeson of weather"
6:53 a.m.: "I forecast lots of jerky!"
7:48 a.m.: "We've had a lot of talk of urination today."
11:05 a.m.: "It's so cold, none of the temperatures are showing up."
12:24 p.m.: "We've literally kicked Kim Kardashian's butt!"
1:27 p.m.: "I'm getting a little sloppy here."
7:01 p.m.: "I'm sleepwalking. It's amazing. I am so rested right now!"
9:59 p.m.: "24 hours will be a psychological boundary."
10:33 p.m.: "We have a big cloudy kabuki dancer coming in."
11:21 p.m.: "I like to leave my audiences riveted"
11:36 p.m.: "I'm hallucinating."
1:56 a.m.: "Matt is a huge 1D fan."
2:02 a.m.: "We are approaching 28 hours, slowly but surely. Don't call me Shirley."
2:34 a.m.: "Do you like walking in the rain? Do you like playing in the rain? I've never liked it."
2:40 a.m.: "It's called a coffee cup. But if there's tea in it, is it called a tea cup?"
4:11 a.m.: "I'm like the weather. I feel strong. I feel windy. I feel cold."
5:42 a.m.: "I think my forecast for everyone should be an increasing chance of bacon"
7:16 a.m.: "For 33 hours I've been in this room and it smells like it."

And to celebrate the record, TODAY's Take rewarded Al with a recliner and much-needed massage while he (sort of) delivered his final weather forecast of the day.
But Al wasn't alone in the #Rokerthon, and he made sure to show his appreciation for the producers who helped during the 34-hour event with a special T-shirt for Sean "Big Sean" Reis for staying by his side through the whole thing.
Al's attempt is part of Guinness World Records Day, an international celebration of record-breaking taking place across the globe November 13. Al is asking people to pledge support via his Crowdrise campaign, which benefits our armed forces and United Service Organizations (USO).  

Here's #Rokerthon by the numbers: