An Air Force captain completed a successful mission in front of thousands of cheering NFL fans on Sunday when he got down on one knee during a break in the game and proposed to his girlfriend, a cheerleader for the Arizona Cardinals. 
Air Force captain Eric Straub, 26, dressed in his flight suit, received a resounding "Yes!'' from cheerleader Claire Thornton, 24, as the crowd roared its approval during the break between the first and second quarter of the Cardinals' game against the Washington Redskins. The proposal was shown on the giant video screen in the stadium.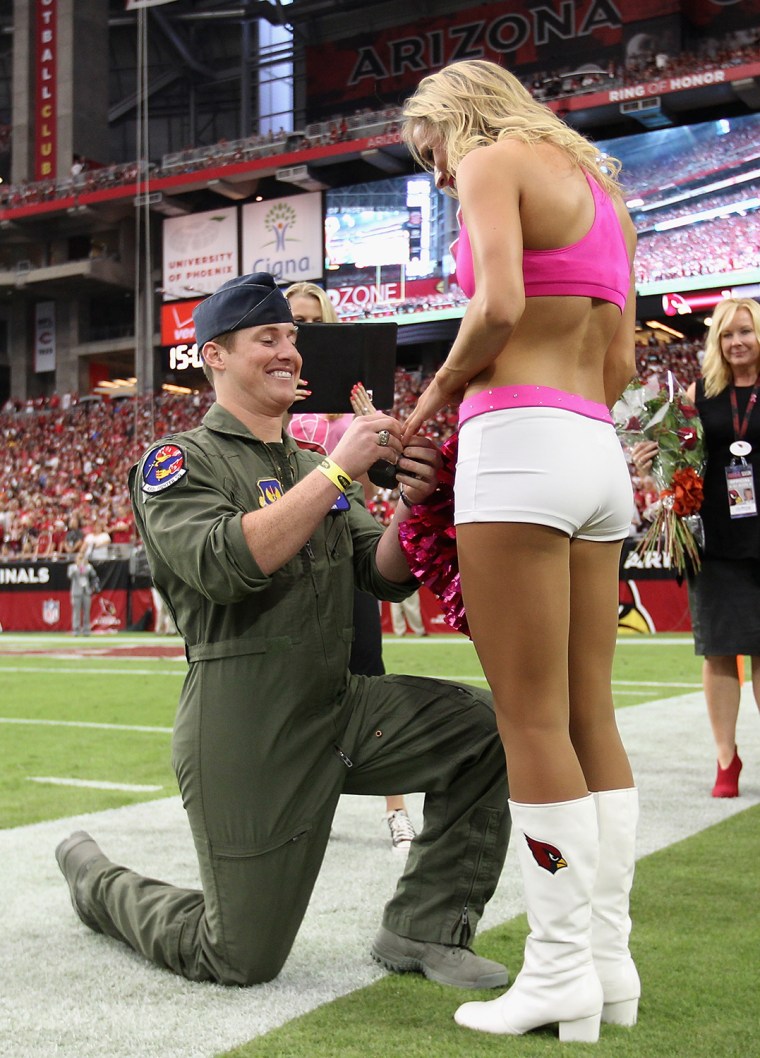 "It was pretty amazing,'' Thornton told TODAY.com. "I was shaking really bad. He's like 'Put the ring on!' And I'm like, you put it on me!' The best part about everything is that my whole family was there and his whole family was there, and I was doing what I love with the people that I love. It was the epitome of the best day ever.''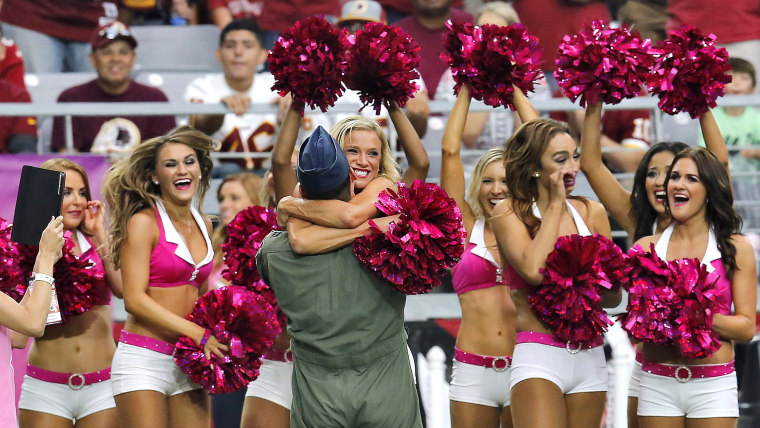 Straub, an F-15 pilot in the Air Force, had just returned from a deployment in the Middle East the previous night. Thornton was expecting him to propose at some point during his time at home, but had no idea he was going to do it at the game. She knew the Cardinals were giving Straub a special welcome home during the game because during cheerleading practice they had gone over what would be on the Jumbotron and there was a message for Straub.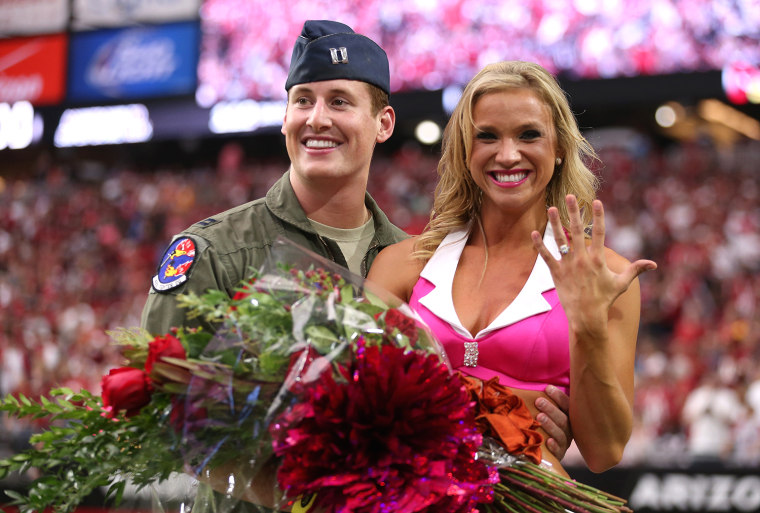 Meanwhile, Straub had already worked it out with Cardinals officials that he would propose when he came out on the field. Thornton was scanning the stands for him after the first quarter before she realized he was on the field with her. 

"Claire had no idea what was going on,'' Straub told TODAY.com. "I just wanted it to be special for her, and I wanted her to be surprised. I saw they had 'Claire, will you marry me up on the screen?' and I had missed my cue, so I got over there quickly. 

"It was so loud you couldn't hear anything. I had all these things I wanted to say, but once I got down on my knee, I had no idea what to say. I think all I said was, 'I love you marry me!' It was funny.'' 
Thornton's cheerleading teammates then celebrated with her after the game. 
The couple, who went to high school together in Arizona, have been together for about a year. Thornton is a first-grade teacher from Scottsdale, Arizona. 

"I thought they were just surprising Eric with the welcome home message,'' Thornton said. "I had no idea what they were going to do at all. It was just an amazing day."