​Jaden Hayes has a lot to be sad about. Two years ago, the 6-year-old lost his father. Two weeks ago, he unexpectedly lost his mother.
But instead, the young Georgia first grader decided he wanted to be known for his smiles — the ones he gives and the ones he brings to others.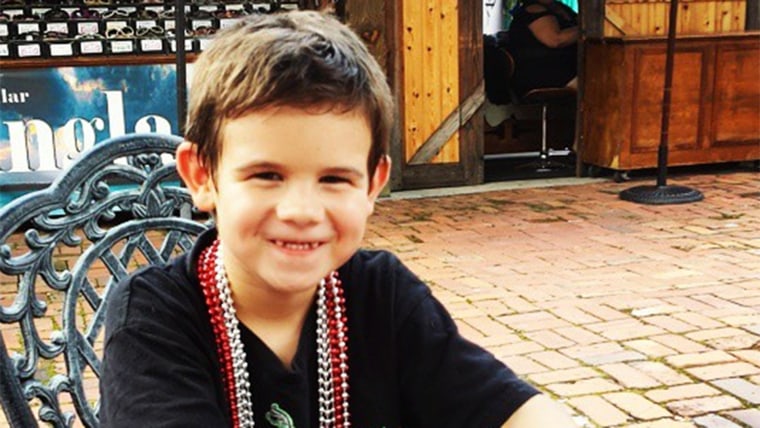 "After attending a funeral and a viewing, and seeing all these grownups walking around and nobody was smiling, he just got tired of people with sad, frowny faces," recalled Barbara DiCola, his mother's sister. "He really wanted to make people smile and so asked me, how we could make people do that."
DiCola told Jaden the best way to make someone smile was to smile at them first. But she also warned him that technique doesn't always work on everyone.
"So he says, 'Well, what if you give them a toy?'" she said.
Armed with bags of trinkets and small toys from the party supply aisle at their local Wal-Mart, DiCola took Jaden to downtown Savannah, Georgia, and started scoping out the people who passed them by.
"He would sit back and he'd say, 'They're not smiling, Auntie. They need a (rubber) duckie and these beads,'" she said.
Jaden approached at least 275 people last week during their two outings. Most people immediately gave the boy a grin after learning why they were approached. Several also gave him a hug.
Many people were moved to tears after hearing Jaden's story and would offer to give DiCola donations, which were declined.
"We've only had two people completely push us aside," she said.
Except for the first several days after the death of his mother — who DiCola said died in her sleep — Jaden has "been a little miracle" in the way he's handled his most recent tragedy.
"I don't know how his little brain is processing it, but I think this all is helping in his healing process," she said.
Her daughter, Natasha Compton, who has been chronicling Jaden's "smile giveaways" on her Instagram account, said her cousin's project has also helped the entire family heal.
"It's certainly helped me a lot because me and his mom were real close. She helped raise me," Compton said. "It's helping me, and I know it's definitely helping my mom."
DiCola said Jaden has always sought ways to bring joy to people ever since she can remember.
"He's just a ray of sunshine. He's always been like that. It exudes from him," she said.
The two plan to hit the Savannah streets again on Tuesday.
"We are all amazed at the strength he has, and it filters through," she said. "We all smile a lot more than we would be at this point. You can't help it. You see him smile, and you can't help it. You gotta smile."
Follow TODAY.com writer Eun Kyung Kim on Twitter.