/ Source: The Associated Press
Every decision President Barack Obama has made over the past 100 days has been analyzed this way and that. The same could be said for first lady Michelle Obama, and nothing has been more widely discussed than her wardrobe choices.
It was with bated breath the world waited to see her inaugural gown, what she'd wear to meet the queen and her fashion face-off with Carla Bruni-Sarkozy of France. Each of those outfits produced subsequent (and significant) debate in the media, on blogs and at coffee klatches everywhere about her bare arms, formfitting sheaths and relaxed style.
Since arriving at the White House, Mrs. Obama has stayed true to her independent style, but she's also grown additional confidence, observes Amy Fine Collins, a special correspondent for Vanity Fair.
"She looks less worried about making a mistake, but the definition of what she can wear is being broadened every time she steps out," says Collins, who works with the magazine on its International Best-Dressed List, to which Mrs. Obama has already been named twice.
The time had come to break the mold of the first lady uniform, says Hal Rubenstein, InStyle fashion director. "I say this with real snarkiness: They all wore `that suit.' That Adolfolike suit that was glued onto Nancy Reagan and Laura Bush, and Hillary (Clinton) did her best to fit into it. It became the political wife uniform ... and it was dull."
Mrs. Obama has an air of modernity, he says. "I'm not saying you imagine her living down the block but she looks like a modern American woman, not a political artifact."
Nothing did more for her image — and the image of American fashion — than her trip to Europe. She even upstaged her husband, Collins notes, thanks to her elegant, chic look.
"They, as a couple, have a dynamic," Valerie Steele, chief curator of the Museum at the Fashion Institute of Technology, says, adding that Mrs. Obama's image in turn reinforces her husband's as "young, fresh and forward-thinking."
Their daughters, Sasha and Malia, complete that picture, dressing just like other tweens and adding to the impression that this White House is accessible.
"The girls' choices are pulled together but not overly done," says Catherine Moellering, president of childrenswear label Best & Co. "It's apparent these kids are picking out their own clothes.
"Meanwhile, Mrs. Obama's closet is a mix of up-and-coming designer labels like Isabel Toledo and Jason Wu, a few established ones such as Michael Kors and Narciso Rodriguez, and off-the-rack pieces from national retailers such at J.Crew, Gap and Talbots. She'll wear the same belt, shoes or sweater with several different ensembles — as most women do.
A look back at Mrs. Obama's first lady style at home, away, and out and about:
FormalMrs. Obama doesn't hide her feminine shape in her formalwear, instead embracing fitted bodices and slightly flared skirts. It's also a natural time to highlight her toned arms.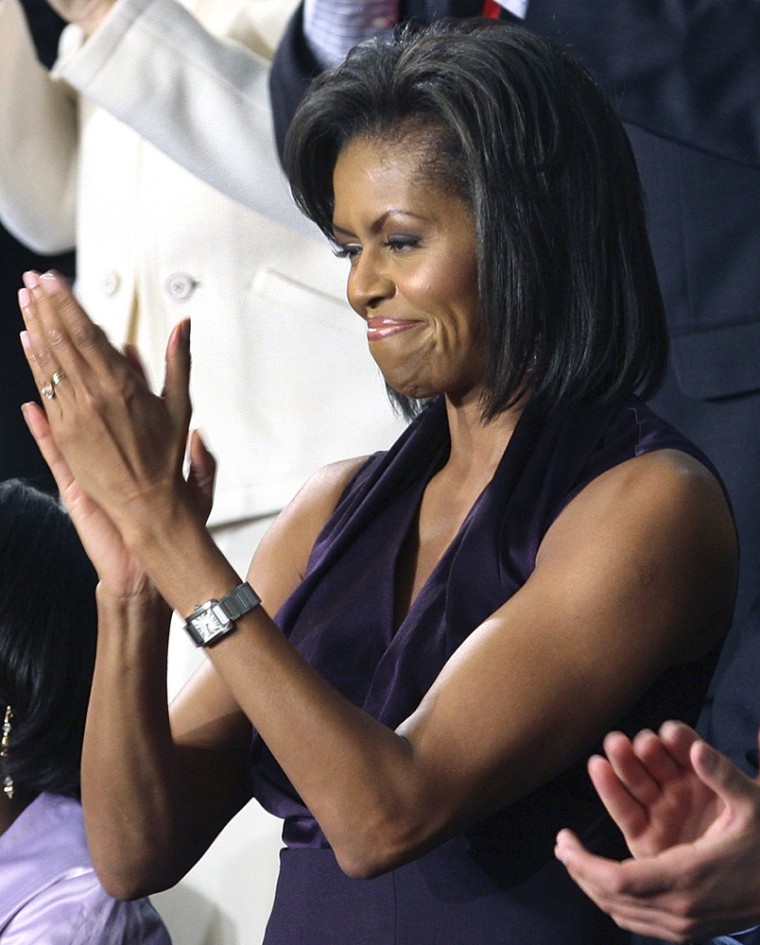 The bare-arm debate seems very old fashioned, says FIT's Steele. "I think there's an undertone that bare arms are only acceptable for the young. It seems sexist and ageist, but some women are seeing it all as empowering, saying, 'You go girl, show off your arms.'"
Mrs. Obama looked particularly stunning in an emerald green Kai Milla dress. Steele thinks the colors send a psychological signal. "The colors are perceived as cheerful and upbeat. In the campaign it signaled one thing — that things would change — but now it signifies that things are going to get better," she says.
In the community
Belts, button-downs and cardigans are key parts of Mrs. Obama's wardrobe when she is in the community, whether she is reading at schools, giving a speech or touring government offices.
Who would have thought someone considered as trend-right as Mrs. Obama would make a cardigan a signature? On her, though, she shows the sweater — which she wears in slim silhouettes and in shades ranging from pink to black — isn't just for children or old ladies.
"It's clever to not wear the jacket all the time, which can look stiff and proper. That's for Hillary (Clinton) or Cindy (McCain), but the cardigan covers up in the same way but it's soft and versatile," Collins says.
It's at these public-but-not-formal appearances that Mrs. Obama actually seems to have the most fun with her clothes. She's not wearing head-to-toe ensembles so she's doing the mixing and matching largely by herself, another everywoman move.
"It reminds us that fashion is a game we can all play and that it's fun," says Steele.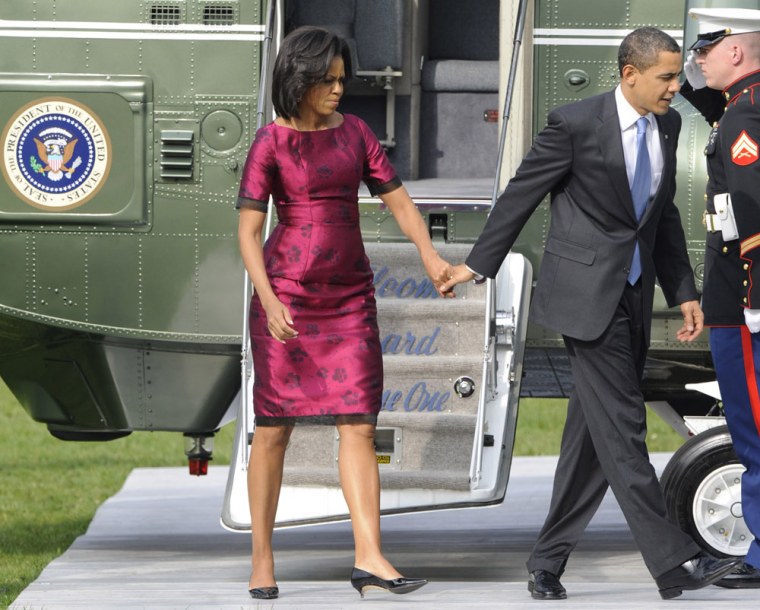 Traveling
If American armchair fashion critics are interested in Mrs. Obama's wardrobe, Europe's were downright obsessed during her recent visit. She began her fashion show in a chartreuse Jason Wu dress in London and continued it through later stops in France, Germany and the Czech Republic.
Mrs. Obama truly represented the unfussy American aesthetic, especially when she met with Mrs. Bruni-Sarkozy, Collins says. "My reading of it was they were dressing to mutually admire each other, and that's the way the women I know dress: so that other women will admire their clothes."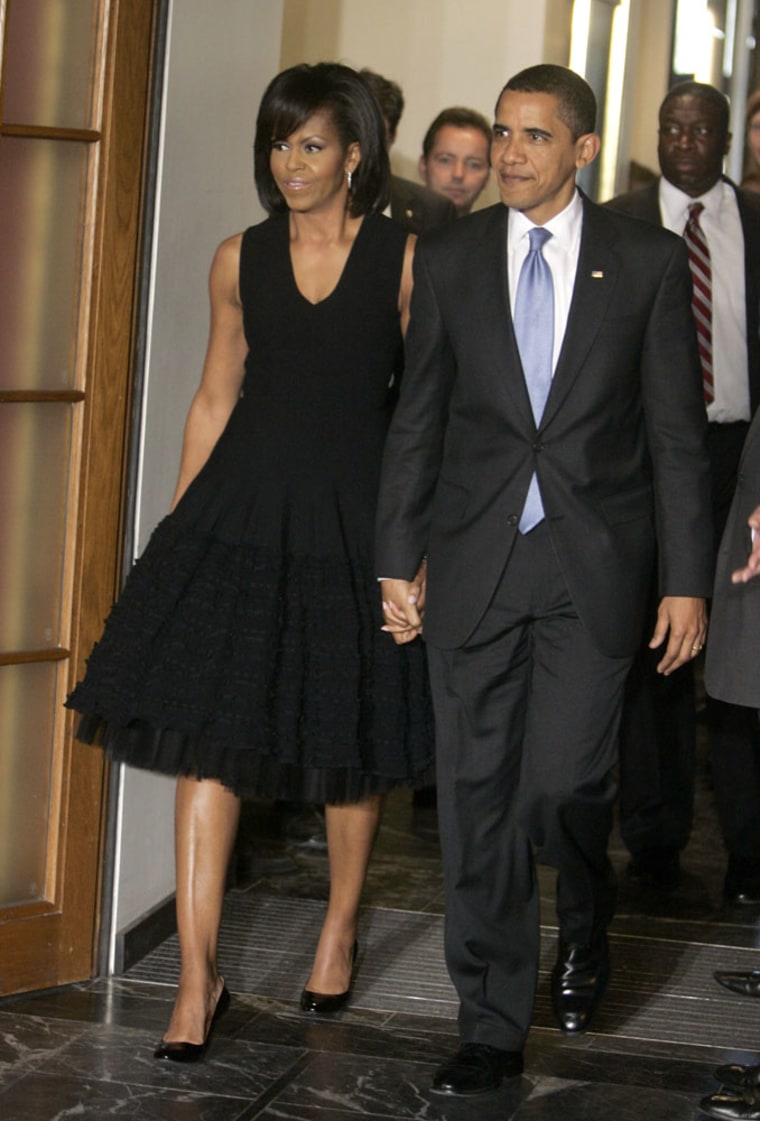 A slim black dress with a V-neck by Azzedine Alaia was one of Rubenstein's favorite outfits so far. "It was really sensual, almost to the point of sexy," says the InStyle trend-watcher.
"It was very high style and a little daring," agrees Collins. "First of all, Azzedeine Alaia is an edgy designer, not conventional or mainstream. She likes designers like the Obamas are politically — those with unconventional ideas."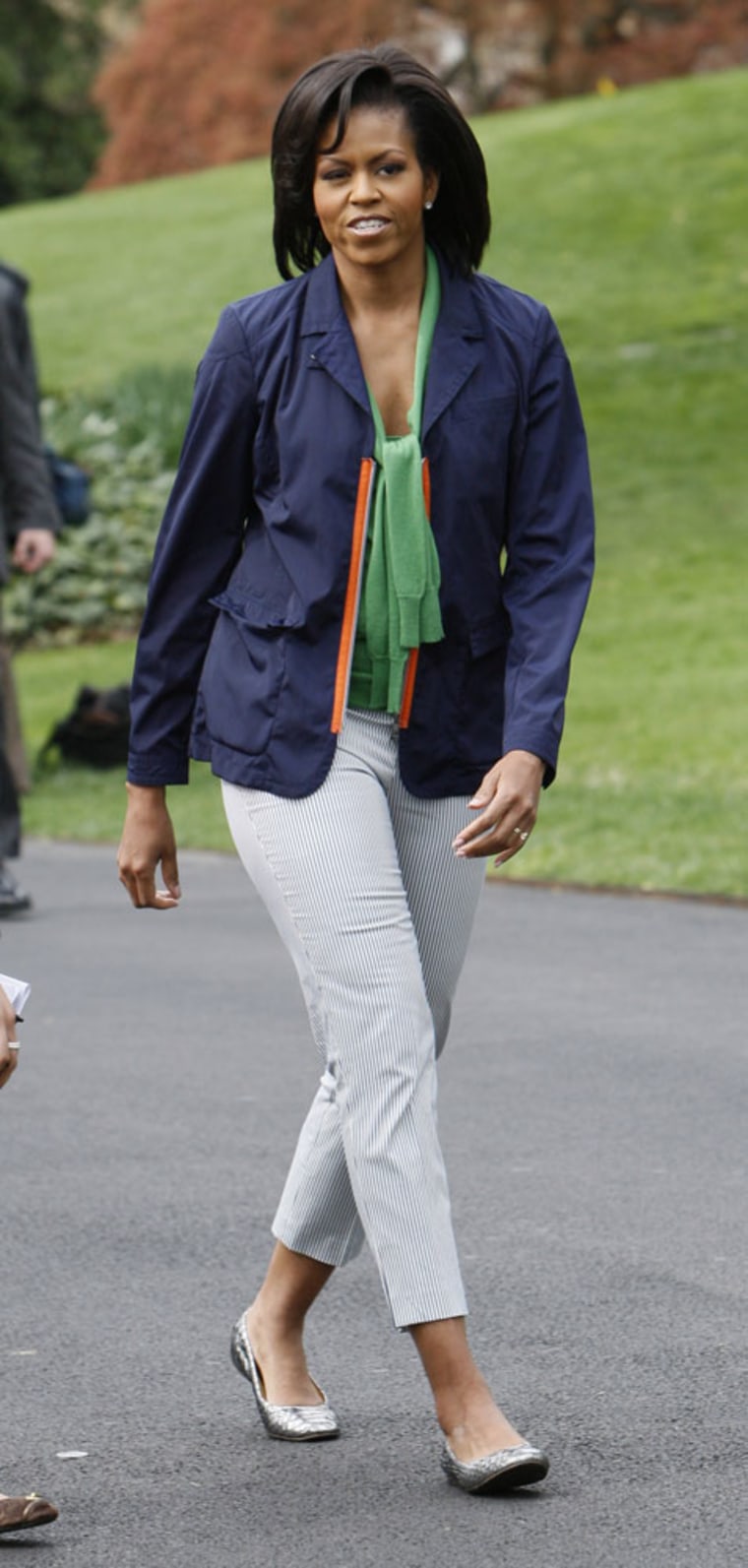 At home
Mrs. Obama's casual clothes have probably had the biggest makeover since her campaigning days, when she did on occasion wear some dowdier pieces. She now maintains a stylish, pulled-together look.
If the family is on the road together, Mrs. Obama counts on slim dark pants and ballet-flat shoes to anchor her outfit, and she seems to have a few good pairs of gardening boots for her days on the White House lawn.
Rubenstein notices she never looks uncomfortable.
"I think the fact that she's proud of who she is comes across in her clothes. She's not wearing pajamas or sweats, but you don't imagine her looking uncomfortable," he says. "She doesn't look as if she wants to jump out of these clothes. You imagine those other first ladies unbuttoning their jackets or undoing their jabot blouse as soon as they got behind closed doors."
The girls
Sasha, 7, and Malia, 10, have learned a lesson in consistency from their mother, says Best & Co.'s Moellering, but their styles probably will evolve over the next four years simply because they are at ages when girls really start developing their own fashion sense.
Both Amy Carter and Chelsea Clinton changed their looks dramatically while at the White House, she notes.
So far, the Obama girls' affinity for knit dresses, leggings, sneakers, graphic T-shirt and backpacks put them smack in the center of their peer groups. The peace sign Sasha's been photographed wearing on a cardigan is a hot item for young girls.
Moellering thinks the girls are making their own calls on their clothes because they never are too matchy-matchy.
She is eager to see what happens as the weather warms and the girls take off their coats more often. They have the power to spark mini-trends just like their mother, Moellering says.