Sometimes it can take a while to find Mr. Right. For Maria Teresa Cobar, it took eight decades.
The 80-year-old bride tied the knot for the first time when she married Carlos Suarez, a 95-year-old widower.
The couple met back in February, shortly after Suarez moved into her Miami nursing home. He was assigned room 404. She lived across the hall, in 407.
They shared a mutual attraction from the start.
"When she came out with her walker in front of me, I thought, 'Not bad,'" Suarez said in Spanish through an interpreter. "And when she came by, I said, 'I'm not letting her get away.'"
Suarez began accompanying Cobar to her favorite arts and crafts activities. They watched the news together, as well as sunsets. They danced at parties, Suarez from his wheelchair.
They held hands whenever possible and soon became inseparable. Everyone started called them "the lovebirds."
"That was their nickname. You knew exactly who someone was talking about when they said that," said Allison Almirola, activities director for the Aventura Plaza Rehabilitation and Skilled Nursing Center, where the couple live.
RELATED: 'Madly in love': Sweethearts reunite nearly 6 decades later
Cobar was born in Guatemala, but moved to the United States as a 27-year-old single mother. She worked for decades as a nanny and housekeeper. She dated occasionally over the years, but "found it hard to find the right man," she said through an interpreter.
Her priority was her daughter. "I really didn't need anybody else," she said.
Then she met Suarez.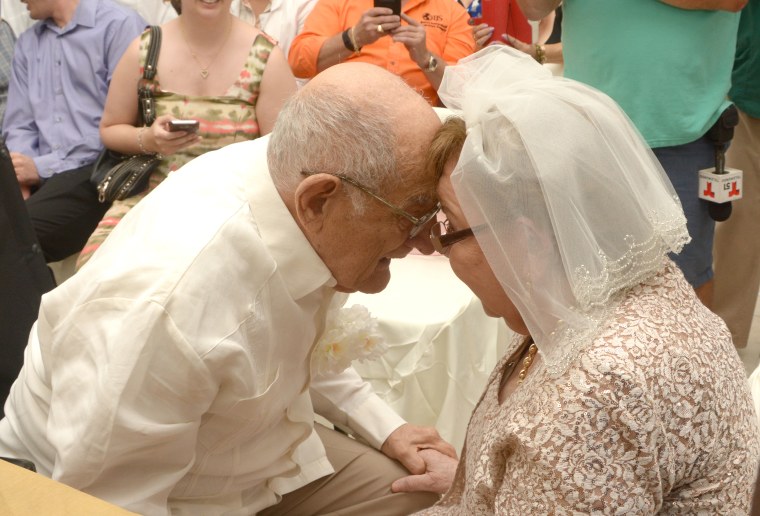 He had moved to Miami from Cuba 56 years ago with his wife and their son. He started a jewelry business, which his nephew now owns. In 2006 Suarez became a widower, but he said he never gave up hope of finding love again.
When he met Cobar, who has lived at the nursing home since 2009, the two connected right away.
"My mother told me, 'Men like him do not exist anymore," said Cobar's daughter Ana, 56. "She thought he was very polite, very considerate, very special."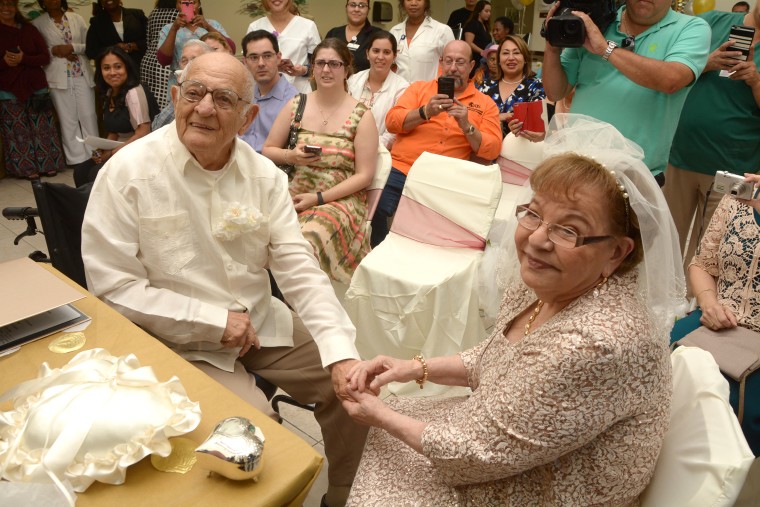 Suarez proposed by simply suggesting, "let's get married." But he had shared his intentions weeks earlier with his granddaughter.
"He said, 'I'm already past the age of playing games. I shouldn't wait,'" said Katrina Suarez, 29.
RELATED: 10 secrets from couples married for decades
So on Nov. 10, Cobar walked down the aisle in a white veil and champagne-colored lace and sequined dress. Her groom, wearing a long-sleeved, cream-colored guayabera, met her at the altar.
Ana arranged for the flowers and most of the decorations, but the nursing home provided the arch, balloons, and musical entertainment, as well as the ceremony's site: the dining hall.
"It's not every day that you get to witness love like this, and especially at this stage in life," said Ilene Zweig, executive director for Plaza Health Network Foundation, which helps support programs at Aventura Plaza.
RELATED: 'It's never too late for love': 84-year-old grandma marries high school friend
"The fact that Maria never thought this day would be possible and we were able to play a part in making it a reality really warms my heart."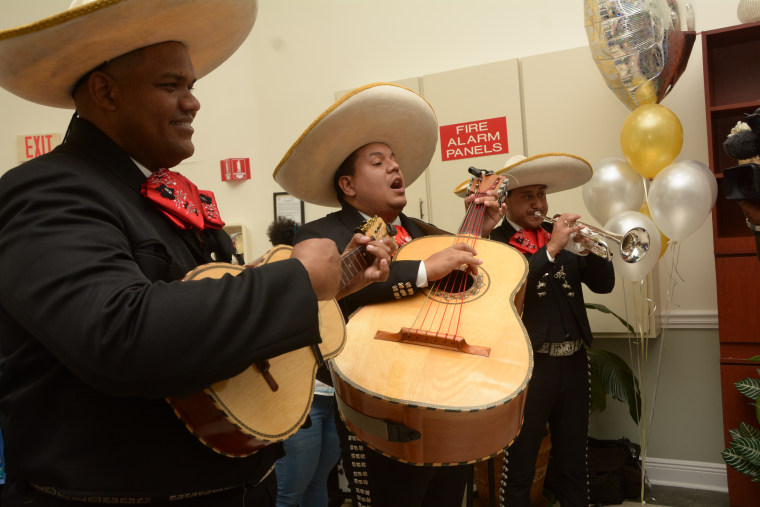 The couple exchanged vows in Spanish and toasted their matrimony with sparkling non-alcoholic cider. Nursing home employees chipped in to surprise the newlyweds with a mariachi band, whose music inspired Suarez to get out of his wheelchair and dance almost like he used to before arthritis got the better of him.
"This was an actual wedding. I don't think I've been to friends' weddings that were this elaborate," Katrina Suarez said. "Everybody was ecstatic and all the old people were so happy. It was just so nice to see something so sweet."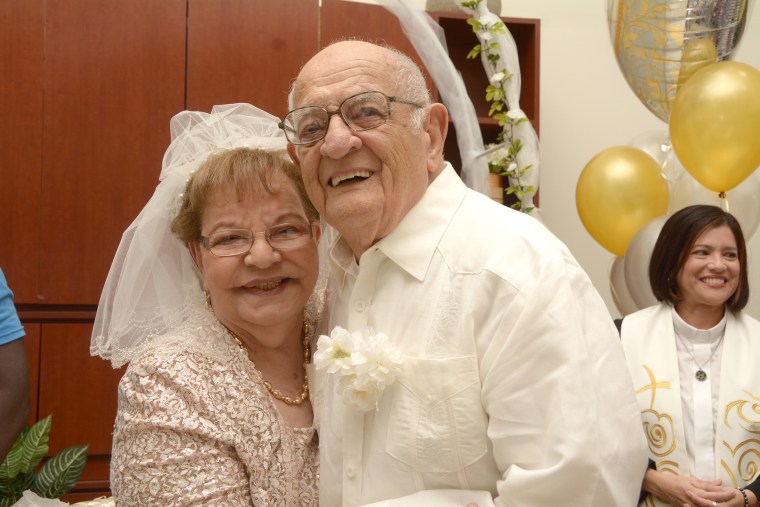 Maria Cobar and Carlos Suarez now live in the same room, but have yet to take a honeymoon. Their first trip as newlyweds will be for Thanksgiving dinner at the home of Cobar's daughter, who expressed gratitude that her mother had finally found love.
"They're such wonderful people," she said of the couple. "They found their soul mates. It shows there's no age limit for love."
Cobar said she believed for a long time she would live out her life alone because she hadn't found the right partner. She said she now offers "thanks to God for finding love with someone who was worth waiting for."
Follow Eun Kyung Kim on Twitter or Facebook.