When Dorothy "Dottie" Fideli walked down the aisle this past weekend, she celebrated her love for someone who has been there for her through thick and thin: herself.
Fideli, 77, a resident of the O'Bannon Terrace Retirement Community in Goshen, Ohio, married herself on May 13 in an emotional and symbolic ceremony surrounded by neighbors, friends and family.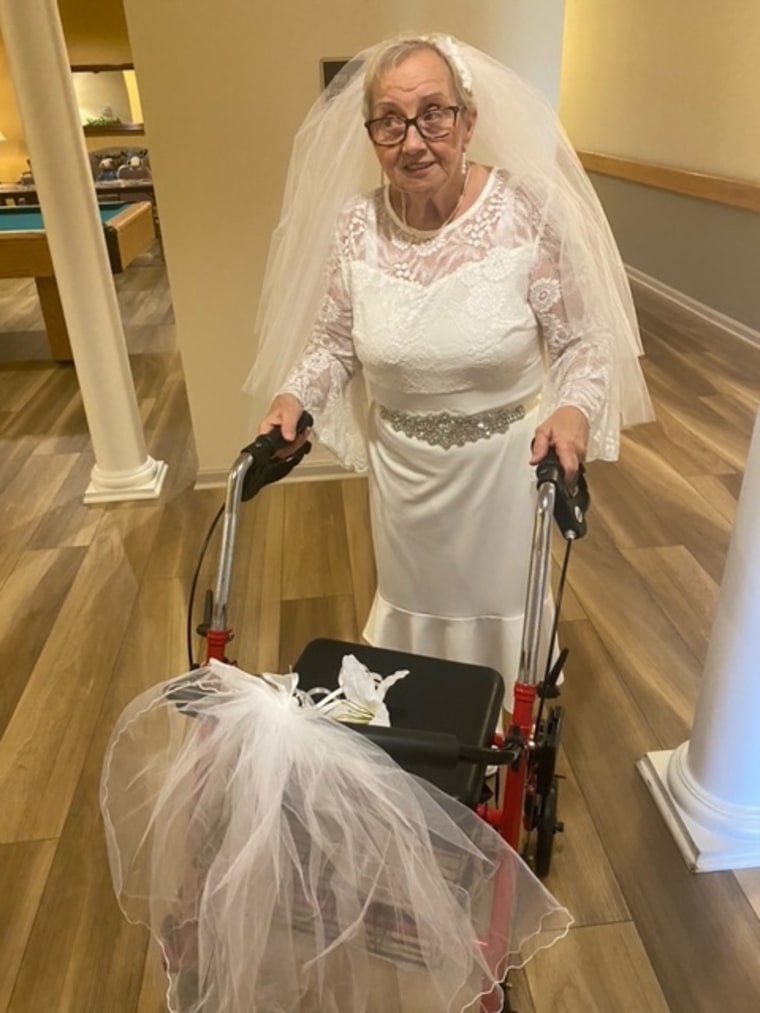 "I said, you know what, I've done everything else. Why not? I'm going to marry myself," Fideli told TODAY.com. 
Fideli asked Rob Geiger, the property manager of her retirement home, to perform the ceremony. 
"I came in here and I told Rob, I said, 'Rob, you're going to marry me,'" Fideli recalled. "He said, 'You're what?'"
As soon as Fideli explained what she wanted to do, Geiger jumped at the chance to honor a woman who has always brought so much joy to other people.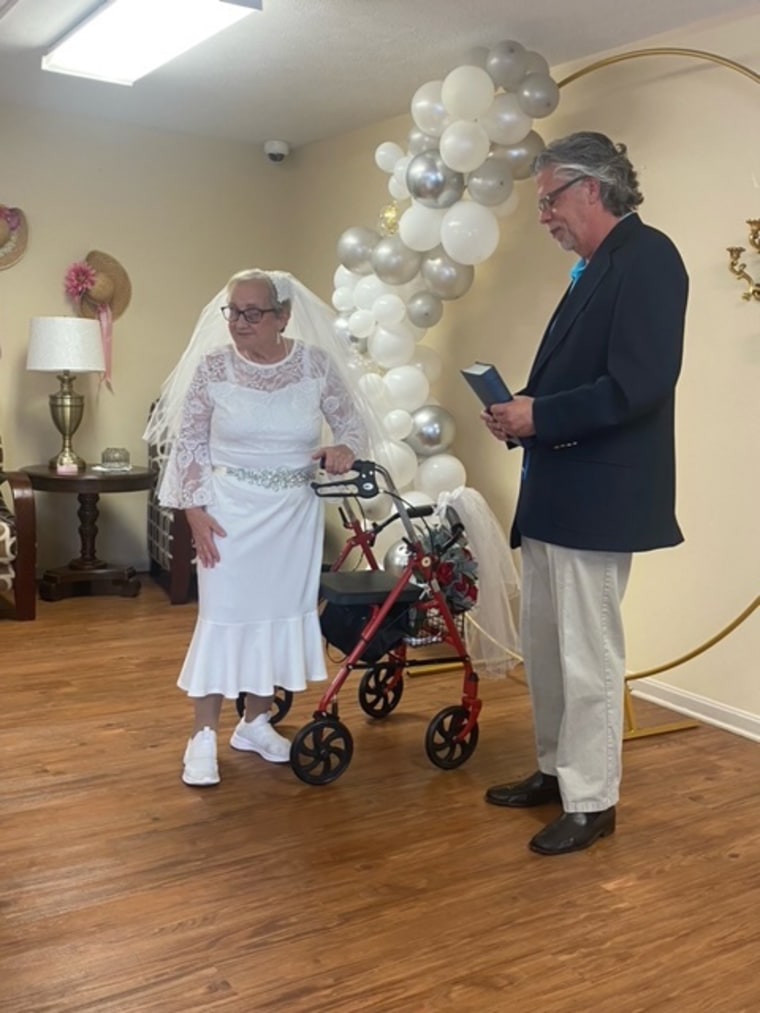 "She is a very incredible woman and she is full of life," he told TODAY.com. "She has always thought of others."
Fideli's daughter, Donna Pennington, also loved the idea of throwing her mother a solo wedding.
"She goes, 'Oh, Mom, yeah, let's go do it. I'll go get your dress, I'll get you everything,'" Fideli said.
Her daughter did all the cooking and decorated the community room of the retirement home with a balloon arch and other special touches. There was a two-tiered white cake decorated with red roses, as well as heart-shaped cookies and finger sandwiches in the shape of wedding bells.
Fideli looked lovely on the big day in a white dress with sheer long sleeves with floral detailing, as well as a silver belt and a veil with an embellished headband.
"I was nervous, but then I was really happy," she said, describing her feelings on the day.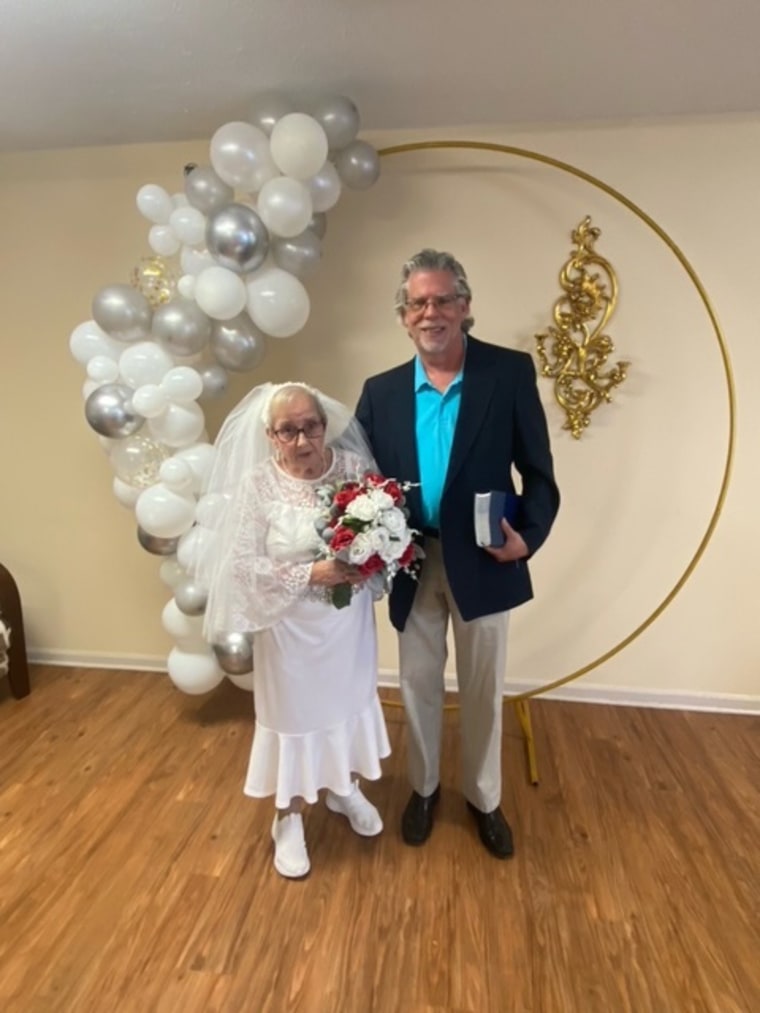 When Fideli first had the idea of marrying herself, she thought it might be "just one of my things that I normally do" to uplift other people in her retirement home.
"I do some crazy things around here just to make people laugh," she said. "When I see them all down in the dumps, I go get one of my outfits on and dress up and come down, and they smile."
However, the wedding ended up being a deeply moving experience for Fideli and everyone who attended.
In one emotional piece of the ceremony, Fideli said, she held a white lily in her hand and used it as a metaphor for cultivating self-love.
"I said, 'Everybody takes this outside lily. And they live their life and they think they're happy and everything's going to be hunky-dory, but they don't consider the inside, the little petals inside,'" she said.
"'The inside is what's important. That's where God's love flows,'" she continued. "'That's where He gives you wisdom and He gives you hope. And nobody ever takes time to think about that. So that's what I've done, and I'd appreciate it if all of you people would do it and think of it that way.'"
Fideli got married once, in 1965, but never had a formal wedding. She said she and her ex-husband exchanged vows at the justice of the peace and right after the ceremony, "he went to work and I went home."
"I wore a black dress, so I was doomed before I got started," she added with a laugh.
Fideli said she always wished she could have had a "big wedding," but had thought it was "too late" for her.
She said she couldn't thank her daughter enough for making her dream come true.
"I told my daughter, I said, 'This is the best thing that I've ever had, outside of having you kids,'" Fideli said. "'This is what I've always wanted and I'm so happy that you (gave) it to me.'" 
Fideli has overcome a lot in her life — including teaching herself to read just a few years ago.
"For 75 years, she could not read," Geiger said. "People made fun of her because of that and put her down."
When Fideli decided to teach herself to read, she didn't tell anyone what she was working on, staying up until the "wee hours" to study, Geiger said.
Then one day, she shocked Geiger by reading some paperwork in his office.
"I said, 'Dottie, you're reading these forms!'" Geiger said, adding that he is "very proud" of what Fideli has accomplished.
"I read more now than I ever did, and it takes me a while to read just one page, but I keep reading until I think I got every word," Fideli said.
She is now excited to be reading the Bible for the first time.
"I've learned the Bible through singing songs," she said. "Now, I'm understanding it as a story."
After a lifetime devoted to others, Fideli is focusing on cherishing herself and pursuing her own dreams.
"I'm at the point in my life where it's about me now," she said. "My kids are all good, and my grandkids, one of them's going to have a baby … and I have a set of triplets that's all graduated from college. So, it's my turn to do what I want to do."