/ Source: TODAY contributor
If you are one of the millions of Harry Potter devotees out there, there's a good chance you are spending today lined up outside of a bookstore dressed in a Hogwarts robe and practicing your Defense Against the Dark Arts spells or you are currently locked in your bedroom in the dark in a desperate attempt to avoid the "Potter" spoilers that keep leaking out.
Yes, the Harry Potter mania that has been with us for 10 years is reaching new heights of fanaticism in the final hours before the release of "Harry Potter and the Deathly Hallows."
Have you come down with Harry Potter fever?
Based on submissions from TODAY viewers who worship all things Potter, we've come up with a list of seven signs you have been infected with the Harry Potter bug:
1. You've read the books more times than Hermione has aced an exam.
"I have read the books a total of 94 times (the entire series 16-17 times, no exaggeration)," writes Rachel Espinosa of Lima, Colo.  "I can connect almost anything to Harry Potter and can quote passages perfectly from memory — either from the books or from the movies. If I forget a word or a name, I always know exactly where to find it in the books."
"I have read each Harry Potter book (except 'Deathly Hallows') over 100 times each," Kristen Adair writes. "I also buy any magazine with any cast members on the front or in an article ... and I even named my puppy Harry."
2. You've learned another language just so you didn't have to wait a few months for the book to be translated into your native tongue.
"I learned English by reading the series with a dictionary by my side, just so I didn't have to wait another six or seven months till the next book," wrote Renata Scheibler of Porto Alegre, Brazil.
Renata (right) also writes: "I do absolutely everything for Harry! I spend days and nights on the Web, updating a Potter site with news on the book or the movie. I walk across my city almost every day now just to organize a big Harry Potter event for the fans."
3. You have permanently tattooed Harry Potter iconography onto your body.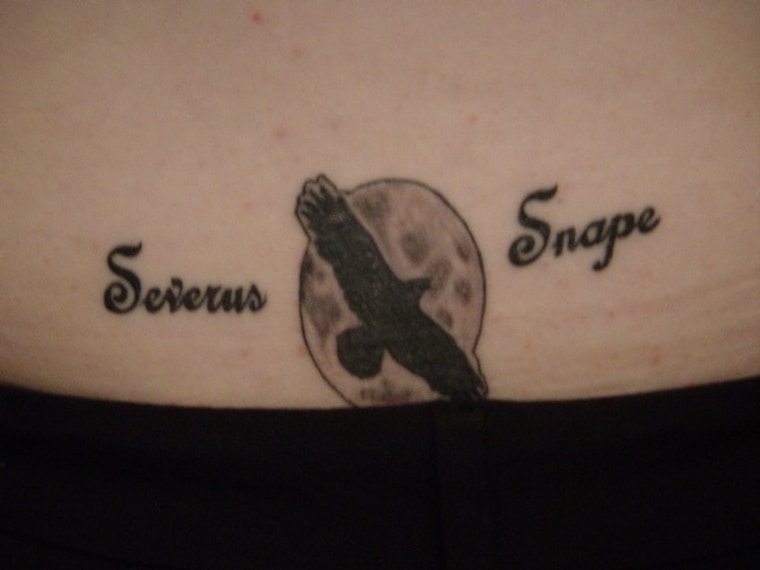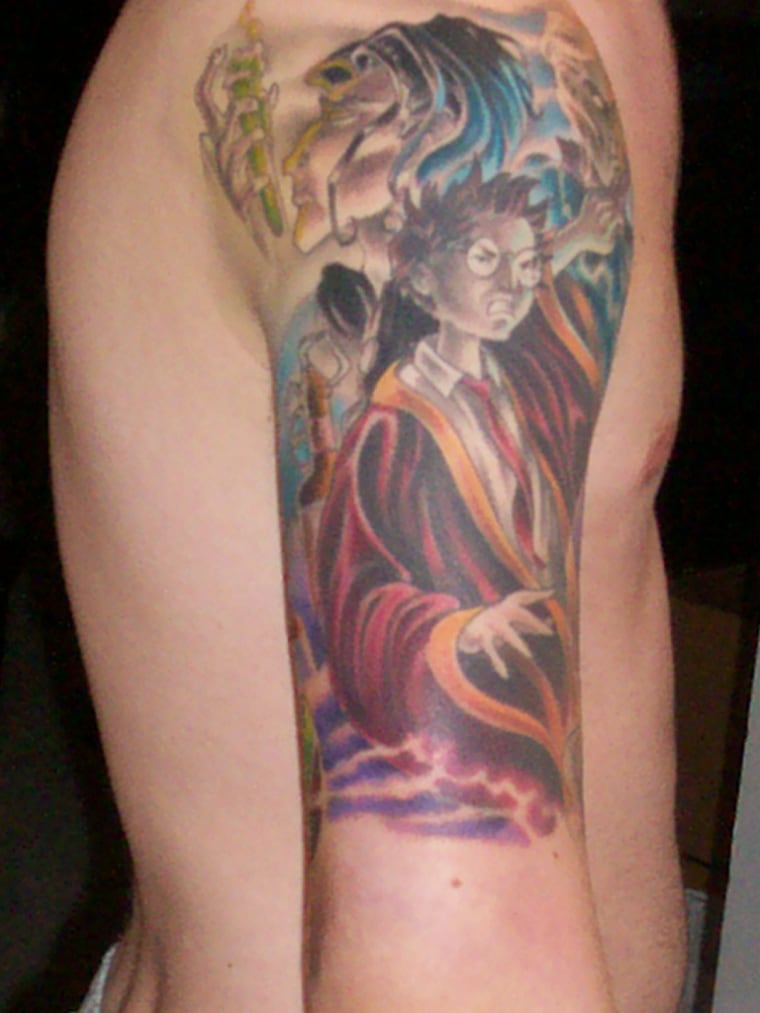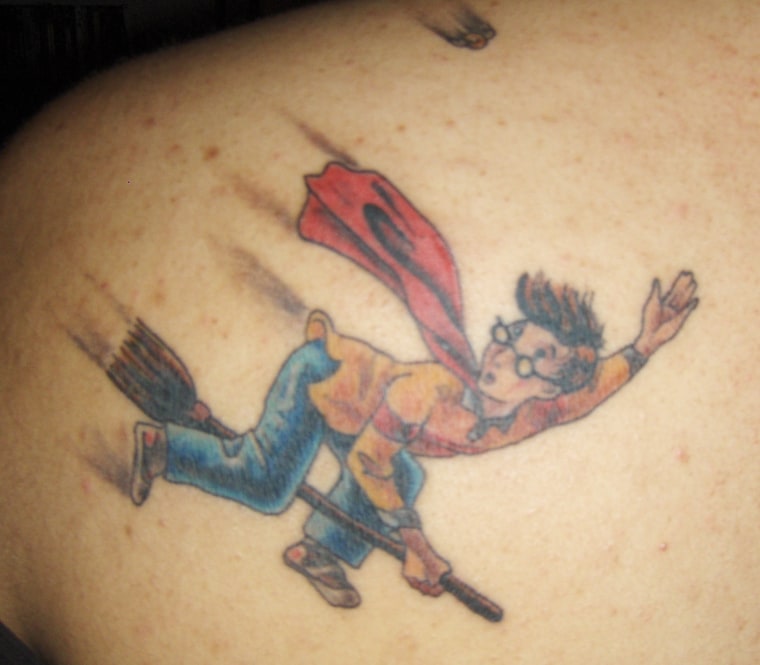 4. You have played Quidditch ... not in a video game ... in real life.
"My friends and I have been known for doing crazy things because of Harry Potter," writes Kelly Rodal of New York. "We successfully started the first Interlochen Arts Academy Quidditch Team in which we ran around campus on broomsticks using a tennis ball for a quaffle, toilet paper rolls for bludgers and a coin for the snitch. My friend Elisa had a red broomstick and insisted that it was a Firebolt. We even made our own team T-shirts with our positions on the back."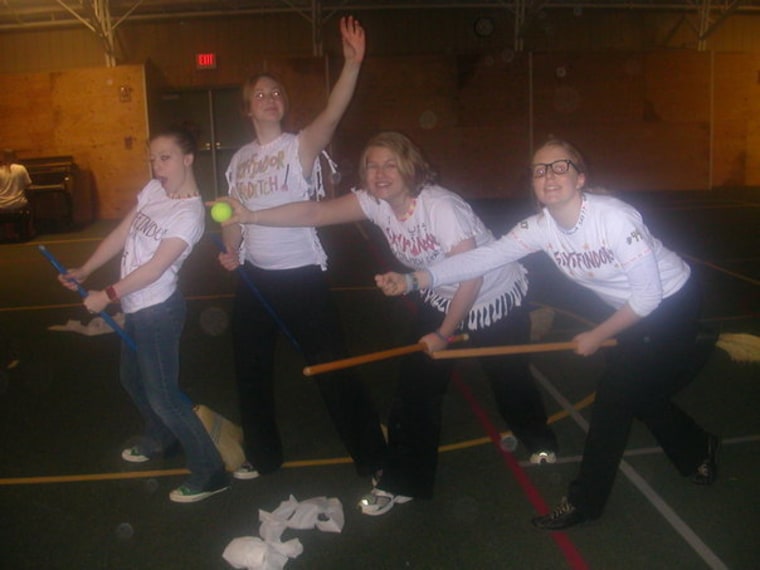 5. You have been stocking up with tissues for months in anticipation of the final book in the series, "Harry Potter and the Deathly Hallows."
"At the end of 'Half-Blood Prince,' when that particular beloved character dies, I threw my book across the room and cried for three days. I can only imagine how I'm going to react when 'Deathly Hallows' is finally released," writes Jennifer Schlier. "When my family told me we will be in Montana for the release of the seventh book, and therefore not near a Barnes and Noble or a bookstore in general, I cried for nearly a week and begged to be allowed to stay at home alone for two weeks, just so I could go to the Barnes and Noble near my house at midnight to attend the party and of course, get my book. I've since figured out that there is a Borders relatively near our house in Montana so that problem was solved, whew!"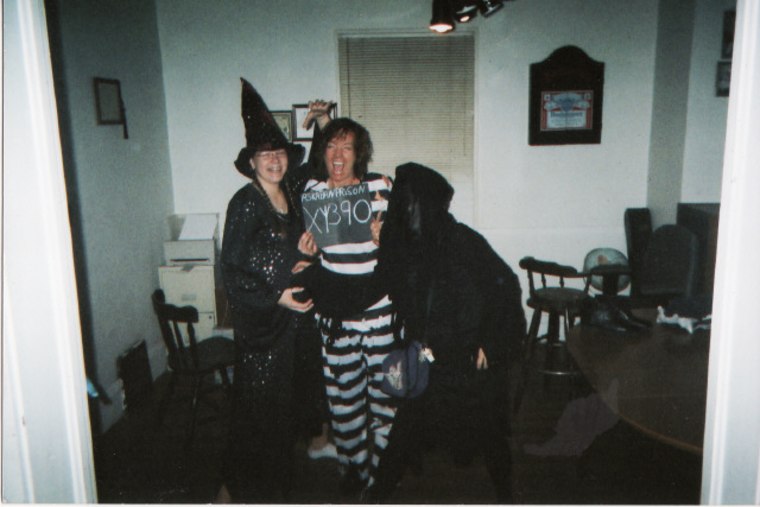 Joann Lewis (right) expressed similar feelings in the days before "Order of the Phoenix" hit theaters.
"I almost burst into tears when I see the coming attractions," she wrote. "I love Harry. He is a hero. I know I will cry my heart when Sirius Black dies (I'm crying now just thinking of it)."
6. There is a room in your house that looks like it belongs in Hogwarts.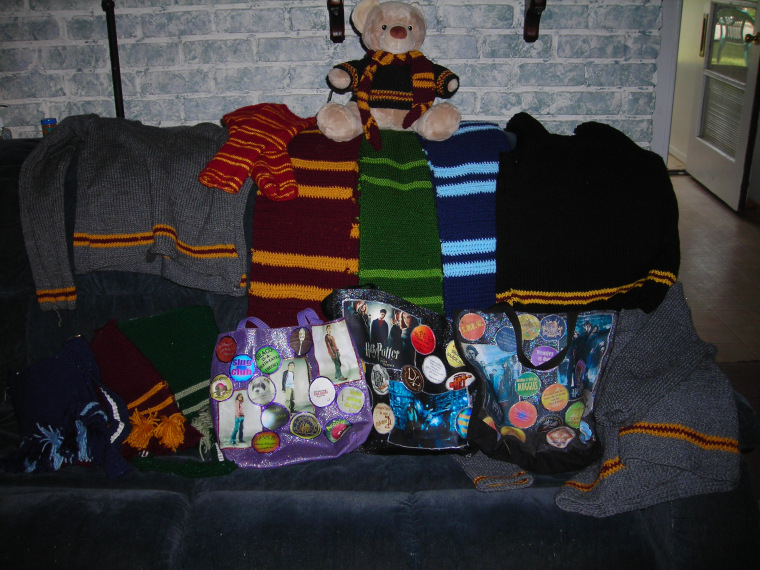 "My name is Kelly and I am 16," writes Kelly Zorn of New York. "I knit, and most of what I make is in the colors of a house at Hogwarts. My bedroom is painted in Gryffindor colors and decorated accordingly, and even my Sweet 16 was HP themed."
"I was inspired to try and create my own little 'castle' in my home so I did my kitchen with wallpaper that looks like stone and added a real fountain with a lion's head on it," says Tina McCulloch, who also makes her own Harry Potter dolls.
7. Your name is Spencer Reese.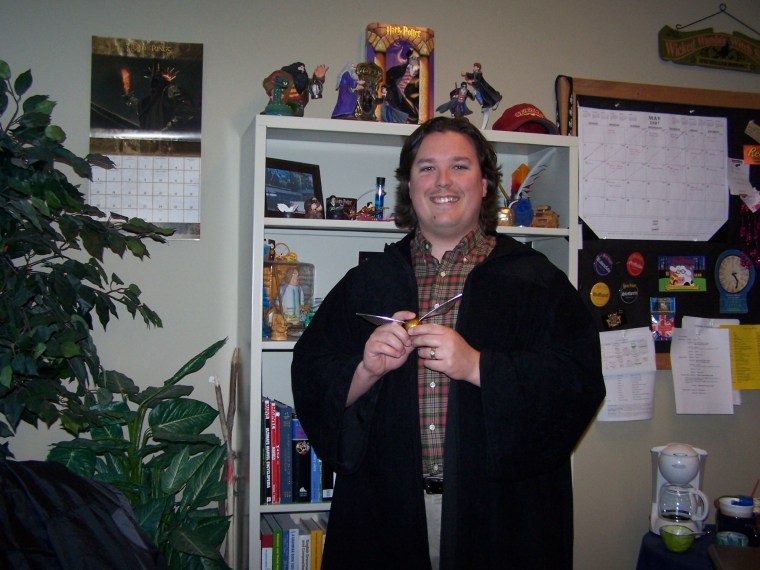 It's hard to pick out one ultimate fan among the millions out there, but if Spencer Reese, also known as "The Harry Potter teacher," isn't the biggest, he's got to be in the top ten. 
"I am the biggest Harry Potter fan because I mutter the word 'Lumos' when I cut the lights out," writes Reese. "I sort everyone into one of the four Hogwarts houses when I first meet them. Before getting up to get something, I always try to summon it first: 'Accio TV remote!'
"I bought the latest edition of the Webster's Dictionary because it has the word 'Muggle' in it," he adds. "I named my black Lab 'Tonks.' I defend the novels to complete strangers on the basis that Mickey Mouse used witchcraft and wizardry in 'Fantasia' and no one's stopped going to Disneyland. But more importantly, I have immersed myself in all things Harry Potter in an effort to better the lives around me. From my classroom to my home, everything is Harry Potter related ... my car is even a Ministry of Magic-approved Muggle vehicle."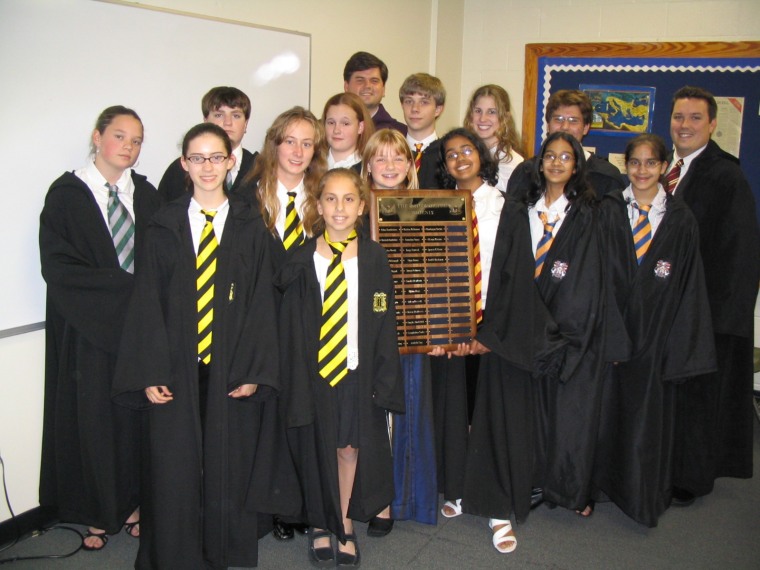 Reese even started teaching Harry Potter in his classroom, alongside Shakespeare and Poe. He wears robes to teach his middle schoolers and started the Defense Against the Dark Arts club where members take O.W.L.s and N.E.W.T.s to reach the next level. Every summer he takes a group of 36 students to England to visit Harry Potter sites. Reese has even lectured at the Tennessee Council of Teachers of English and the National Council of Teachers of English on Harry Potter in the classroom, and is currently researching his dissertation on Harry Potter at Exeter University.
"So for me, Harry Potter is not merely a way of life, not just something to be a fan of ... but something more," Reese writes. "As a teacher and a student of life, I believe reading stops ignorance and there is no stronger magic than the imagination. So why am I the biggest Harry Potter fan? Quite simply, because Harry Potter has changed my life and allowed me to help inspire others."