A convicted rapist on trial for child pornography charges is believed to have fatally shot six people, five of them teenagers, before taking his own life at the rural Oklahoma property where the kids were having a sleepover last weekend, authorities said Wednesday.
All of the victims were shot in the head, said Joe Prentice, chief of the Okmulgee Police Department and spokesman of a violent crime task force overseeing the investigation into the killings outside the small town of Henryetta.
The suspected shooter, Jesse McFadden, 39, also died of a gunshot wound to the head, Prentice said.
Prentice identified the victims as Ivy Webster, 14; Brittany Brewer, 15; Michael Mayo, 15; Tiffany Guess, 13; Rylee Allen, 17; and Holly McFadden, 35.
Holly McFadden's mother, Janette Mayo, identified her daughter on Tuesday as Holly Guess. She married Jesse McFadden last year, Okmulgee County records show.
Their bodies were found in two groups on the large property where the McFaddens rented a home, Prentice said.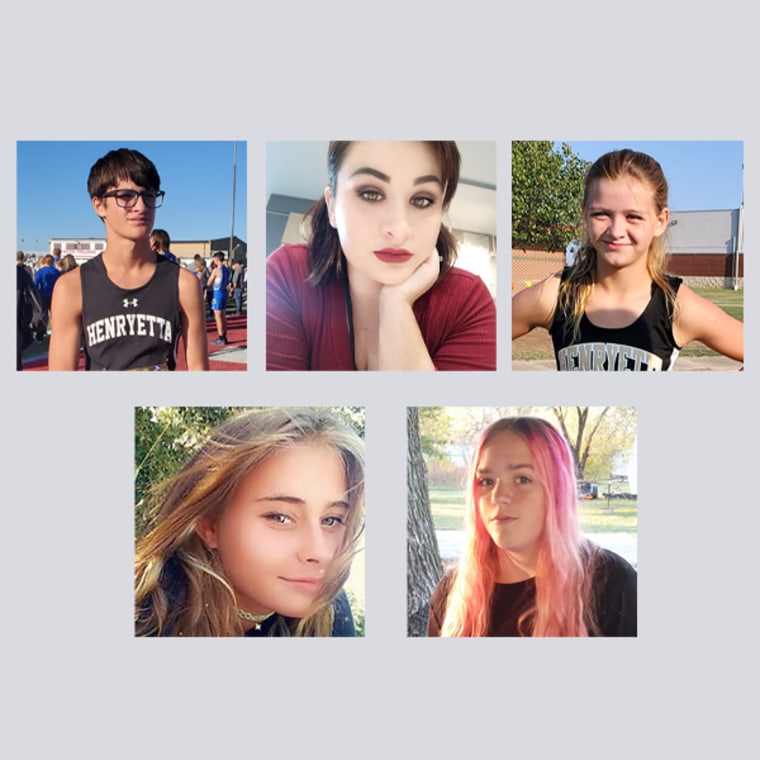 One group that included Ivy, Brittany and Riley was found roughly a quarter mile from the home, he said. The bodies were roughly 100 to 150 yards apart in a scene that Prentice described as "staged." He declined to elaborate.
The other four were found in a heavily wooded part of the land, Prentice said.
A possible motive remained unclear, he said.
"Part of the problem when the community suffers with something like this is everybody wants to understand why," Prentice said. "Normal people can't understand why. People that perpetrate crimes like this are evil."
Jesse McFadden served nearly 17 years in prison for first-degree rape. In 2017, while behind bars, he was accused of sending sexually explicit photos to a 16-year-old girl and acting in a manner that prosecutors described in court documents as "manipulative and controlling of the victim."
Jesse McFadden was charged with child pornography and soliciting sexual conduct/communication with a minor. A jury trial in the case was scheduled for Monday, the same day the bodies were found after the parents of Ivy and Brittany reported them missing.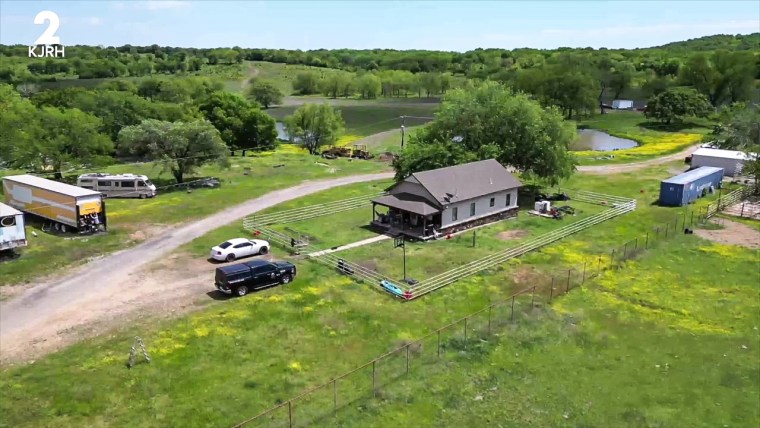 McFadden's lawyer has not responded to requests for comment. Court documents show that McFadden planned to argue that he was in touch not with the 16-year-old, but her friend, who was 21.
The teens' parents have said they didn't know about McFadden's criminal history or that he was a registered sex offender. In interviews, they described the sleepover last weekend as routine and said nothing seemed out of the ordinary.
One of the parents, Nathan Brewer, said Jesse McFadden seemed like a "nice, normal person."
Holly McFadden's mother has also said that her daughter didn't know "the truth about Jesse McFadden" and that he "fooled her with his charm."
"Now she and my grand babies are dead," Janette Mayo wrote Wednesday on Facebook. "Stop bashing her."
This story first appeared on NBCNews.com.