Rapper 50 Cent isn't known for his gentle persona -- this is the man who survived being shot nine times in 2000. But his hit "In Da Club" rocked everyone's world in 2003, and now he's making a name for himself with his fitness book, "Formula 50."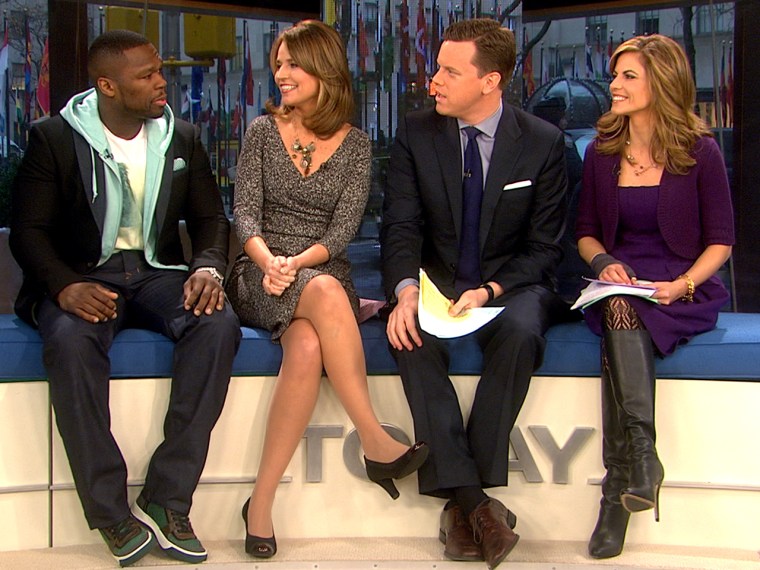 50 Cent stopped by TODAY Wednesday to talk about the book, then stuck around with Savannah Guthrie, Willie Geist and Natalie Morales for the show's Take 3 segment. And that's when he turned out to be funny, soft-spoken ... and apparently germ-obsessed.
The TODAY anchors chatted with the musician about the fact that "In Da Club" is actually 10 years old, and Geist revealed himself as a 50 Cent "groupie."
As they addressed the topics at hand -- Coca-Cola's anti-obesity ads coming under fire as hypocritical was the first -- 50 was happy to share his opinion. "I think too much of a lot of things out there are no good for you," said the aspiring fitness guru. 
The quiz in which the gang had to answer questions about 50 Cent himself, however, elicited the most laughs -- turns out Morales guessed right, that 50's favorite actor was Samuel L. Jackson.
"I was a big Charlie Sheen fan," the rapper allowed, "but I just got a chance to see 'Django (Unchained)' and (Jackson's) choices in that movie made him my favorite."
His favorite sport? Geist knew: Boxing. "I like sports where I can't blame anyone if I lose," said 50.
Alas, no one knew that his favorite cartoon was "Teenage Mutant Ninja Turtles." Better luck next time.
The germ obsession emerged following a segment earlier in the show showing that many common objects are germ-ridden. It resurfaced at the end of the rapper's visit, when he was advised not to touch the door on the way out.
"So many people have touched it, it gave me a phobia now!" he said with a grin.
"We've made you totally paranoid; our work here is done," said Guthrie.
Related content:
More in TODAY Entertainment: