Seth MacFarlane's Sunday-night stint hosting the Oscars drew both criticism and praise. The "Family Guy" host definitely pushed the envelope -- it was hard to imagine some of his jokes coming from past Oscar hosts, such as Billy Crystal or Ellen DeGeneres. Here's a look at five of his most controversial lines.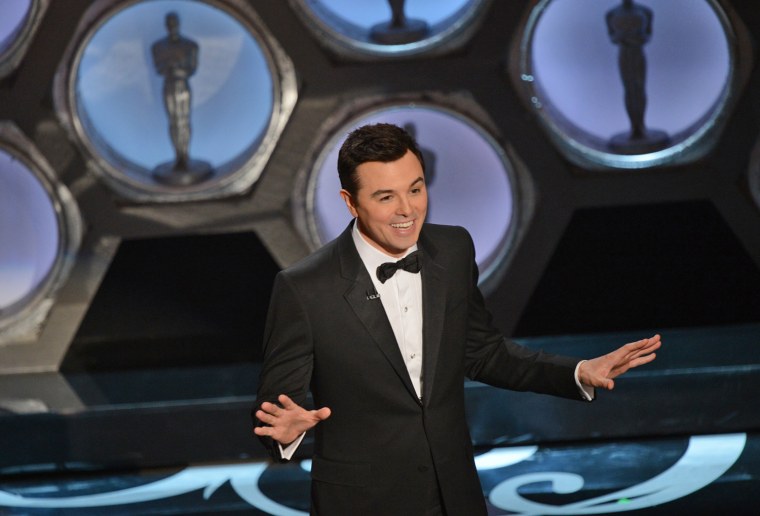 1. "I would argue, however, that the actor who really got inside Lincoln's head was John Wilkes Booth." 
MacFarlane followed this up by acknowledging the audience's groans and gasps, saying "150 years and it's still too soon, huh?" Too soon, or just too crass. After all, "South Park" once joked about Lincoln's assassination, sending a giant statue of Booth after a giant rampaging statue of Lincoln. Big difference: Their joke was actually funny. 
2. "To give you an idea of how young (Quvenzhane Wallis) is, it'll be 16 years before she's too young for Clooney."
This joke doesn't even make that much sense. Wallis is 9, so he's joking about her dating someone at age 25, and George Clooney may have some younger girlfriends at times, but he's no Doug Hutchison (the 51-year-old actor who wed 16-year-old Courtney Stodden in 2011.) It might be different if Clooney had a sleazy reputation. But there's one saving grace -- at least MacFarlane didn't go as far as the Onion and refer to the 9-year-old nominee with an offensive sexual term.
3. "Rex Reed will be out here to review Adele's performance of 'Skyfall.'"
The remark assumes viewers know that movie critic Rex Reed took heat for comparing "Identity Thief" star Melissa McCarthy to a hippo. So MacFarlane's calling Adele, a gifted singer and one of the few women at the Oscars who didn't look bone-thin, a hippo? Gee, we wonder why some viewers, Adele fans or not, took offense.
4. "(There's) a lot of controversy over the multiple uses of the n-word (in 'Django Unchained.')  I am told the screenplay is loosely based on Mel Gibson's voice mails."
When this met with disapproval from the audience, MacFarlane cracked, "Oh, you're on his side." Gibson's problems with ethnic slurs are well-documented, but they also feel a little old. No one's on Gibson's side when it comes to the slurs, but maybe they're ready to move on?
5. "('Django Unchained') is the story of a man fighting to get back his woman, who's been subjected to unthinkable violence. Or as Chris Brown and Rihanna call it, a date movie."
MacFarlane seemed to instantly know joking about domestic violence wasn't winning him friends. "That's as bad as it gets, if it makes you feel better," he said, then bluntly adding, "It's really not as bad as it gets." Nope, it wasn't. Still to come were jokes about eating disorders, a song called "We Saw Your Boobs," a description of college women as "coeds" and the implication that Jennifer Aniston was a stripper. We've come a long way from Bob Hope cracking, "Welcome to the Oscars, or, as we call it at my house, Passover."
What did you think of MacFarlane's jokes? Appropriate and edgy, or mean? Vote in our polls, and tell us on Facebook.
Related content: