Fifty years ago, four fresh-faced Marines posed together on a California beach just weeks before being shipped off to Vietnam.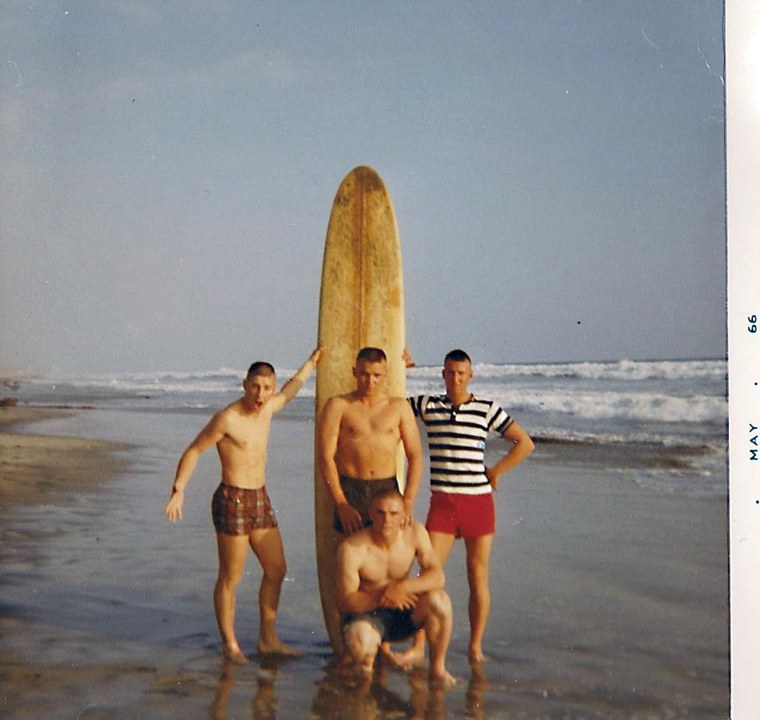 What's extraordinary about a reunion last weekend to re-create that photo was not the gray hair nor their changed bodies. It's what they have overcome. Not only did they survive Vietnam, but all the rigors that followed, both physically and emotionally.
"It was one of the best days in my life," said the meeting's instigator, Tom Hanks, a 69-year-old retired investment banker whose journey to Vietnam took place decades before his namesake actor did in "Forest Gump."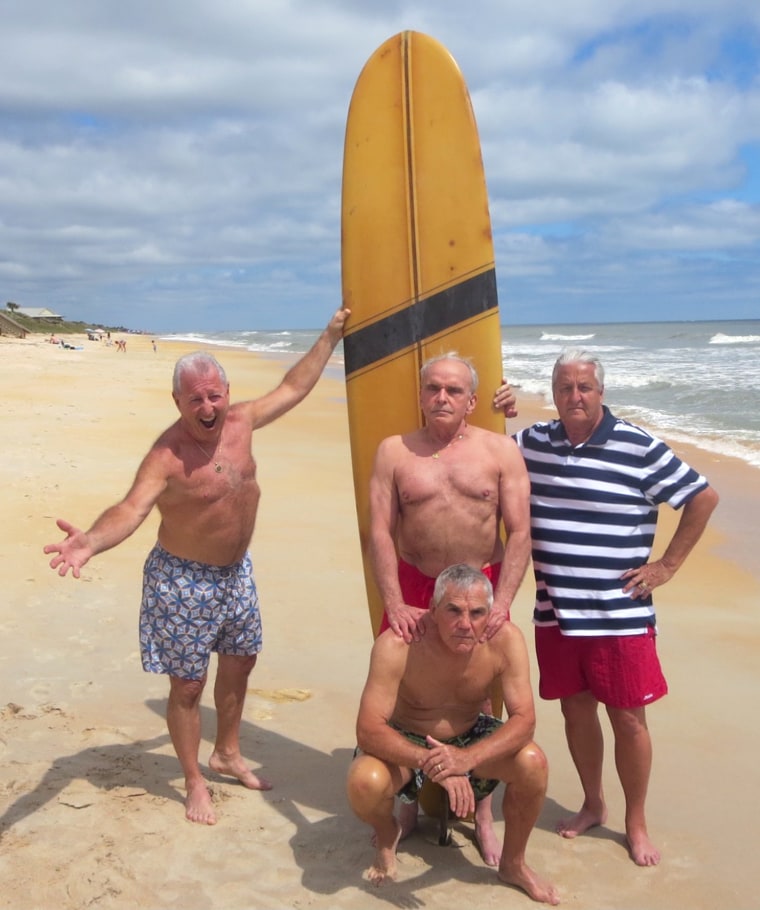 Hanks, who lives just outside Atlanta, came across the original photo in an album last year and, after realizing that nearly 50 years had passed, thought about re-creating the scene with the three other men in the picture, all of whom live in Florida: Bob Falk, 71, Bob DeVenezia, 70, and Dennis Puleo, 69.
A story about the plan for the reunion originally appeared in the Atlanta Constitution-Journal and then the Naples Daily News.
The original photo was taken in May of 1966, when the four Marines, fresh out of boot camp, decided to enjoy their weekend away from San Diego's Camp Pendleton by heading to the beach in Oceanside, California.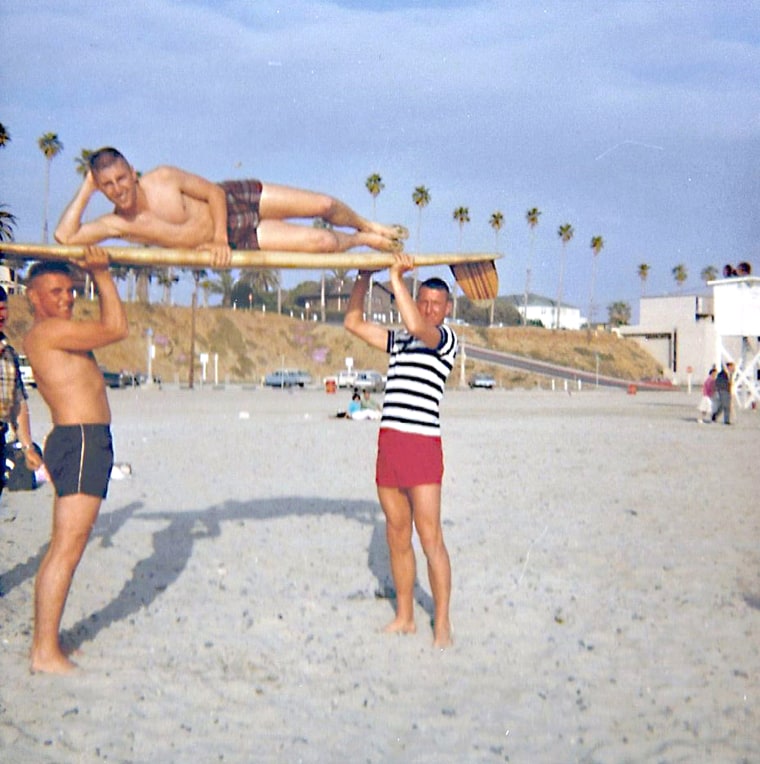 "We were just goofing around. I'm not sure where we even got the surf board. It wasn't ours," Hanks told TODAY.
The men had developed a tight bond throughout their seven months of training. From Camp Pendleton, the men eventually were shipped out to the Philippines for more preparation.
"Falk, Puluo and me were machine gunners," DeVenezia recalled. "Hanks was what they call a weapons guy. He had bazookas, explosives, mortars."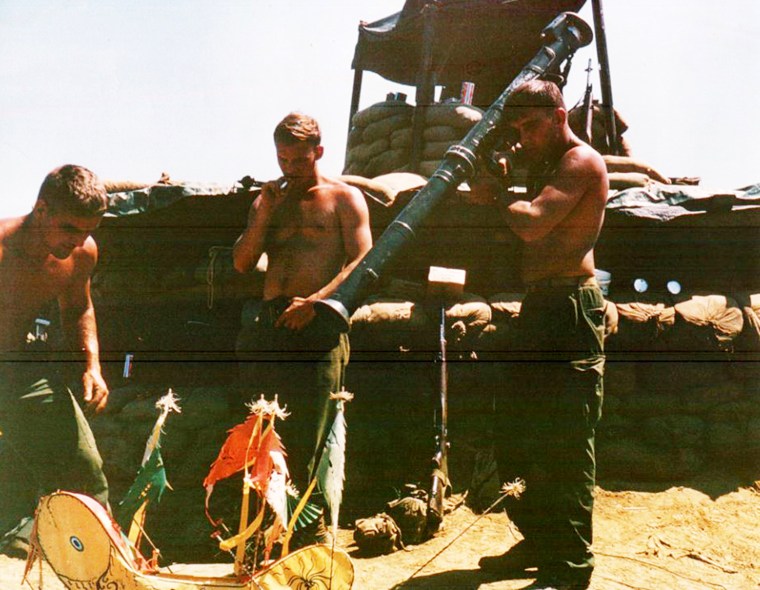 Eventually, the four would be sent off in different directions in Vietnam, where they faced unimaginable conditions. Two of them earned Purple Hearts: DeVenezia earned one and Puleo, who at one point had been administered last rites, earned three.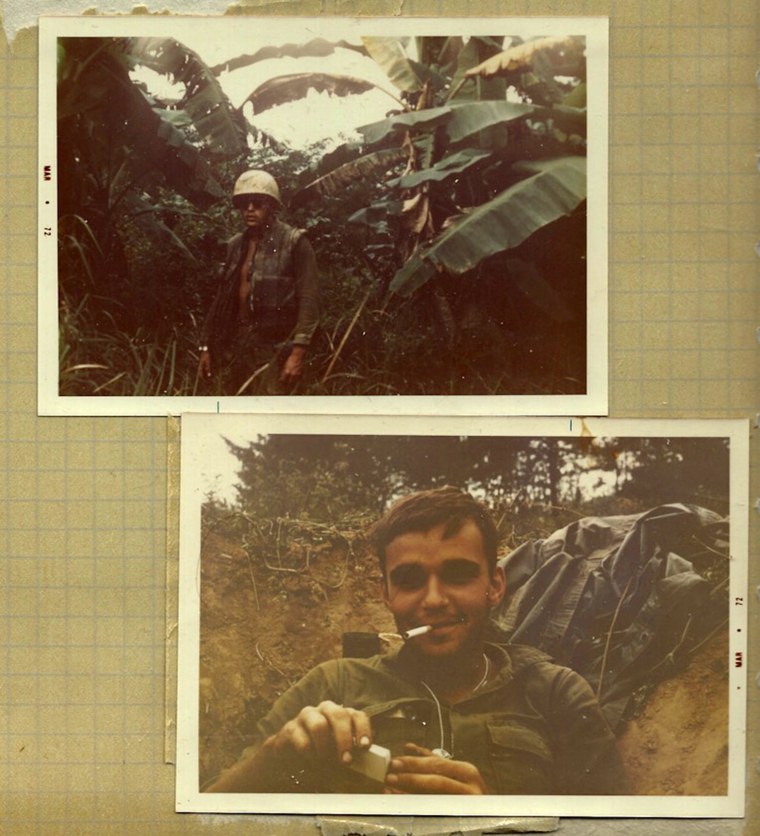 Following the war, the men went on their separate ways in various parts of the country. Hanks became an investment banker and DeVenezia ran a construction company. Falk went into retail management and Puleo, home security. They married and raised families. One survived cancer, and others post traumatic stress disorder, long before it was given a clinical name.
RELATED: WWII veteran proposes to long-lost love 70 years later: 'It's a real love story'
This past weekend, on a picture-perfect Saturday morning, all four men met up with each other for the first time since returning from Vietnam. They gathered in northeast Florida to re-create the photo staged five decades earlier, but this time on Cinnamon Beach.
"Look, everybody has reunions. They're a dime a dozen, but this one? Dennis got last rites in the same battle I got shot in," DeVenezia said. "The fact that we're all alive after 50 years, much less survived Vietnam, is what makes the story neat."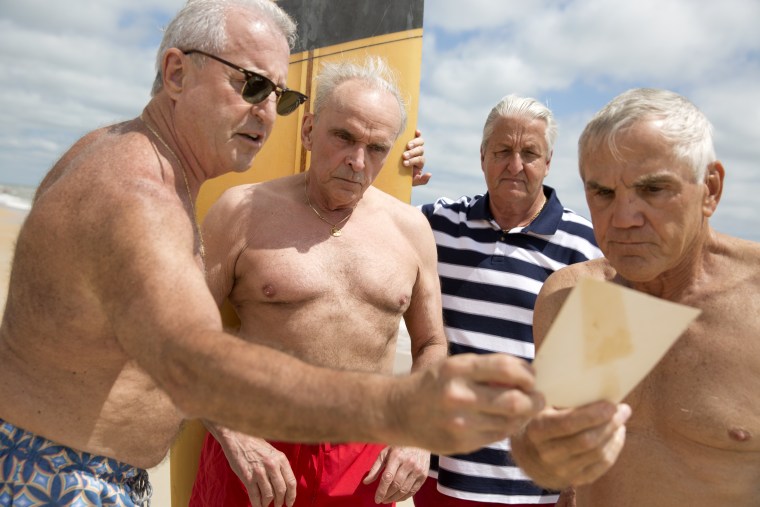 Falk, DeVenezia and Hanks had gotten together twice since 2011, reconnecting through an online memorial for a fallen comrade. But Puleo remained a question mark to the others.
"Getting the fourth in was not easy, but we did it, and it was amazing," DeVenezia, said. "He was outgoing and happier than I've ever seen him."
Hanks said the reunion was better than he imagined, but talking about it, even days later, still gets him choked up. "It's very emotional because we're talking about guys who were willing to die for each other," he said.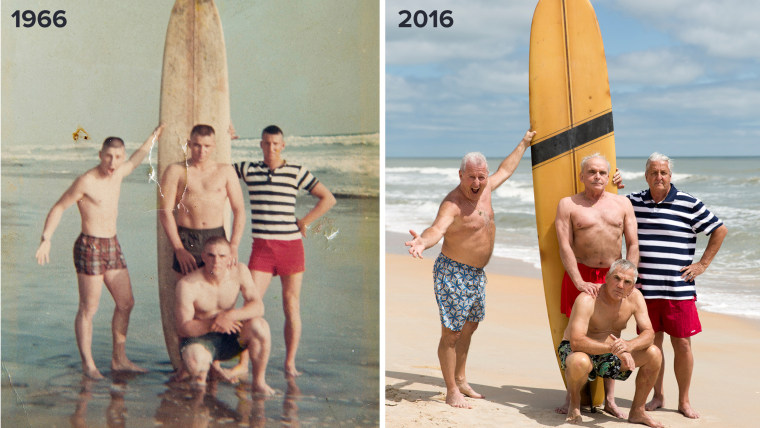 "It's hard to describe, but it was a wonderful, wonderful experience for all four of us. We were just sitting around and BS'ing and talking. It was like nothing had changed even though 50 years had passed," Hanks said.
RELATED: Iraq vet who lost his legs now helps others heal through yoga
"The best part of it was going down to the beach and goofing around and pushing each other around. We were like 20-year-old kids."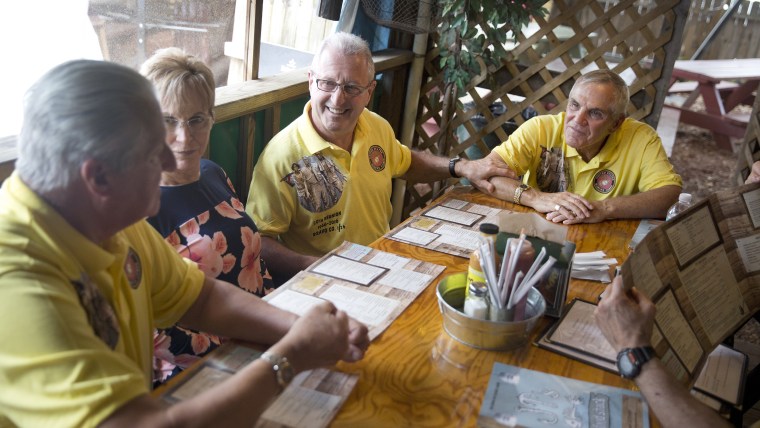 DeVenezia said he loved re-enacting the photo, even though "my knees are still sore from crouching down on the sand."
Hanks returned home Sunday, while some of the other men stayed behind for another day. He said the group parted ways without making any plans.
"We really didn't leave it in any one way. We just left it hanging in the air," he said. "But you know what? That's the way we always do it. Maybe in a couple of years, we'll get together again."
Follow TODAY.com writer Eun Kyung Kim on Twitter.