For three years, Kate-Madonna Hindes procrastinated on the paperwork needed to help find her birth mother.
But when doctors told her she had a high risk of getting both anal and breast cancer, the mother of two from St. Paul, Minnesota, decided she needed to know her family history.
Hindes, 34, completed the paperwork to obtain her adoption file from Children's Home + Aid in Illinois.
The folder she received contained a powerful letter from her birth mother and a picture of her from 1981.
Hindes, a communications specialist, told TODAY she wasn't prepared for the emotional blow of seeing her mother's face.
"It changed everything, and I thought that now I have to find her," she said.
RELATED: Princesses surprise 5-year-old girl in court to make her adoption magical
Hindes turned to Facebook, posting the picture and the touching letter written by her mother as a 16-year-old.
She gave Hindes up for adoption because she did not have the means to provide for her.
Hindes shared it with her cancer survivor group and others, writing that she was looking for "Aimee from Oak Park, Illinois, in 1981."
Within 24 hours, she got word that someone may have found her.
Meanwhile, her birth mother, Aimée Sordelli, 52, received a message that a photo of her was on Facebook.
Sordelli didn't pay it much mind until she saw the picture. It was a photo only one person could have.
The two traded Facebook messages and texts before Sordelli decided to make the trip to Minnesota for a three-day visit.
On July 22 at the Minneapolis airport, mother and daughter met and shared a joyful hug.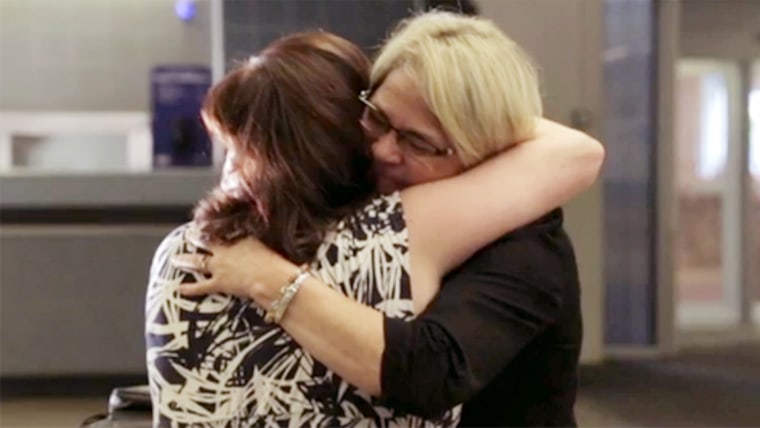 "It was very emotional,'' Hindes said. "I just wanted her to feel comfortable and loved."
Sordelli declined to speak with TODAY, but said she was thankful for all the kind messages about the reunion.
Hindes had heard horror stories about parents not wanting to be contacted by children they had given up for adoption. But the touching letter Sordelli had written as a teen brought her comfort.
"I never imagined in a million years that Aimee would be this down to earth,'' Hindes said. "She wrote in her letter that this was a decision made out of love, not regret, so I felt that she wanted me to find her."
The two have more in common than just a bloodline.
Sordelli, who did not have any other children, also is adopted and a cancer survivor. Hindes has overcome multiple bouts of cervical cancer.
"We're blood-related in a family where no one else is blood-related,'' she said.
As for her biological father, Hindes didn't ask about him. She got the sense that he was not a part of Sordelli's life.
RELATED: Mother reunites with daughter who was placed for adoption 82 years ago
Her fears of awkwardness between her biological mother and her adoptive parents, Dan and Mary Alice, faded quickly during a family picnic on Sunday.
"To see my two moms sitting together and talking was amazing,'' she said.
Hindes also learned that every year, Sordelli takes off from work on Oct. 16 — Hindes' birthday.
In two weeks, Hindes and her family will travel out to Chicago to visit Sordelli at her home.
"I have this whole amazing family that wants to meet me, and I can't wait,'' she said.
Follow TODAY.com writer Scott Stump on Twitter.