The TODAY's Take anchors made a national plea for the best holiday cookie recipes and they narrowed the entries down to the top three. 
What's under Santa's hat cookies
Caren Hare from San Jose, California 

Ingredients: 

1 cup honey
3/4 cup light brown sugar
1 egg
1 lemon rind, finely grated
1 tablespoon lemon juice
3 cups flour
1 teaspoon baking soda
1 teaspoon cinnamon
1 teaspoon cloves
1 teaspoon nutmeg
Boil the honey for 1 to 2 minutes. Blend in the brown sugar until dissolved in honey. Beat in the egg after the honey has cooled. Stir in the lemon rind and juice.

In a separate bowl, mix together the dry ingredients and add to the wet ones a cup at a time. Cover dough and refrigerate overnight.
On a well-floured board, roll out a portion at a time to about 1/4-inch thickness. Keep the unused portion cold. Cut with a floured cutter. Place cookies on a greased cookie sheet. Bake for 8 to 10 mins in a preheated 350 degree oven. Let cool before icing.
Glaze: Add 1/8 to 1/4 cup of hot water to 3/4 cup powdered sugar in a cup. Stir till smooth. Add hot water by drops until spreadable. Flavor the glaze with fresh lemon juice. Brush on cookies.
Snowflake cookies
Whitney Hermes from Minneapolis, Minnesota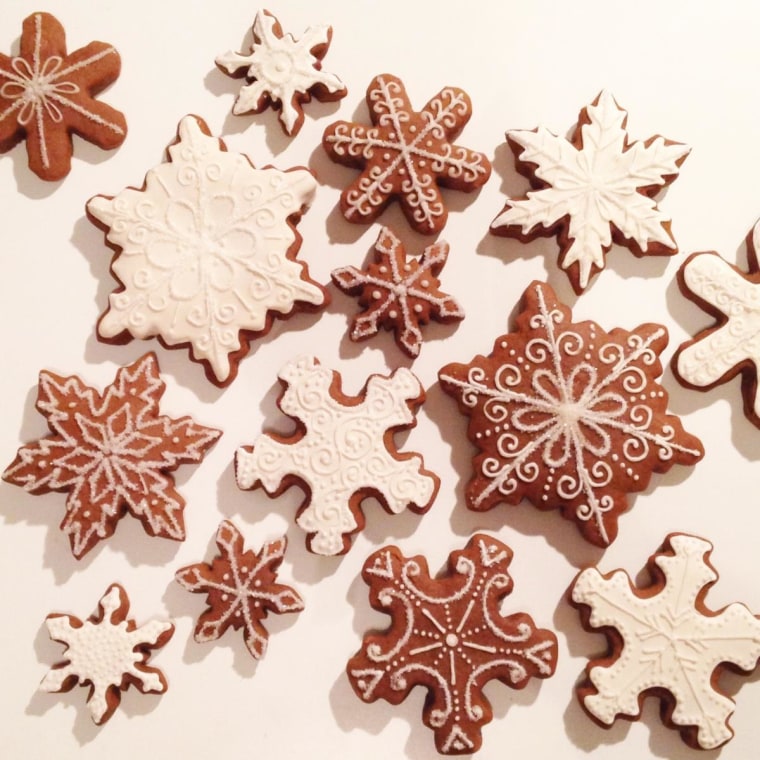 Ingredients: 
1 cup light molasses
1 cup sugar
1 cup margarine
1 tablespoons vinegar
5 1/2 cups flour
1 teaspoon cinnamon
1 teaspoon baking soda
1 teaspoon ginger
1/2 teaspoon salt
Put the molasses, sugar, margarine and vinegar in a saucepan. Bring slowly to just a boil and then it cool. 
Add 2 eggs and beat slightly. 
Note: Always make sure molasses is extra cool — otherwise it cooks the egg!
Add the flour, cinnamon, baking soda, ginger and salt. 
Let it cool for 1-2 hours, or even overnight if you wish. 
Roll out on a flat surface.
Cut into desired shapes. Bake 7-10 minutes at 375 degrees. 
Frosting:
2 1/2 cups powdered sugar
1 stick softened margarine
1/2 cup milk
1 teaspoon vanilla
Food coloring by choice
Outrageous chocolate holiday cookies
Juliana Evans from Orlando, Florida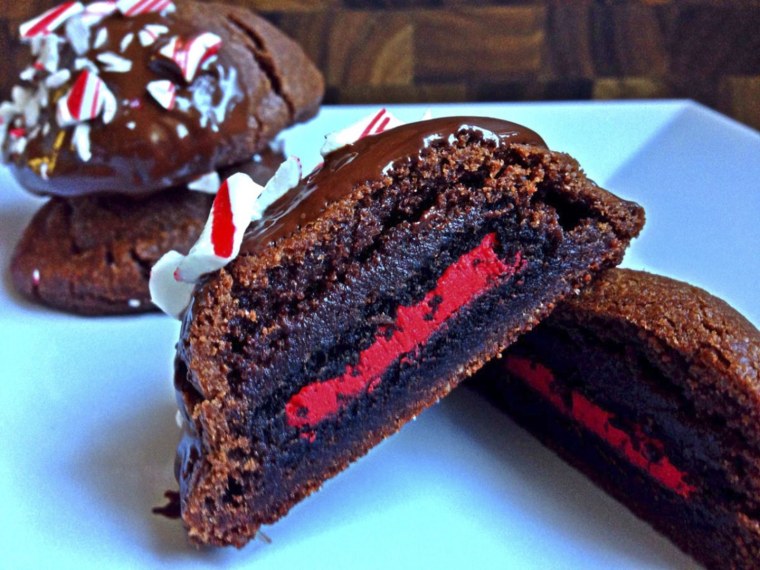 Ingredients:
1/2 cups margarine (made of 80% vegetable oil)
1/2 cups sugar
1/2 cups brown sugar, packed
1/4 cups instant chocolate pudding mix
1/2 cup melted semisweet chocolate chips (you will need 1 cup unmelted chips for 1/2 cup melted)
1 egg
1 teaspoon pure vanilla extract
1/2 teaspoon baking soda
1/2 teaspoon salt
1 1/2 cups all purpose flour
1 package holiday sandwich cookies (or any flavor u love)
Garnish
Dipping chocolate
Candy canes, crushed
Place wafer cookies in the freezer about 15 minutes prior to baking. Preheat oven to 375 degrees. Place 1 cup of chocolate chips in microwave for 30 sec intervals, stirring in-between. Set aside.
In a mixer, beat softened margarine until smooth. Add in both sugars and mix well.
Stir in melted chocolate. Then add in pudding mix. Mix in egg, then vanilla.
Add soda and salt, followed by flour.
Using a 1 tablespoon dasher, scoop out 22 dough balls.
Remove wafer cookies from freezer. Take one dough ball in the palm of your hand and flatten. Place wafer cookie on top in center. Take another dough ball and cover wafer cookie, flattening and making a sandwich.
Roll gently in hands, forming a circle shaped dough.
Continue working and place 6 of these about 2" apart on cookie sheet.
Bake 10 minutes at 375 degrees.
Allow to cool 5 minutes, then move to a cooling rack.
Follow package directions on melting dipping chocolate. Then crush candy canes and set aside.
Dip half of cooled cookie into melted dipping chocolate. Sprinkle candy canes on top of chocolate. Place on parchment paper until dry or stick in refrigerator on parchment to hurry drying process.