Gideon Purchase's healthy appearance and happy, gregarious personality hide the arduous battle he fought for most of his brief 2 years of life.
When he was 6 months old, he lost his appetite and started sleeping poorly. He also became more fussy than usual. His parents chalked up all the symptoms to his teething. Then a yellowish bruise appeared over one eye. The next day, it covered both eyes and a lump appeared on his head.
An emergency visit to their doctor yielded a devastating diagnosis to his parents: stage 4 high-risk neuroblastoma.
"It's literally as bad as it gets," his mother, Katie Purchase, recalled as part of TODAY's annual "Thanks and Giving" series that highlights the work done at St. Jude Children's Research Hospital.
Gideon was taken by medivac to St. Jude, where scans revealed the magnitude of the disease.
"His entire face and skull was full of cancer, and all of his bones were full of cancer," said his St. Jude doctor, Sara Federico. "He had a large tumor that was present in the middle of his body."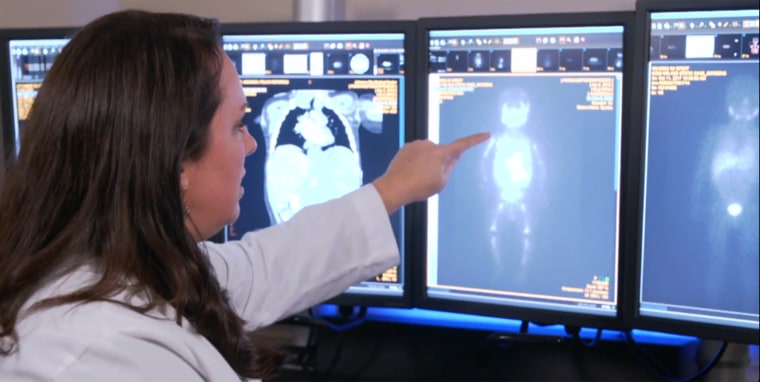 Katie and her husband, Gary, were devastated, but St. Jude doctors had a plan.
They started Gideon on a new clinical trial that uses a unique approach to immunotherapy. The technique combines an antibody with chemotherapy at the beginning, middle and end of treatment.
"The early results are surpassing all of our wildest expectations," Federico said.
Gideon saw a dramatic change within six weeks.
"He went from 84 percent of his marrow having tumor to zero percent," Federico said.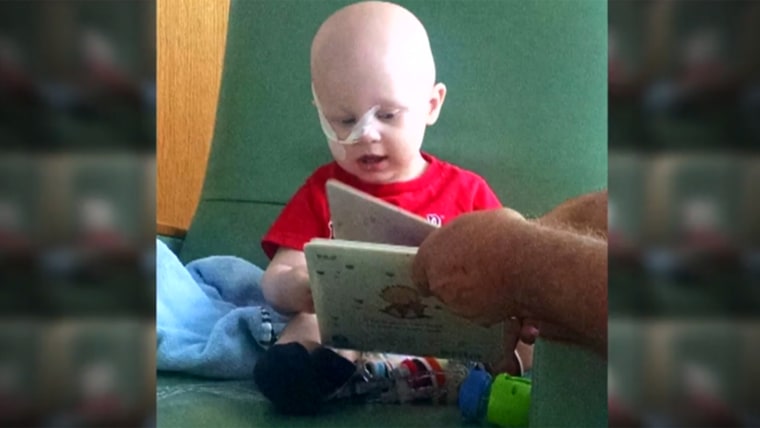 Many of his other tumors shrunk drastically — the tumors in his face, arms and legs disappeared. But Gideon still had to endure a bone marrow transplant and radiation.
"Being how aggressive this disease is, they can't leave one cell alive," his father, Gary, said.
In all, Gideon underwent 15 months of treatment before doctors declared him healthy.
"You yearn for the day when you're not toting around an entire IV tree behind your kid. And then it happens, and you just kind of sit there like, 'Wow. We made it,'" Gary said.
Today, Gideon is a cancer-free, energetic 2-year-old. His parents now savor every moment they can with him.
"It makes you appreciate the little things. Suddenly, life's problems just don't seem like a big deal anymore," Gary said. "He makes us treasure every day."
The TODAY "Thanks and Giving" series helps raise funds to support the life-saving mission of St. Jude Children's Research Hospital to find cures for desperately ill children with cancer and other catastrophic diseases.