/ Source: TODAY contributor
Get ready to spoil your pooch with some stylish heart-themed fashions, treats and beauty products that won't go stale after Valentine's Day is over. PupStyle.com co-founder Dara Foster shares fun and creative ways to celebrate your unconditional puppy love:
Dogo Design Endless Love Sweat Shirt $25; Available at TrixieandPeanut.com
Snuggly and sweet never go out of style, and you're guaranteed both with this heart sweat shirt from Dogo. This item provides affordable fashion and warmth during winter's frigid temperatures and has nice roomy armholes for total comfort.
26 Bars And A Band Avant Garde™  Heart-Print Retractable
$39; Available at 26BarsAndABand.com Stay connected with your sweetheart by attaching them to this heart-print retractable leash. This is a fresh take on the traditional retractable leashes and a must-have for active city dogs who need extra range during their walks. Available in two sizes and holds up to 29 lbs. — making this a fun leash for small dogs.
Fetchers & Fighters Pink Sparkling Collar
$35; Available at FetchersandFighters.comAdd a splash of color to your beloved with this eye-catching sparkly pink collar. These "vegan" collars are available in a wide range of sizes and colors and look amazing on any dog. They are also waterproof and great for transitioning into wet spring weather.
Poochee Dog-Heart Beat Step-in Harness
$58; Available at HauteDogBoutique.comStep-in and get ready to step-out in style! Ultra-simple "step-in" design fits all sizes without needing to fuss with buckles. Made out of animal-friendly materials, this is a fantastic gift even if you don't know the gift recipient's size!
Cleopatra Personalized Alpha Letters & Heart of Gold I.D. Tags 
Part of loving your dog is keeping him safe, so deck him out in a cool personalized tag by Cleopatra. These I.D. tags can be personalized with a name and emergency-contact phone number on the back for total safety and style. Tags are something your dog wears every day, so make it something  you enjoy looking at. Choose from a collection of colorful enamel tags accented with 22K gold or lead-free pewter.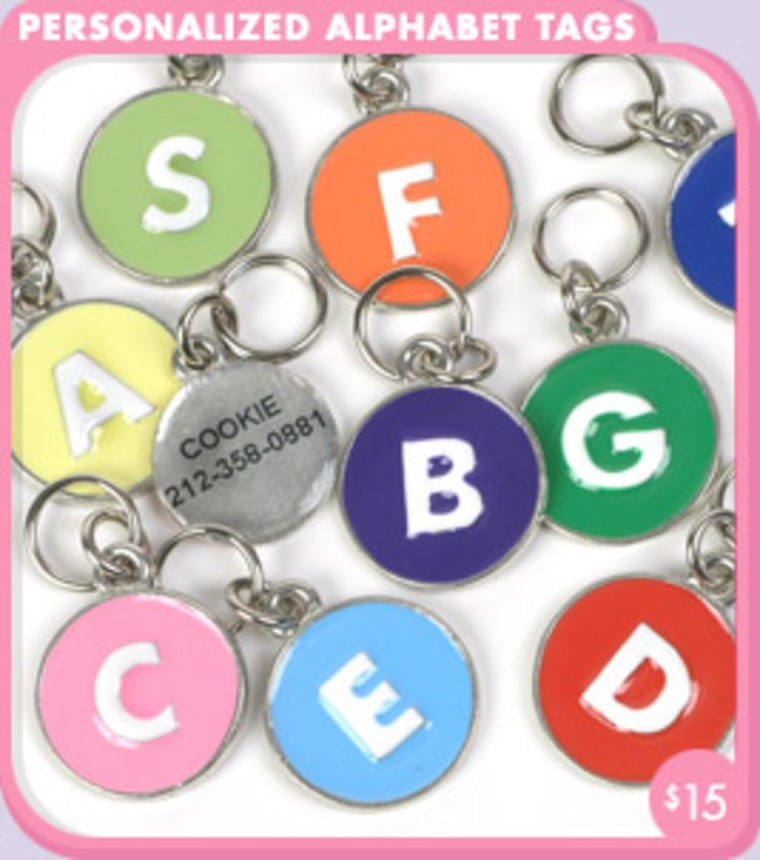 $15; Available at trixieandpeanut.com
$29; Available at trixieandpeanut.com

$25; Available at trixieandpeanut.com
Custom photo canvas artwork $59-$109; Available at CanvasOnDemand.comWe treasure our dogs like priceless works of art, so why not turn them into one? You'll become a total gift hero when you present your loved one with a blown-up  photo of their pet printed on canvas and stretched over a wooden frame. Simply e-mail any digital photo, select a size and in a few days you'll have your own personal masterpiece. A memorable gift for yourself or anyone who ever loved a pet.
WetNoz Studio Bowl $4-$9; Available at WetNoz.com
The quickest path to your dog's heart is through its stomach — why not touch its heart with one of these contemporary and innovative Studio Bowls? A dish you won't want to hide when guests arrive and might secretly want to share. It's lightweight, has an easy-to-grip handle, and nonskid feet to prevent dish scooting. Sizes range from 1- to 5-cup serving sizes for all appetites.
'The Organic Dog Biscuit Cook Book' by Jessica Talley
$12.24; Available at Amazon.comInstead of giving out candy kisses, show your dog some love with homemade organic treats. Surprise your Valentine with "The Organic Dog Biscuit Cook Book," by Jessica Talley — a unique gift for any dog lover who loves to bake. This can be a fun winter activity for the whole family and includes more than 100 simple, healthy, organic recipes. You can even turn the biscuits you made from this book into gifts for other dogs. You never fail to impress a dog owner with homemade dog treats as a gift!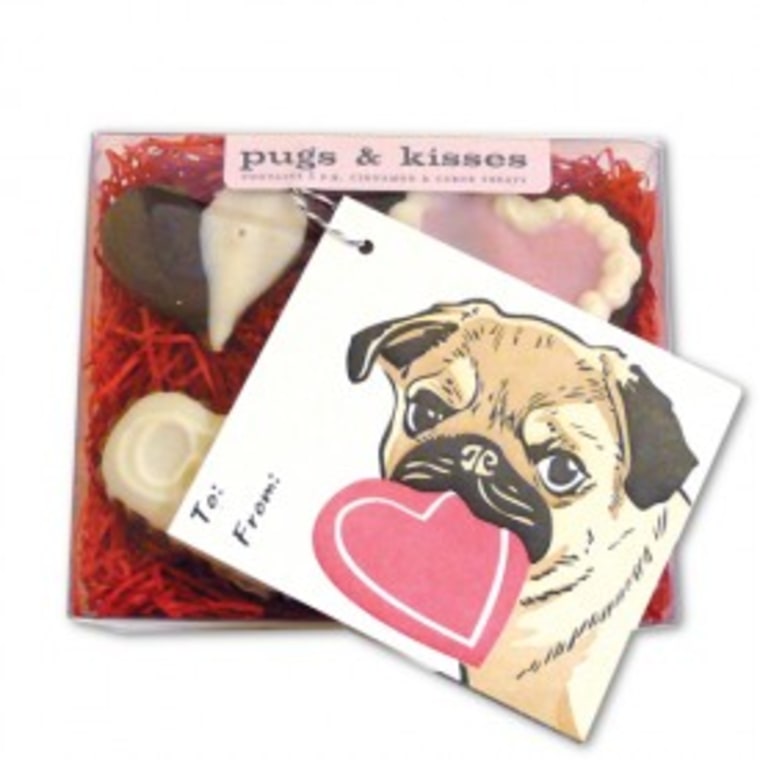 Bubba Rose Biscuit Company Treats
$12.50; Available at BubbaRoseBiscuit Co.If you don't have time to bake homemade dog biscuits, check out the  Bubba Rose Biscuit Company's Pugs & Kisses Valentine gift sets. Created by "The Organic Dog Biscuit Cook Book" author Jessica Talley, these all-natural, 100-percent organic, carob-and-peanut butter cookies are so yummy you'll want to take a bite yourself! Each gift set includes five cookies and a beautiful hand-printed and letter-pressed card.
DogToids Breath Fresheners by Bamboo
$4.50; Available at PetCo stores nationwide and petco.com
At last, an after-dinner breath mint for Fido! Now you'll appreciate more "pleasant" licks from your pooch. DogToids Breath Fresheners are little treats that are meaty-flavored for dogs yet loaded with fresh parsley to freshen your dog's breath. They come in a handy-to-carry tin can for easy travel.
Roll Over Red Rover-Party To Go Martini Treats
$18.50; Available at RollOverRedRover.com
After dinner, serve up a festive canine cocktail of treats made from all-natural olive and martini glass-shaped cookies. These nibbles are made of top-quality natural ingredients like oatmeal, whole-wheat flour, peanut butter, nonfat dry milk — all the goodness you would feed yourself. The shaker is reusable for nonstop parties on the go.
Planet Dog Orbee-Tuff-Strawberry Treat Spot
$10.45; Available at
For some play time, share sweet strawberries that won't leave a mess on your floor and will keep Rover entertained for hours. This activity toy is as beautiful as it is tough. If you can't be together, this will help ease the separation anxiety by entertaining your dog with independent play. It's made in the USA by a great friendly eco-company in Maine. All materials are nontoxic and and can be recycled with ordinary household materials when finished.
Sexy Beast Fragrance
$50; Available at Finally when someone says "you smell like your dog," you'll take it as a compliment! Sexy Beast has created a truly beautiful, unisex, sophisticated-yet-not-stuffy fragrance that you and your dog can share. The fragrance is carefully formulated for a dog's sensitive sense of smell and balanced just right for the human. Low-alcohol, hypoallergenic and paraben-free.
Lani Dig Your Dog
$18.95; Available at Before snuggling up together at the end of a long Valentine's Day, give your dog an at-home spa treatment with Lani Dig Your Dog shampoo and conditioner. Loaded with tons of natural skin- and coat-softening ingredients, this shampoo and conditioner will leave your dog's coat silky smooth and smelling great. Available in dog-friendly scents like Park, Wood and Beach.
For more great pet gifts and information, visit