A 13-year-old Florida boy shared how he bravely survived an alligator attack after realizing there was "no getting out" without fighting back.
Gabriel Klimis was swimming with his younger brother at Howell Creek in Winter Springs, Florida, on June 20, when an alligator latched on to his right leg and tried to pull him under the water, he said.
"The gator kind of just grabbed me from there, and then once he wrapped his jaws on me, I knew that there was no getting out," Klimis told NBC News correspondent Sam Brock on TODAY on June 26.
Klimis repeatedly punched the alligator in the head and the animal let go, allowing Klimis to swim back to shore. He went to a nearby house and calmly called his mother. He then called 911 to reach the Seminole County Fire Department.
He told the operator an alligator bit him on his right hip.
"I'm OK, though," he said on the call. "I can walk and I can stand. I'm fine."
Paramedics took him to the hospital, where he received stitches for the wound and a bandage from his hip to his upper thigh.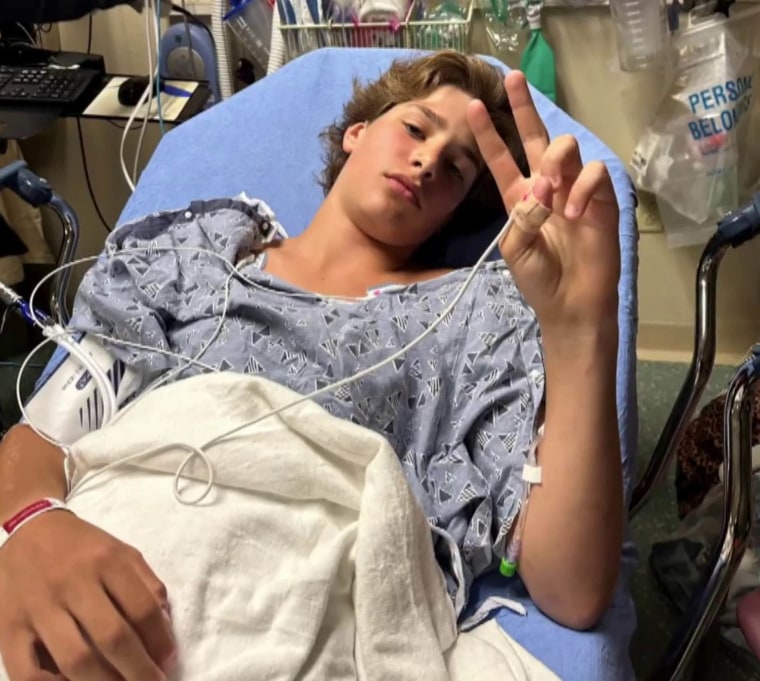 He is now recovering at home, but is not completely out of danger yet.
"Huge concern for infection," his mother, Allison Klimis, said on TODAY. "We talked with infectious disease (experts), and they said about 10 days until we're really out of the woods just because of how deep the wound was and the creek water."
Florida Fish and Wildlife Conservation Commission officials trapped an 8-foot alligator a few days after the attack in the same area. They said they are fairly confident it's the same one that bit Klimis, but there's no way to be completely sure.
The unprovoked attack on the teen was rare for the estimated 1.3 million alligators in Florida.
In the past decade, there has been an average of only eight alligator attacks a year in Florida that require medical attention, according to the Florida Fish and Wildlife Conservation Commission.