When Fred Butler dropped out of grade school to work to support his mother and siblings, he thought the opportunity to graduate high school was gone.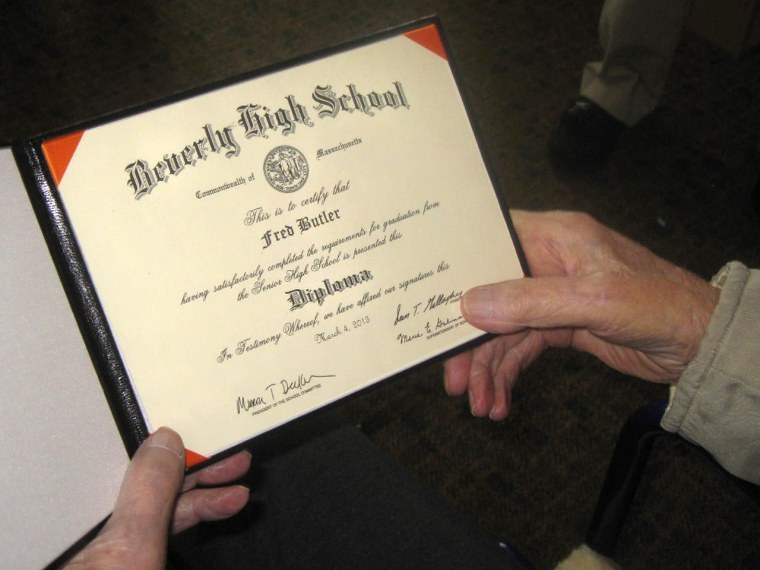 But now, more than 90 years later, he's received his diploma.
Beverly High School in Beverly, Mass., awarded 106-year-old Butler an honorary degree earlier this week. The emotional ceremony gave his family and members of the community a chance to recognize Butler's achievements; the city's mayor, Bill Scanlon, declared March 4 "Frederick J. Butler Day."
The takeaway from Monday's emotional ceremony: Fred Butler has lived a wonderfully fulfilling life — even without a diploma.
Read story:Homeless man who returned ring gets over $175K in donations
"It was hard life growing up," Butler's son, also named Fred, told TODAY.com. "He tried to give his family a better life than he had. He worked his tail off at whatever he could do."
When he left school after the eighth grade, Butler worked at a print shop. He had a series of job — including setting up pins at a bowling alley — before serving overseas in the U.S. Army during World War II. After touring in England and the Philippines, Butler returned to Beverly and joined the city's water department, where he worked until he retired in 1975.
"He would dig out ditches to lay pipes long before they had bulldozers," Butler's son Fred said. "Despite the type of physical work he did, he never suffered physical ailments. He never took any medication. He drove until he was 100."
Read story:'Is he breathing?' Cop saves man with CPR
When Butler's wife died last September, Fred said, Butler was devastated. "He lost a bit of the spark he had in him. He never thought that she would go before he did."
The idea of the diploma came up as a way to help his father grieve, Fred said. Butler has always emphasized the importance of education to his children and grandchildren. "He would give his grandchildren $5 if they got an A to motivate them. Education was very big to him," Fred said.
The ceremony that took place Monday did exactly what his children and grandchildren hoped it would: It took Butler away from his grief for an afternoon.
"I want to thank everybody who is responsible for this," he told attendees from his wheelchair.
His son says that Butler teared up at times during the presentation. "You can tell it meant a lot to him."