Edie Simms is 102 years old and was recently arrested at her retirement home.
She totally was asking for it.
In what may be the happiest ride in the back of a police car in history, the St. Louis woman had an unusual bucket list item she wanted to cross off — she had never been arrested.
The St. Louis Metropolitan Police were happy to oblige, so a group of officers put a cheerful Simms in handcuffs on Sept. 30 and escorted her to the Five Star Senior Center in the back of a squad car to allow her to fulfill her odd wish.
RELATED: 102-year-old woman, born before women could vote, overwhelmed to nominate 1st female candidate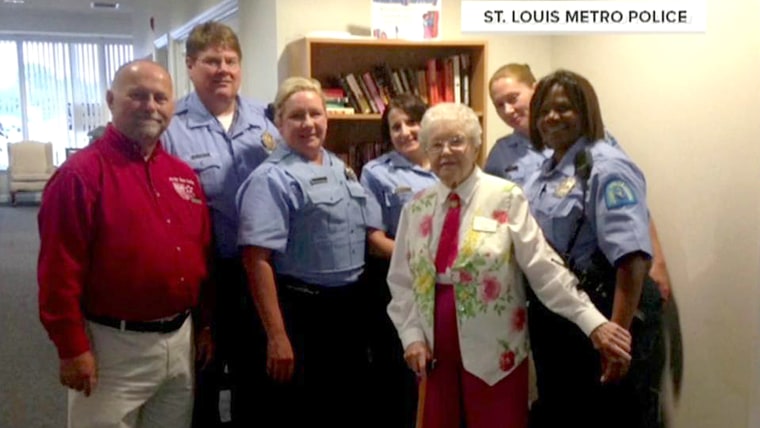 Simms frequently donates items to the senior center, having sewed hundreds of pillows, blankets, scarves and more for the residents over the years, according to NBC affiliate KSDK. The police were happy to fulfill the wacky wish of a woman who has done so much for others.
Simms also doled out some advice while speaking to a group of reporters.
RELATED: You can't knock her down! 100-year-old sets 100-meter record after taking a fall
"Keep going, don't ever stop whatever it is you're doing and spend some time doing community service,'' she said. "Sometimes the person you reach out and touch is the only person that they will talk to in a day."
After her first ride as an outlaw, Simms decided to swear off a life of crime. She joined the rest of the senior center residents for a game of bingo.
Follow TODAY.com writer Scott Stump on Twitter.