/ Source: TODAY contributor
How does it feel to become an Internet sensation and international phenom when you're 90 years old?
How about when you're 100 years old?
Answer: Exhilarating — and exhausting.
Just ask Rose Pollard Lunsway, 90, and Forrest Lunsway, 100. The California couple of nearly 30 years have been making headlines because they just got around to tying the knot — on Forrest's 100th birthday. Media outlets call the pair every day, and congratulatory notes have been pouring in from all over the world. Even President Barack Obama sent one, along with a birthday card for the groom.
"My husband keeps saying, 'What in the world is all the fuss about??'" Rose said, laughing. "It is getting to be exhausting, and I'm getting a bit confused. I'm wondering if details are going to get crossed in all these stories because I just can't keep every detail straight."
That said, Rose is happy to be sharing their story because she knows how unusual it is. With a combined age of 190, the pair is apparently on track to secure a Guinness World Record for being the oldest couple to marry. They've surpassed the aggregate age of the most recent record holders, Francois Frenandez and Madeleine Francineau of France.
"I knew this would cause a sensation because a lot of people don't get married that old," Rose said. "I just didn't know how much news it would make. It just happened to be at the right time when everybody wants to hear something uplifting. And that's what I want to do: the most good for the most number of people."
'On your 100th birthday'Rose and Forrest met on a blind date at a senior center dance back in the early 1980s. They danced the night away and became an exclusive couple almost immediately.
They had both been married before and had lost spouses in death. Rose's first marriage was a good one, and her husband had been sick for a long time before he died.
"After that, I had decided that I had no intention of remarrying," Rose explained.
But eventually, Forrest popped the question. At that point Rose's feelings about marriage hadn't changed.
"I told him, 'I'll marry you on your 100th birthday,' " she said.
They stayed together for years, having adventures and enjoying life. They hiked the whole coast of California, kayaked in Alaska and found places to go ballroom dancing multiple nights a week. The pair attribute their longevity to their active lifestyles.
"No doubt about it," Rose said. "My husband is very, very active. In fact, right now he's outside planting."
The biggest, shortest, tallest, longest, weirdest and wackiest record breakers from the Guinness World Records.
Forrest told TheDaily.com that he likes to quaff whiskey and 7-Up with his drinking buddies from time to time, and he prefers fried food. "Something you can get a chunk of," he said. "Cut a bite off a piece of meat, that's what I like."
He also told the Dana Point Times that he doesn't feel 100 at all. "I haven't hit 65 yet!" he said.
As Forrest's 100th birthday approached, Rose remembered her promise. The couple shared the news of their desire to get married with Vanna Murphy, site director of the Age Well Senior Center in Dana Point, Calif. — one of their favorite dancing spots.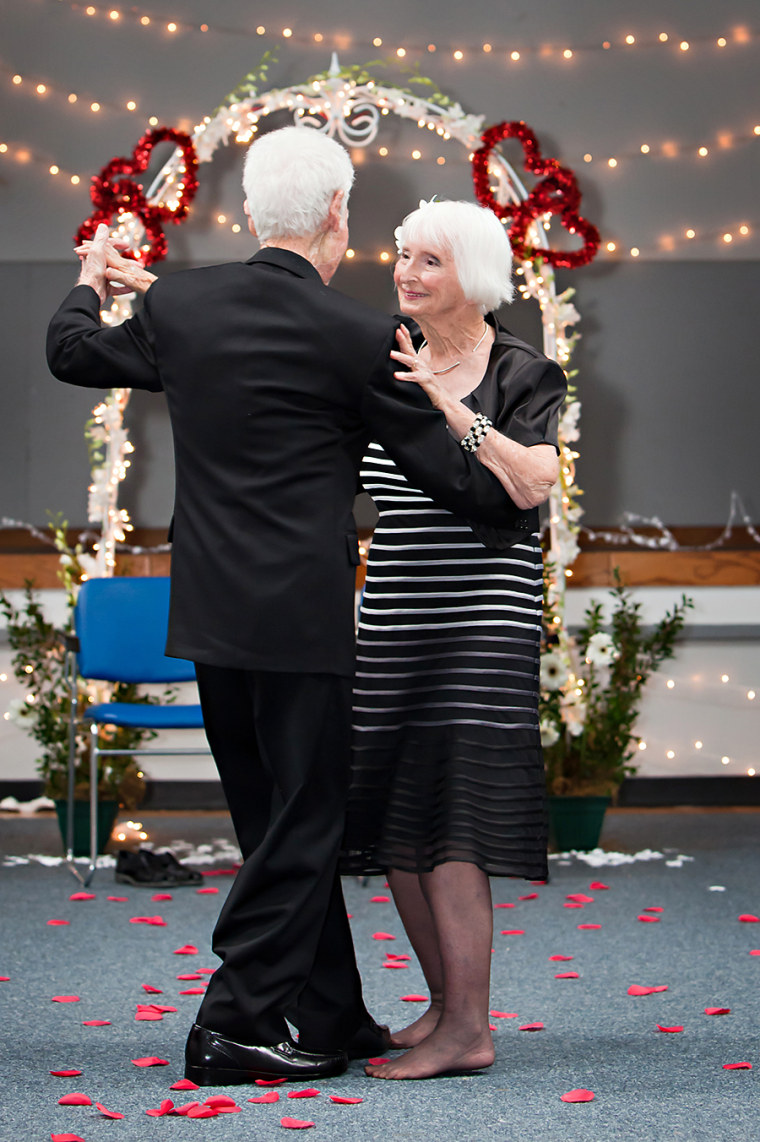 Murphy spent almost a full year organizing the March 19 wedding while trying to keep it a secret. The event was billed simply as a 100th birthday party for Forrest.
"When guests got here, they realized it was a wedding too," Murphy said. "The wedding was incredible. I mean, it was beyond incredible. It was so wonderful to see."
Local businesses donated the birthday cake and reduced the price of the food so a nice dinner could be served to about 95 guests. Attendees included local officials and dignitaries, along with many longtime friends. A local Marriott hotel donated a night's stay in a room stocked with strawberries and champagne.
Coping with sudden fame
Coverage of the couple's love story has mushroomed since the wedding day in March. Forrest and Rose may even become the subjects of a documentary.
Rose is diligently trying to respond to well-wishers' notes with handwritten notes of her own, but it's hard — especially when the phone keeps ringing with yet more interview requests.
"I have so many thank yous that I still have to write," Rose said. "At my age, it's a job just to keep a house."
Forrest and Rose don't own a computer — ("We don't compute," Rose explained) — so they've been spared the barrage of attention they've been getting on the Internet, but they have seen some television footage about their tale. They're coming to realize that almost everyone they encounter these days wants to know the secret of their success as a couple.
"Respect one another and — oh boy, I should be prepared for this one — I'll have to think about it," Rose said. "I'm sorry, I'm just really tired."
Need a Coffey break? Friend TODAY.com writer Laura T. Coffey on , follow her on   or read more of her stories at .