It's better to give than to receive — but that's a big lesson to learn for most 10-year-olds.
However, Jeremie Bordua already knew he cared more about honoring others than celebrating himself. He spent nine months planning his 11th birthday party — for other people.
Jeremie, whose birthday is on Monday, baked cookies for nine months through his program "Cookies for a Cause." His goal was to raise enough money so that he could throw a huge celebration to honor his heroes, law enforcement officers.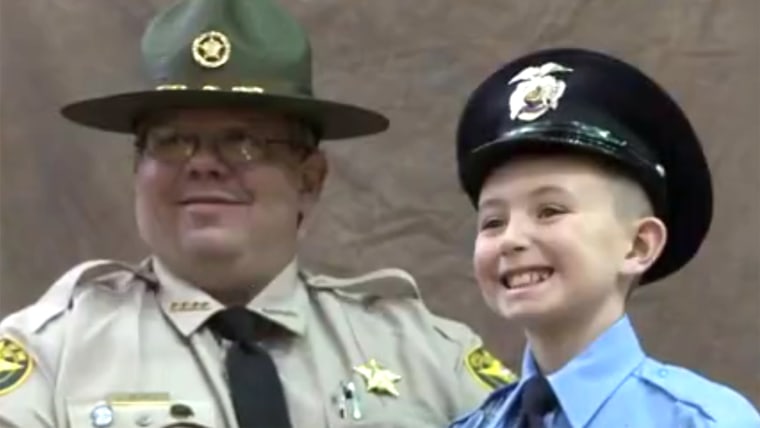 He told NBC Affiliate WILX, "I had the idea to throw a thank you party for police because I've been bullied, so I know how they feel."
"I just wanted to show them I still appreciate them, and I still believe in them."
The celebration took place in Jeremie's hometown of Lansing, Michigan, and officers from as far as Georgia made their way over to the gym in Lansing's high school to share in the day.
The officers who attended the celebration were in awe of Jeremie.
RELATED: Houston police officer heralded for final moments with his police horse, Charlotte
As Officer Gary Hall of the Los Angeles Police Department said, "Police work sometimes is pretty hard, and seeing a little boy that old with a heart like that, that he wants to support the police, means a lot."
First Lieutenant Joe Thomas, a member of the Michigan State Police, said, "I think it's truly a testament to what one person can do and it doesn't really matter how old you are."
It's a "proverbial hug," Sheriff Gene Wriggelsworth of the Ingham Country Sheriff's Office said of the event.
RELATED: Florida 'basketball cop' brings Shaquille O'Neal as backup in game with local kids
Jeremie seemed overcome with how meaningful the event was for the law enforcement officials. "I think they really like what I've been doing," he said with a sigh of near disbelief.
Jeremie raised $10,000 from his cookie sales, but he was able to donate it all back to the community because everything he needed for the party, including the venue and the food, was donated.
After Jeremie did everything he could to honor the officers, they honored him in return.
RELATED: Memphis police officers buy new Xbox to replace boy's stolen one
"I hereby name Jeremie Bordua an honorary police officer for the Lansing Police Department," Lansing Police Chief Michael Yankowski announced, giving Jeremie a uniform and badge.
"Thank you, Jeremie, for your unconditional support of law enforcement."