Jordan Reeves was born without part of her left arm. But with all the glitter flying around, that'll hardly be the first thing you'll notice about her.
In January, the 10-year-old from Columbia, Missouri got the invite of a lifetime. She was asked to join the Superhero Cyborgs workshop in San Francisco, hosted by nonprofit organization Kidmob and 3-D software company Autodesk.
"They reached out to us and basically said we could come and join the workshop for free," Jen Lee Reeves, Jordan's mother, told TODAY.com in a phone interview. "And I said, 'That's funny.' But, no, they really made it possible for us to be there."
RELATED: Robert Downey Jr. gives 7-year-old boy 'Iron Man' prosthetic arm
That's partly thanks to Kate Ganim, co-director of Kidmob. She told TODAY.com that design firm's main goals are to "help kids develop 21st-century skills, work alongside design and engineering professionals and gain the creative confidence to improve their world."
"It's about inviting kids who are often viewed as 'disabled' to design themselves into being 'super-abled,'" she continued. "We're asking the question, 'If not a hand, than what?'"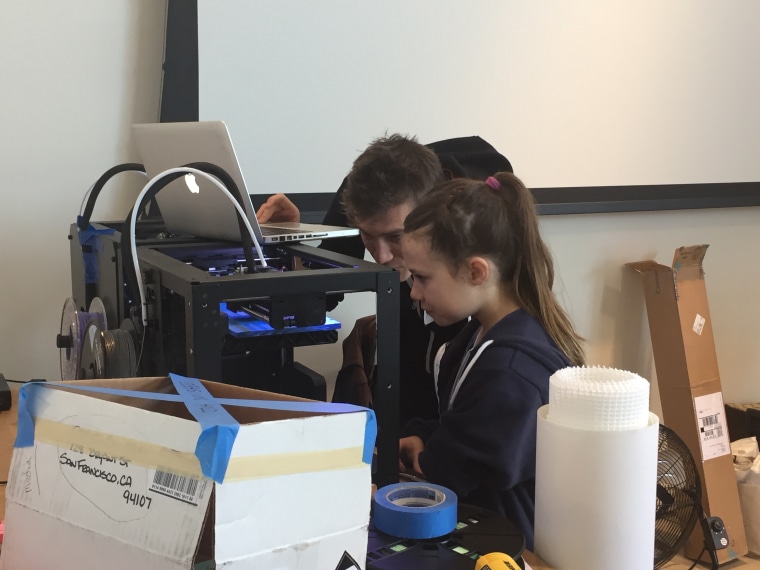 Each of the kids involved in the workshop had an upper limb difference of some sort, and all were tasked with the design challenge of taking advantage of the body they do have to turn themselves into a superhero.
"Jordan had been brainstorming with one of her friends," explained her mother. "And she had this concept of spraying out sparkles. Her friend Sydney came up with water gun arm, and another kid came up with a lightsaber on his hand."
And as for Jordan's own thoughts on the program? "I thought it was a really, really cool experience," she told us. "I just got to be with people like me and let my feelings be shared and stuff."
RELATED: She can fly! Girl, 4, gets prosthetic running legs thanks to help from strangers
She added, "Before, my creativity and thoughts about what I could do were kind of just locked up. When I went to the workshop, it unlocked it. And now I'm letting my creative, building side do what it wants."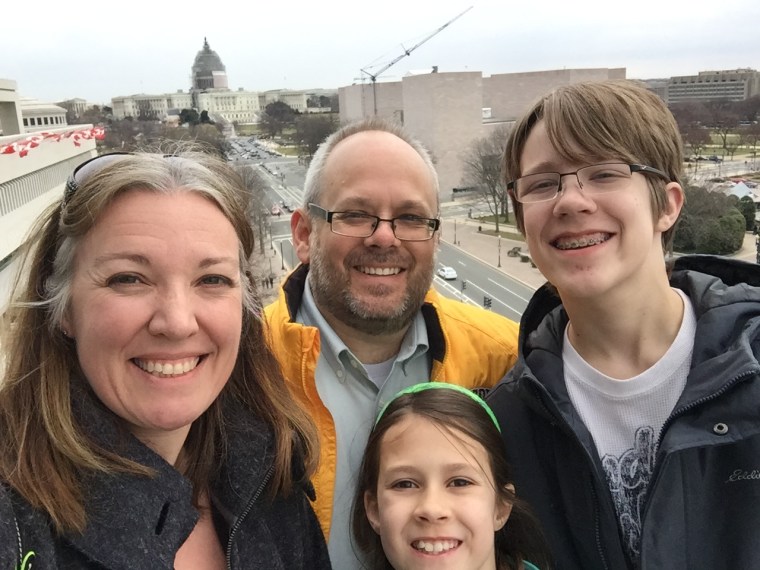 The workshop may be over now, but Jordan's creative work continues. She participates in a Google hangout once a week with her designer partner, Sam Hobish, who currently works at Autodesk and is focused on 3-D printing. He volunteered to be Jordan's design mentor after the completion of the workshop.
"Our first goal is to design a base upon which we can build the glitter cannon," he told TODAY.com, explaining that the most basic prototypes for the prosthetic accessories had been completed at the workshop, but that there was still a lot to be done to make them fully functional and as fun as possible. "We're trying to see if we can make some functional adjustments to one particular design so that Jordan can have some elbow and finger motion. This will make shooting a basketball and holding a cellphone far easier."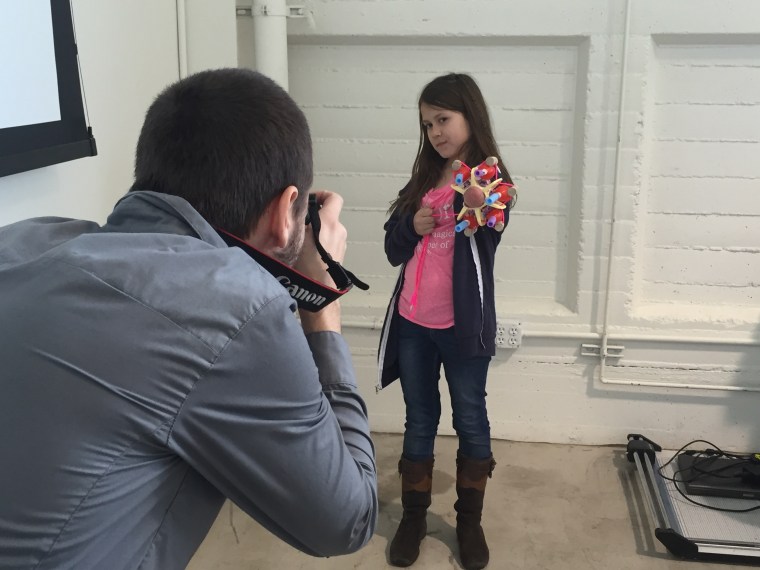 And the most important part of their prototype will come last.
"From there, we will create a system for attaching the glitter mechanism," Hobish said.
Jordan reiterated that point excitedly. "Right now, we are improving the glitter, and the whole thing's going to be re-attachable," she gushed excitedly.
RELATED: Boy with prosthetic legs from Super Bowl ad is 'differently-abled,' says mom
Of course, there's more to being a superhero than just spraying the world with glitter. Jordan loves basketball, running, animals, playing piano and countless other activities that Hobish and his team are using to inform her design.
"She's so energetic and passionate and sometimes that means we go off on tangents where we end up talking college basketball, pets and movies," said Hobish. "While these conversations may seem off topic, such interactions are really valuable for me as a designer to help guide Jordan towards making a product that reflects her personality."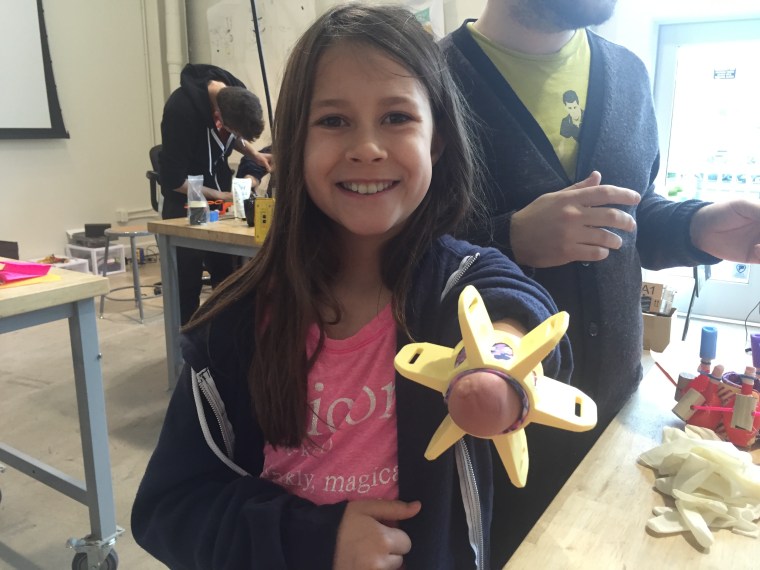 Meanwhile, of course, Jordan does wear traditional prosthetics as needed to perform basic tasks that would otherwise be difficult for her. Certified prosthetist David Rotter of Chicago has been working with her since she was 3 years old to develop her traditional prosthetics. And he's thrilled about her new accessories. In fact, he's volunteered his time, too, to help Hobish improve the designs.
"We're just about to start collaborating," he told TODAY.com. "What is just so fascinating and exciting for me is that, thanks to the Internet and this community, we have tremendous resources that come together to solve problems. Software engineers, industrial designers, traditional prostheticians ... it's exciting. What I'm hoping to do is at least help guide Sam [Hobish] as he tries to create her superhero arm, and help him problem-solve."
The fact that so many have donated freely of their time to help Jordan's dream come true isn't an anomaly, says Rotter. "This community is filled with volunteers and good Samaritans," he said "It bodes well for the future."
Jordan may be the first omen of a brighter future. "She told me the workshop changed her life," said Reeves. "She thinks about creating and building all the time now, and she only just turned 10."
For now, though, it's all about the glitter.
"I brought it to school," said Jordan, "and all my friends were like, 'Wow, that's really cool. I wish I could shoot sparkles from my arm.'"