Couples from all over the country have stopped by the Plaza at Rockefeller Center to visit us and talk about that four letter word that's been on everyone's minds this month: LOVE!
From their secrets to lasting relationships to how they're spending Valentine's Day, these couples prove that romance is definitely not dead.
Carole and Carmello Guggino: Tampa, Florida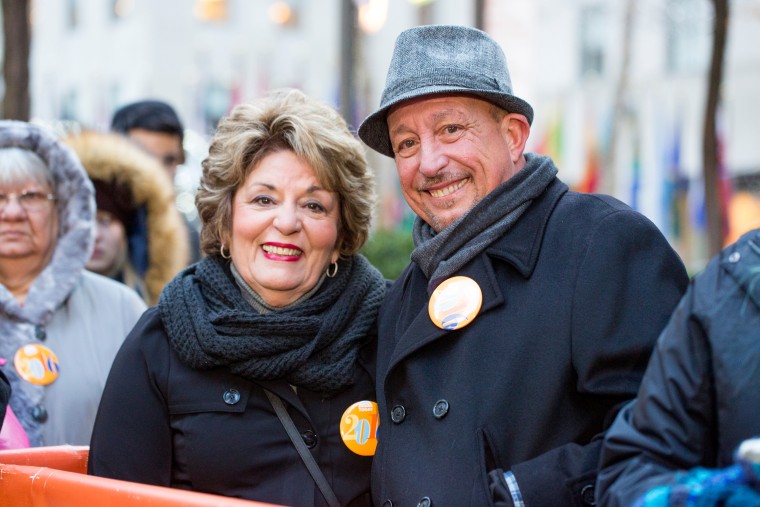 The Gugginos, who are both 67, got married on Valentine's Day in 1969 after meeting at a wedding and are still as in love as ever.
"I tell her how much I love her every single day," Carmello told TODAY.com.
"He really does," Carole chimed in. "He's never missed a day in 47 years."
These lovebirds make sure to do something special every year to mark both their anniversary and Valentine's Day. This year, we were lucky to have them grace us with their presence on the Plaza.
"You have to love and respect each other," Carmello said. "I know there have been times where she's wanted to kill me, but after all these years I'm still alive."
RELATED: President Obama visits Ellen DeGeneres, recites love poem for first lady
Tasha and Trent Dubus: Lake Charles, Louisiana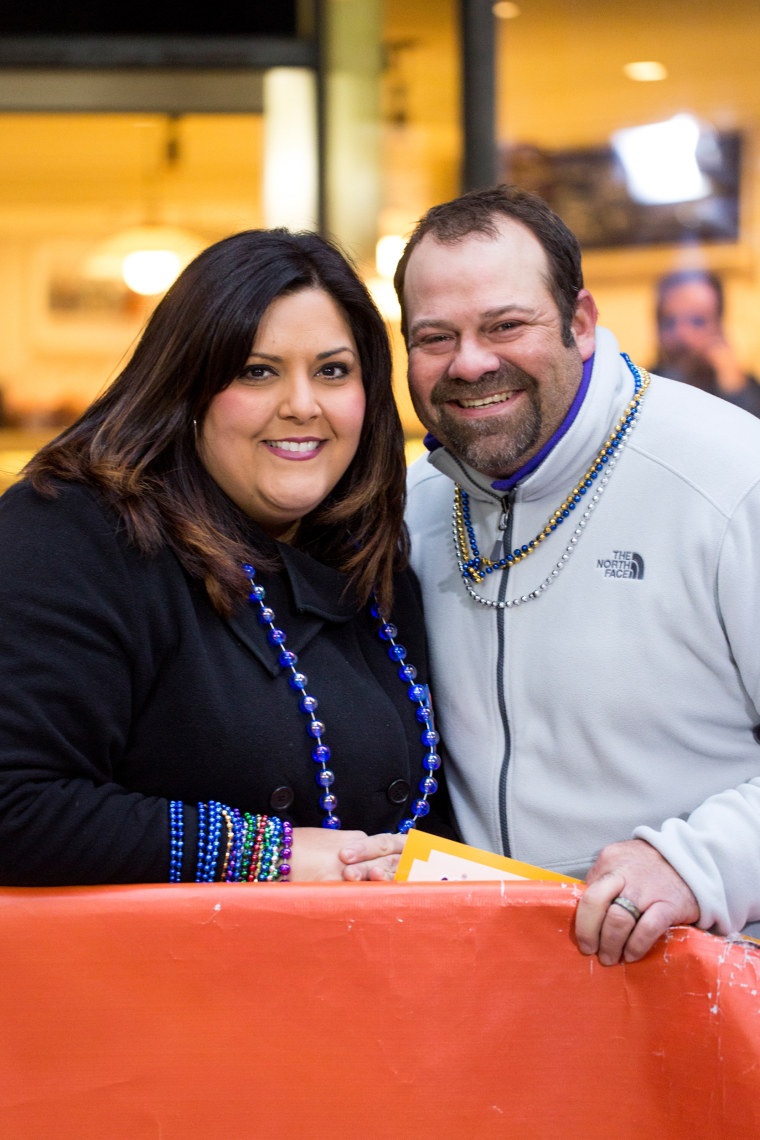 This couple's love story started out rocky. They met in junior high, where both of their best friends were brother and sister. Trent, being the crazy kid he was, noticed a snake in the pool and saw it as an opportunity to throw Tasha in.
"We went through high school not speaking because I hated his guts," Tasha, 39, told TODAY.com. "His sister ended up being a client at my hair salon and she offered to set us up."
She decided to give him another chance and they've now been married for five years with three beautiful children.
RELATED: Rory Feek reflects on first Valentine's Day he spent with wife Joey
"It took me 20 years to get over thinking he was a jerk," Tasha said.
While Trent thought she overreacted a bit, one thing they've always saw eye to eye on is their love for the TODAY Show.
"We love the show so much and since it's Mardi Gras, we figured we'd come up here to celebrate and bring our beads with us to the Plaza," Tasha said.
They don't have anything too elaborate planned for Valentine's Day because "every day is a reminder of the love we share," Trent, 42, told TODAY.com.
Evan and Kathleen Richards: Salt Lake City, Utah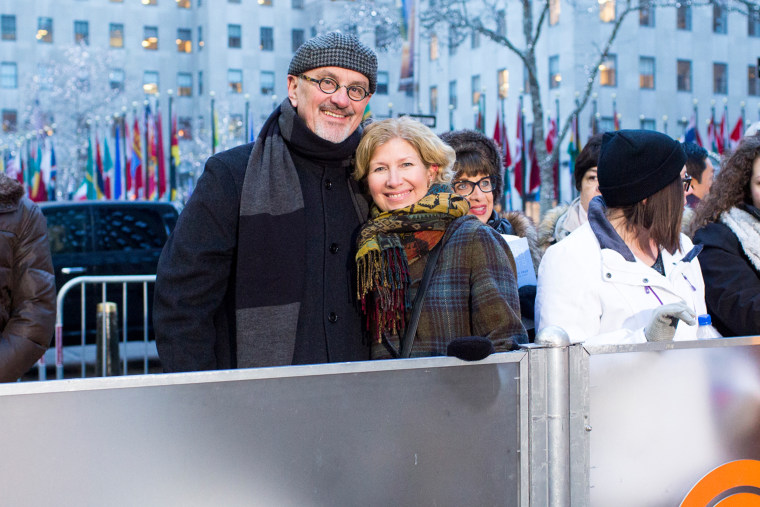 While the Richards were in New York City celebrating Kathleen's 54th birthday and working on behalf of the Cystic Fibrosis Foundation, they stopped by the TODAY Show's Plaza.
"We decided to mix fun and work," Evan, 61, told TODAY.com.
The couple, who have been married for 23 years, met on a medical hotline. Kathleen was working as a nurse in Indiana and Evan was in Utah. She called his hotline and it was the first call he took. They ended up getting married three years later.
RELATED: Be mine, bestie! Celebrate the (real) love of your life this Valentine's Day
"Valentine's Day comes two days after my birthday, so it's always been a big week to celebrate," Kathleen told TODAY.com.
While she's expecting a casual dinner, Evan has something else in mind. He's planning on watching "Giada at Home" and cooking all of her suggested recipes.
Jeff Jensen and Matt Brazelton: St. Louis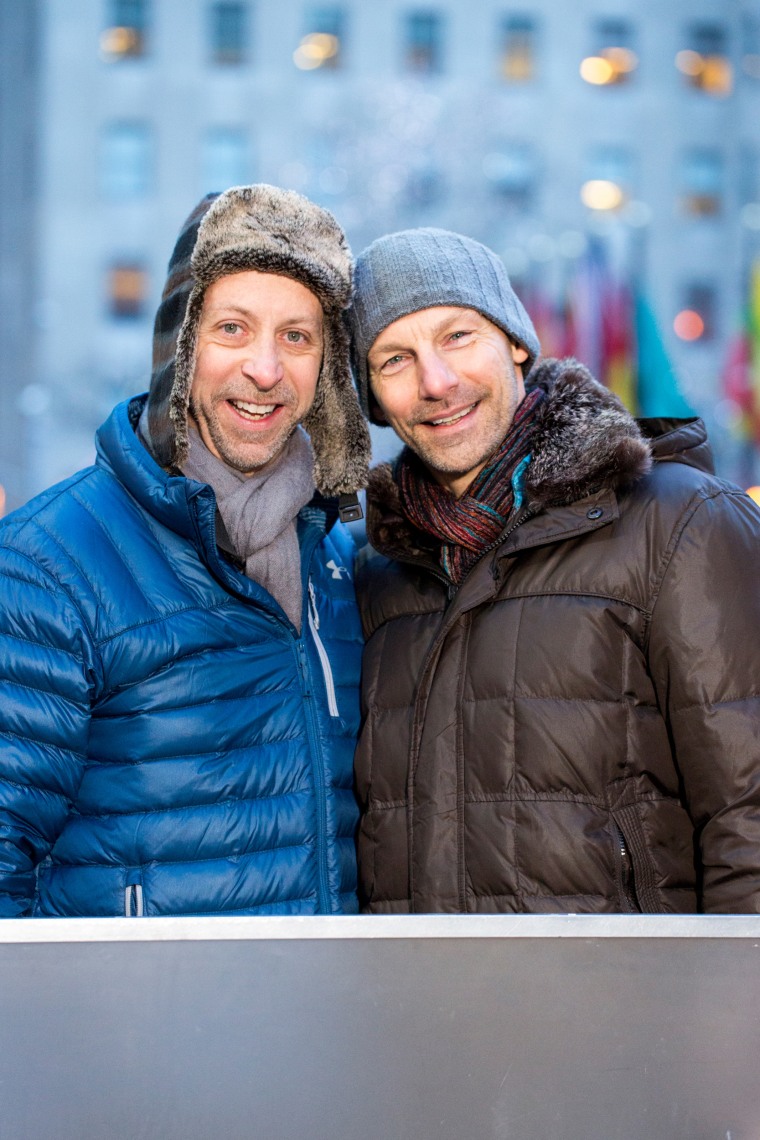 At a fundraiser 22 years ago, Matt, 51, noticed Jeff, 52, from across the room, but before he could approach him, his friends were already asking him if he was single. When the answer was yes, they brought Matt over and they've been together ever since.
The happy couple tied the knot a year and a half ago and have two adorable dogs together, Foster and Potter, who they brought pictures of to say hi to Wrangler, our Puppy with a Purpose.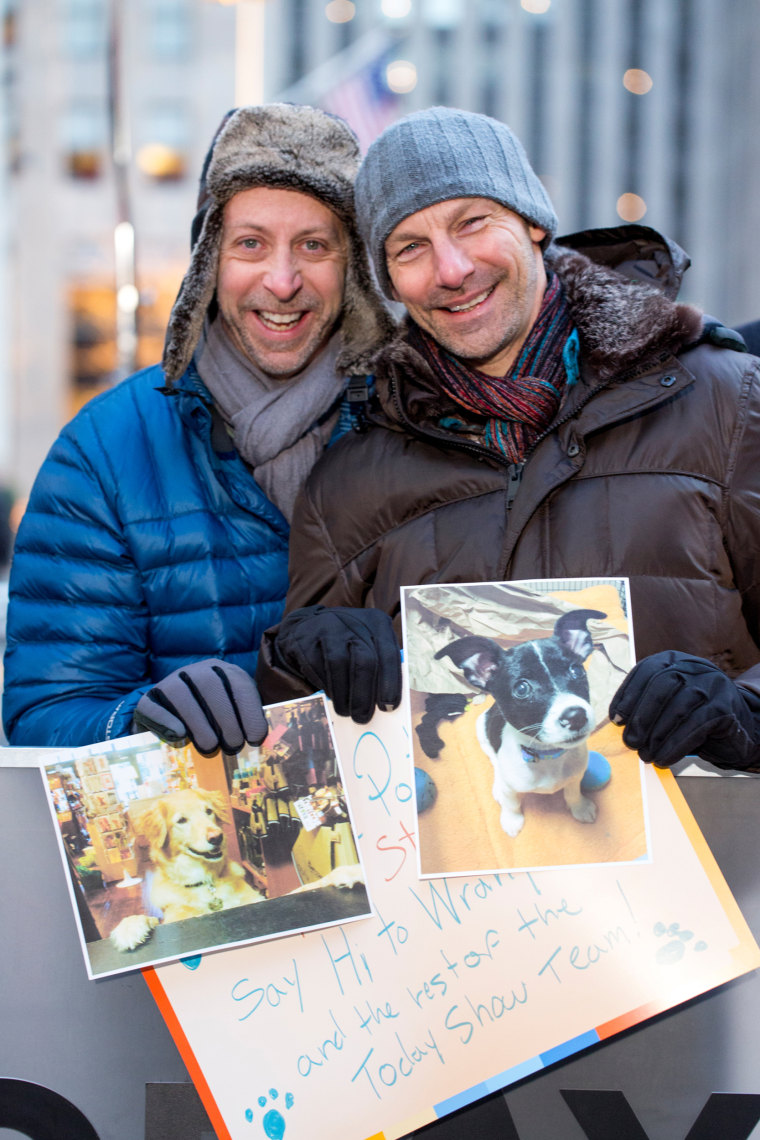 RELATED: Valentine's Day: Hoda Kotb, Ingrid Michaelson unveil 'Little Romance' music video
They both agreed that it takes patience and communication to maintain a strong relationship.
"We work and live together, so we basically never leave each other's sides," Matt told TODAY.com. "We haven't gotten sick of each other yet, so that's how we know it's true love."
Vicki and Carl Pendleton: Baltimore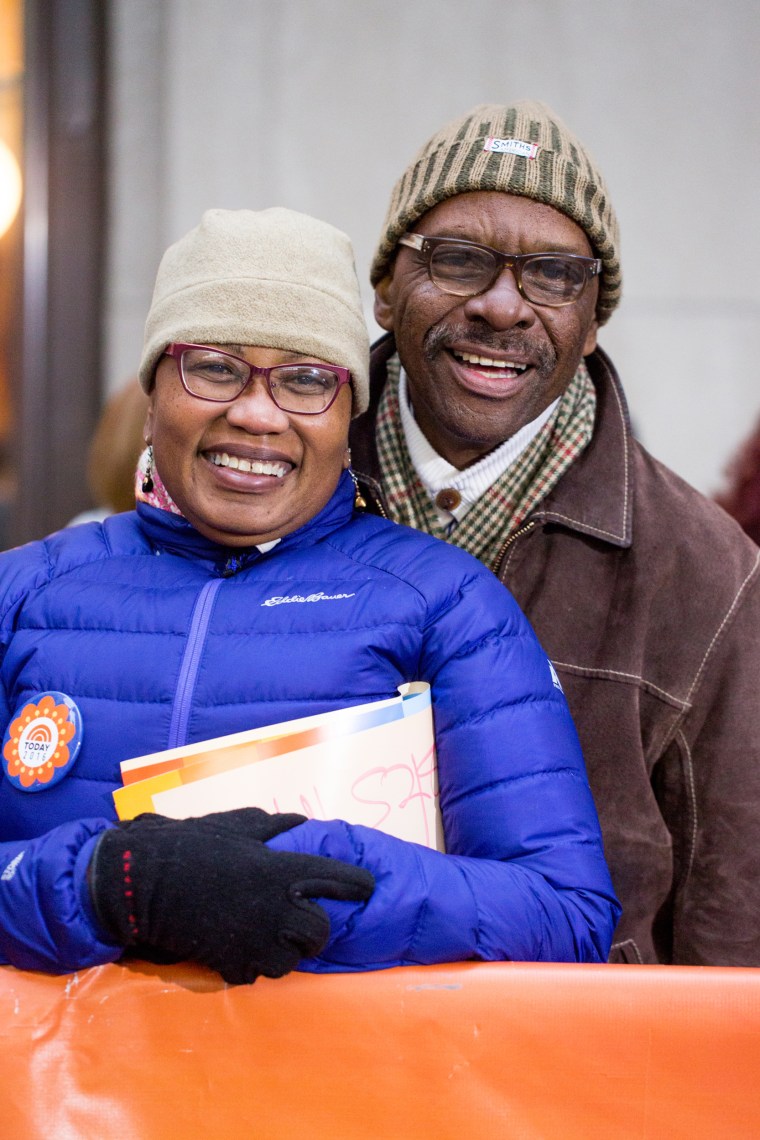 This is one couple who love surprises.
Vicki knew she was going to New York City to celebrate her 61st birthday, but was overjoyed when Carl surprised her with a trip to the Plaza.
"What do I love about him? Well, he brought me here so that's one good reason," Vicki told TODAY.com.
And the surprises only continue into Valentine's Day.
RELATED: How do you know if it's true love? Kids share their wisdom
"I can't tell you our plans because it's a secret and she can't hear, but it's always good, I promise," Carl, 63, told TODAY.com.
The couple joked that their secret to lasting love is having an extra wife and Renee Sharp, who tagged along on their romantic weekend, agreed.
"I'm the one who does all the things she doesn't want to do," Renee told TODAY.com.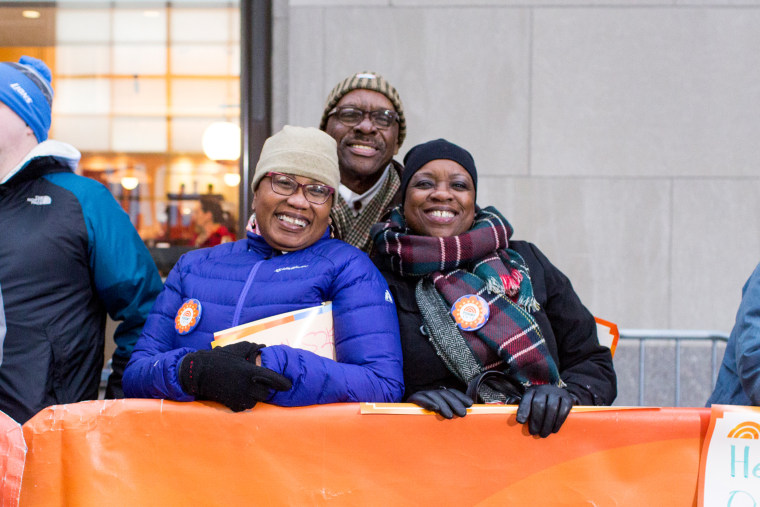 Dawn and Sean Paradise: Dallas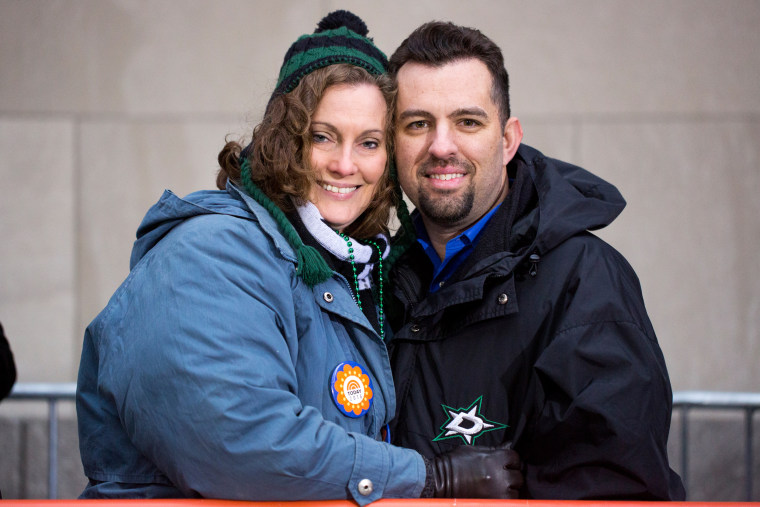 These high school sweethearts both believe that communication is they key to lasting love.
"Since we grew up together, we encountered tons of struggles, but thankfully God has grown us together instead of apart," Dawn told TODAY.com.
They came to New York City to celebrate Dawn's 40th birthday and are cruising to Mexico in May for their 20th anniversary.
RELATED: How do I love thee? See this man draw the ways with sweet photos of wife
"Valentine's Day sometimes gets lost in all the other celebrations, but we're excited to get back to our three boys, who we love so much and the day is all about love, right?" Sean, 40, told TODAY.com.
Whitney Rudkin and Candieta Wade: Edmond, Oklahoma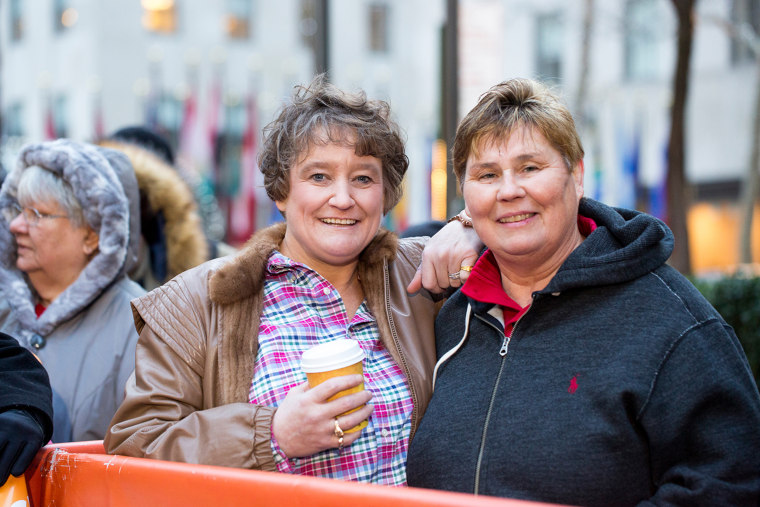 This is a big year for Whitney, 47, and Candieta, 59, who were in New York City for their son Jason's wedding and are tying the knot themselves on Aug. 25, which also happens to be their 25th anniversary.
"My secret to lasting love is to just do whatever she wants," Candieta told TODAY.com. "Always say yes, trust me, it works."
RELATED: 10 secrets to love from couples married for decades
Every Valentine's Day for 25 years now, they've taken a special trip. This year, they've decided to go to Red River on the Oklahoma-Texas border to have a romantic getaway before saying "I do."
Michelle and Ken Lewis: St. Cloud, Florida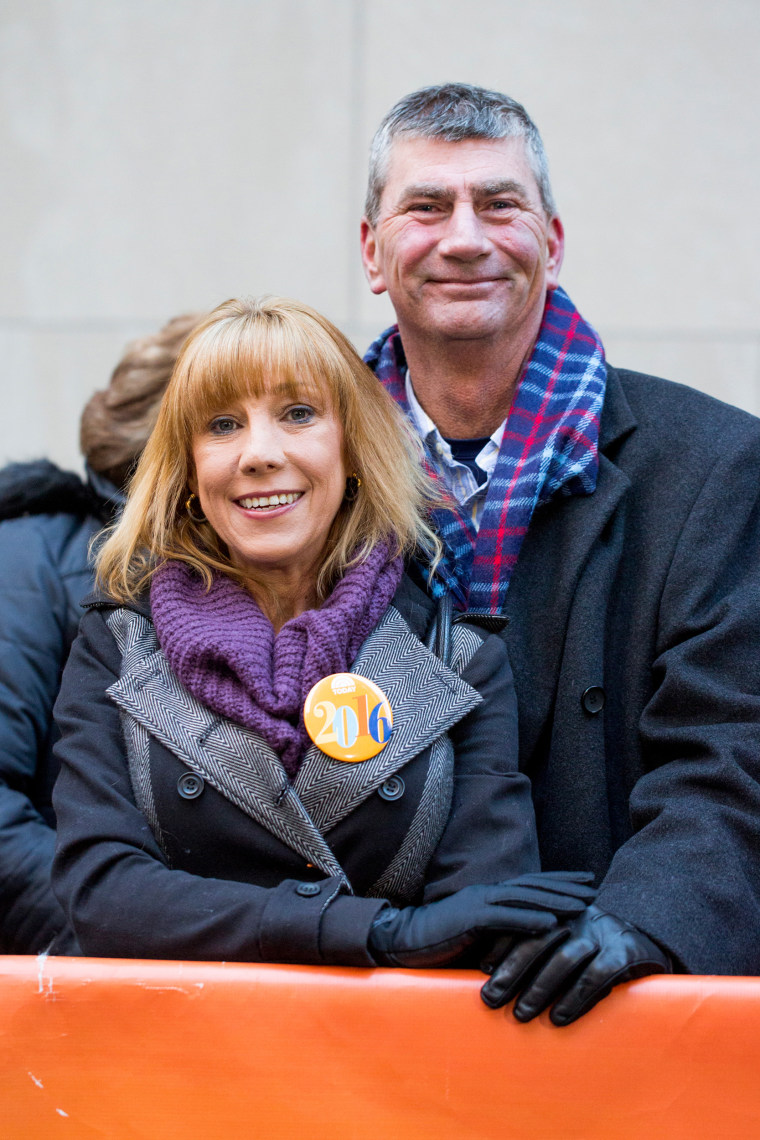 Feb. 12 marks this couple's 11th anniversary and so they decided to celebrate with a visit to the Plaza. For Valentine's Day, though, they're going to their favorite restaurant, Johnnys, to get their fill of crab.
"We've done it every year and don't plan on stopping the tradition any time soon," Michelle, 43, told TODAY.com.
RELATED: What is love? Jimmy Kimmel lets kids on the street explain
Although they didn't have their wedding on the most romantic day of the year on purpose, they're happy that they did.
"I scored," Ken, 46, told TODAY.com. "I get Valentine's Day and an anniversary in the same week!"
Karen and Paul Patti: Warrenton, Virginia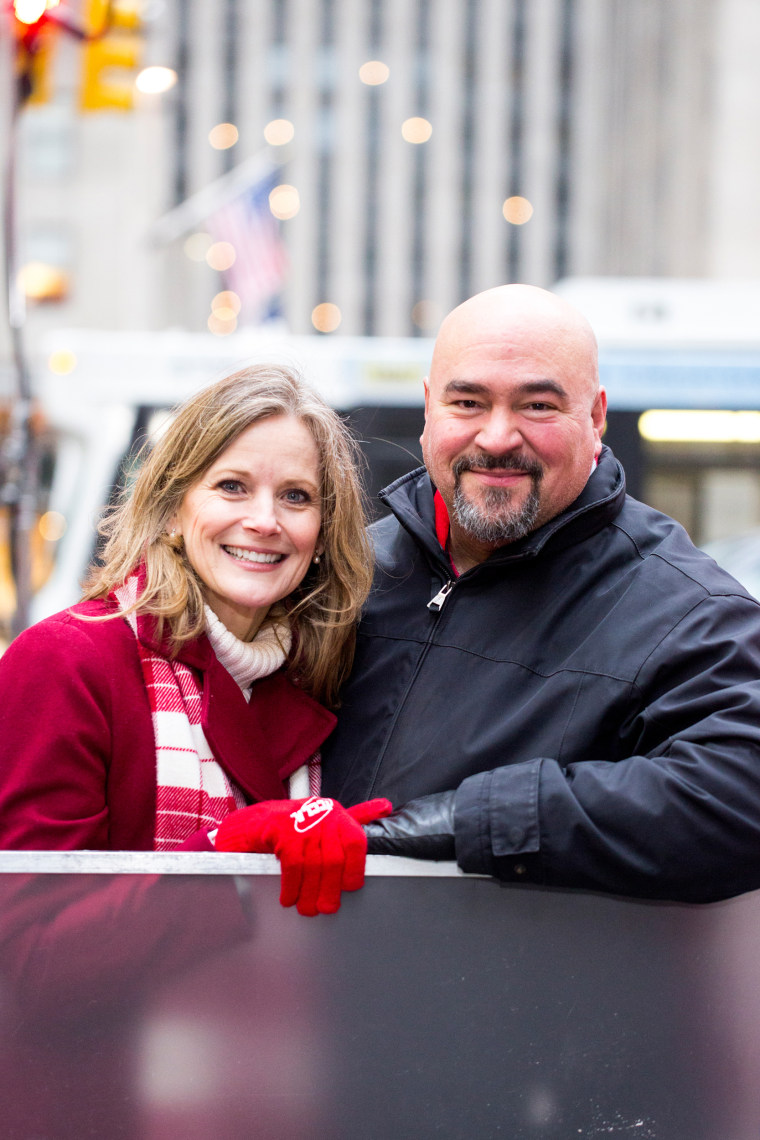 Almost 32 years since Paul's big Times Square proposal, the Pittis have returned to New York City for a work trip, and of course, a visit to the Plaza.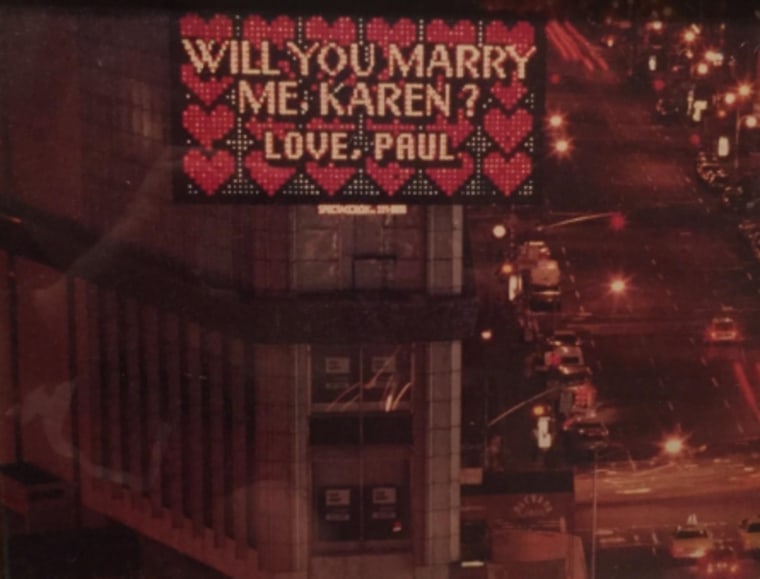 In June, the happy couple will be celebrating their 30th wedding anniversary.
"I'm absolutely still feeling the love all these years later," Paul, 52, told TODAY.com. "I think my love might have even grown bigger in the past 30 years, if that's possible."
As for their Valentine's Day plans, they're taking it easy with dinner and a movie.
RELATED: Watch 3 couples take scientific tests to see if their love will last
"I think Valentine's Day is a day to celebrate successful relationships and love," Karen, 50, told TODAY.com. "I don't care what I do that day, as long as I spend it with Paul."
Cyndy and David Portman: Outer Banks, North Carolina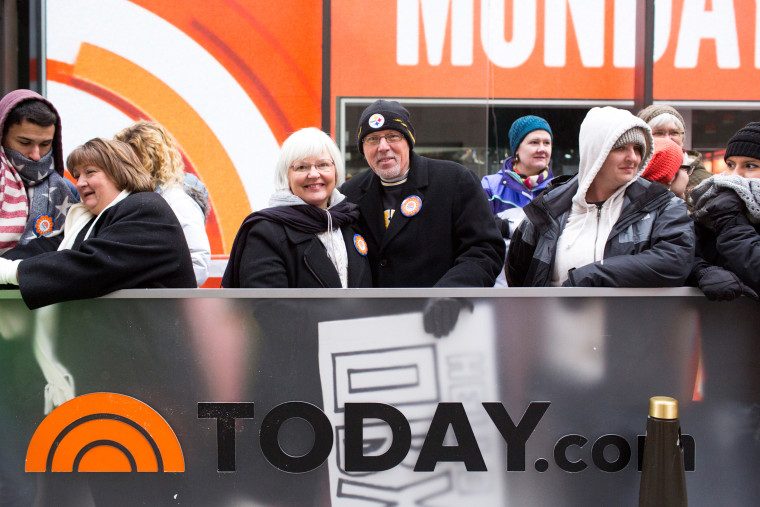 Dancing is what brought these lovebirds together 40 years ago and has kept them going ever since.
They locked eyes on each other from across the bar as Bachman-Turner Overdrive blasted from the speakers. It wasn't very long before David asked her to dance and the rest is history.
Music has played a major role in their marriage. For 35 years, David, 63, served as their church's organist, while Cyndy sang in the choir.
"If I could give couples one piece of advice it would be to keep doing things together and be energetic," Cyndy, 62, told TODAY.com.