About 1.6 million Ameriwood dressers are being recalled because of concern they can tip over and fall on children, according to the U.S. Consumer Product Safety Commission.
The recall affects Mainstays four-drawer dressers sold at Walmart and other retail stores, as well as on Walmart.com, from April 2009 through May 2016. They cost about $60.
At least one injury — a 4-year-old who was toppled by the dresser — was reported to the CPSC.
The drawers are unstable if not anchored to the wall, "posing serious tip-over and entrapment hazards that can result in death or injuries to children." The drawers failed to comply with performance requirements of a voluntary industry standard, CPSC said Wednesday.
The dressers affected by the recall have plastic drawer glides and a single decorative pull on each of the four drawers. The composite wood chests were sold in six colors: alder, black forest, white, weathered oak, walnut and ruby red.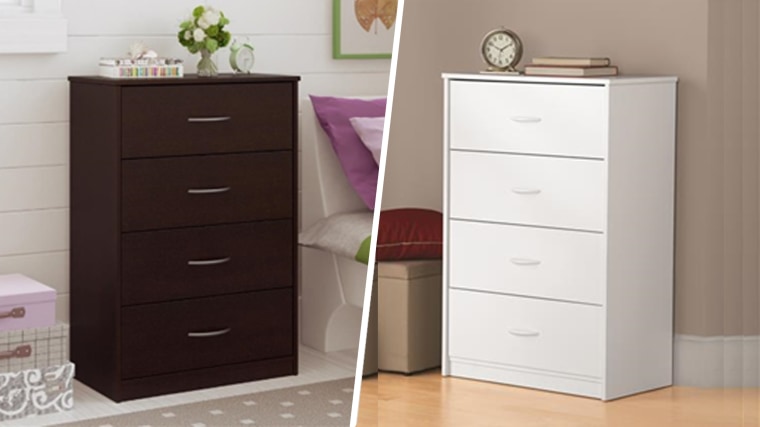 Model numbers included in the recall are 5412012WP, 5412301WP, 5412328WP, 5412015WY, 5412301WY, 5412012PCOM, 5412015PCOM, 5412026PCOM, 5412213PCOM, 5412214PCOM, 5412301PCOM, 5412317PCOM, and 5412328PCOM. The model number is printed on the unit's instruction manual.
Consumers who have the dresser are advised to immediately stop using it if it is not properly anchored to a wall, and to place the furniture in an area that children cannot access.
They should contact Ameriwood for a free repair kit that includes a wall anchoring device and feet for the unit.
Consumers who require additional installation guidance should contact Ameriwood at 877-222-7460 from 8 a.m. to 5 p.m. CST, Monday through Friday. They also can go to www.Ameriwood.com and click on "Support" for more information.