You have a spam filter on your email and now you can have one on your home phone.

The new website Nomorobo which is set to go live tonight will offer a simple and free way to block those annoying – and often illegal – automated phone calls that interrupt your day.
Nomorobo is the brainchild of Aaron Foss, a software programmer from Long Island who hates robocalls as much as you do.
"People are screaming out for a solution," he said. "I hope to make their lives a little bit better."
Nomorobo is a cloud-based solution that uses the "simultaneous ring" service (provided by some phone carriers) that allows numerous phone lines with the same number to ring at the same time.

Sign up for the service and all of your calls also go to Nomorobo. If the call is tagged as a robocall, the computer hangs up on it before you get the second ring.
You do not need to have caller ID on your phone for this to work and the call information Nomorobo collects will be anonymous to protect clients' privacy.
Nomorobo promises that it doesn't block legal robocalls, including school closings, doctor's appointments, prescription reminders and weather advisories. 
Foss's accountant, Richard Seidell, has been testing the service on his home phone for about three months. He said he's noticed a "significant reduction" in the number of robocalls he gets.
"It's really a time saver," Seidell said "These calls are a real pain and it's really a waste of time when you get interrupted by them."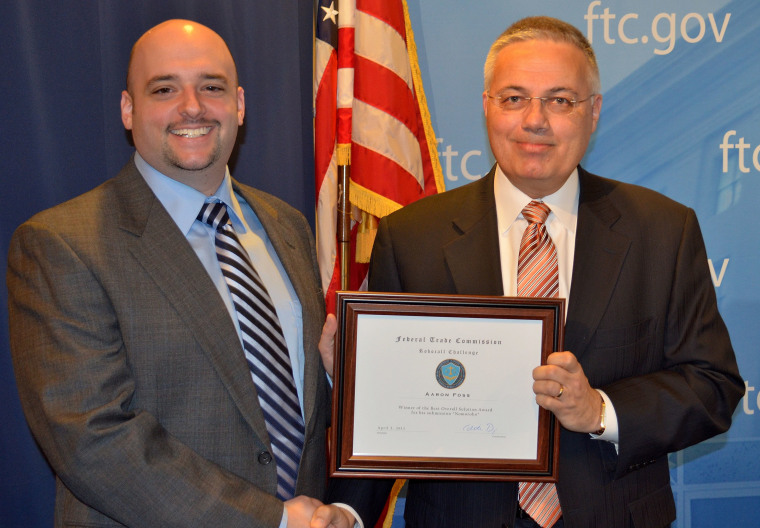 Foss has been working full-time on this service since April, when he tied for first place and won $25,000 in the Federal Trade Commission's Robocall Challenge.
"We're aware and extremely pleased that potential technological solutions to help consumers block unwanted, illegal robocalls are making their way to the marketplace," said Jessica Rich, Director of the FTC's Bureau of Consumer Protection.
Nomorobo is currently available to people who have VoiP service with AT&T U-verse, Cablevision Optimum, SureWest, Verizon FiOS and Vonage. Foss started with these companies because they make it easy for people to get the simultaneous ring feature. He hopes to add traditional landline phone companies in the near future.

Nomorobo's algorithm uses caller ID and call frequency information to screen incoming calls. For now, it's using a database of 1.2 million phone numbers from complaints filed with state and federal regulators. In future, calls coming to subscribers will be added.
"My hat is off to Mr. Foss," said Kevin Rupy, senior director of law and policy at USTelecom, a trade group that represents phone service providers. "We support development of consumer-centric solutions to this problem…but this is an extremely complex, technologically challenging issue to address."
Rupy noted that simultaneous ring is not available from all phone companies and he worries that it might be relatively easy for robocallers to defeat a system based on caller ID. For example, it's easy to spot 5,000 calls coming from one phone number, but what if these phone spammers make 5,000 calls from 5,000 different numbers?
"This is a technological arms race," Rupy said. "Sometimes when you build a better mousetrap, you get a better mouse."
Foss agrees that this is a first-generation product that might not work in the future.
"If the robocallers adapt, then I'll have to adapt," he said.
John Breyault with Fraud.org, a website run by the National Consumers League (NCL), points out that most illegal robocalls are from scammers who are trying to defraud consumers.
"They don't respect the federal Do Not Call Registry, and since they're often outside the country, they're hard to prosecute," he said.
While NCL doesn't endorse products, Breyault is happy to see technology used to help consumers fight back against the bad guys.
This is not the only solution to robocalls. Other software and hardware products are being developed. Foss said he welcomes the competition.
"The more products that are out there to stop these calls and protect people from these scams, the better it is for everyone."
If you've received what you believe to be an illegal robocall, file a complaint with the FTC. If the robocall came to a mobile device, you should also report it to the FCC.

Herb Weisbaum is The ConsumerMan. Follow him on Facebook and Twitter or visit The ConsumerMan website.