The various health benefits of yoga have been proven for both men and women, and yet it's commonly thought of — at least in the U.S. — as mostly a women's fitness practice. We see more pictures of women than men on the covers of yoga-related magazines, and apparel brands have no shortage of yoga-appropriate wear designed for ladies, but not so much for guys. As a result, a lot of men never even give yoga a try.
Dan Abramson, a 31-year-old designer living in San Francisco who refers to himself as a "forever beginner" at yoga, was looking to make the discipline more dude-friendly — with a sense of humor. He created Brogamats, yoga mats and mat carriers that have a masculine edge. More recently, he came up with the idea of Yoga Joes, miniature green figurines that look just like the classic plastic toy soldiers, aka army men that are commonly sold in packs. But Abramson's soldiers aren't at war. They're at yoga.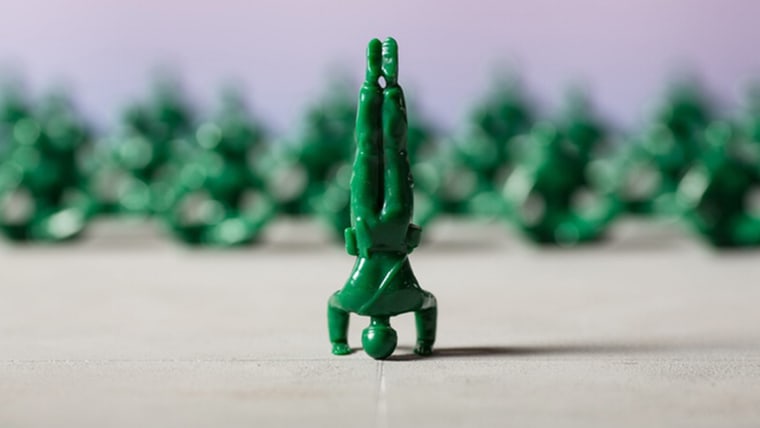 He thought up Yoga Joes while brainstorming with his friend Paul Simmons, a standup comedian. They wanted to create something funny that guys could pass around to each other to promote yoga.
RELATED: Stuck in a yoga rut? Add core and cardio training to your workout
"We were thinking: dogs doing yoga? No. The Hulk doing yoga? No… And then it hit us like a ton of bricks — army men doing yoga," Abramson told TODAY. "Their little platforms could be replaced with little green yoga mats, and the classic green army men toys were already in very similar gestural poses to yoga. For example, the 'Warrior II' pose was inspired by an army man throwing a grenade. Or the army man crawling through the trenches kind of resembles a 'Cobra Pose.'"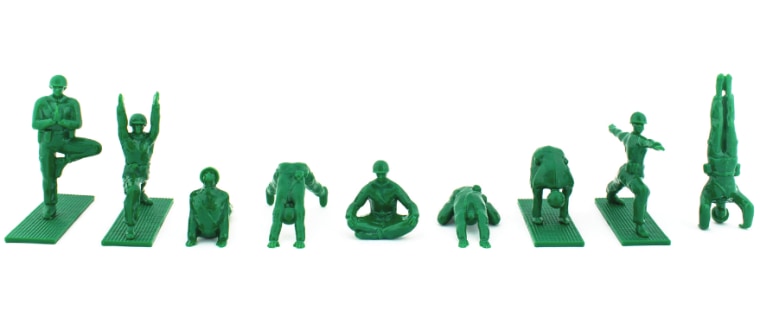 Abramson launched a Kickstarter in 2014 to start production of the "Yoga Joes," which are made through plastic injection. The interest was strong and immediate: 2,879 backers pledged nearly $110,000 to make the project happen.
Yoga Joes have been successful both as toys for kids and as conceptual art for adults.
RELATED: How to avoid pilling in yoga pants: 6 athletic wear questions answered
"Moms tend to like buying them as a non-violent toy, to inspire their kids to get excited about yoga," Abramson said. "But now a lot of museum gift stores are carrying them, as a form of giftable art statuette. They just got into the [San Francisco] MoMa store, the Chicago Museum of Contemporary Art, the Los Angeles Museum of Contemporary Art and the Denver Art Museum."
Abramson's creations have also gotten support from members of the military — a group he didn't expect to attract.
"There's a humongous community of people in the military that are really into yoga — whether it be for all around physical training exercises, or to treat veterans for post-traumatic stress," Abramson said.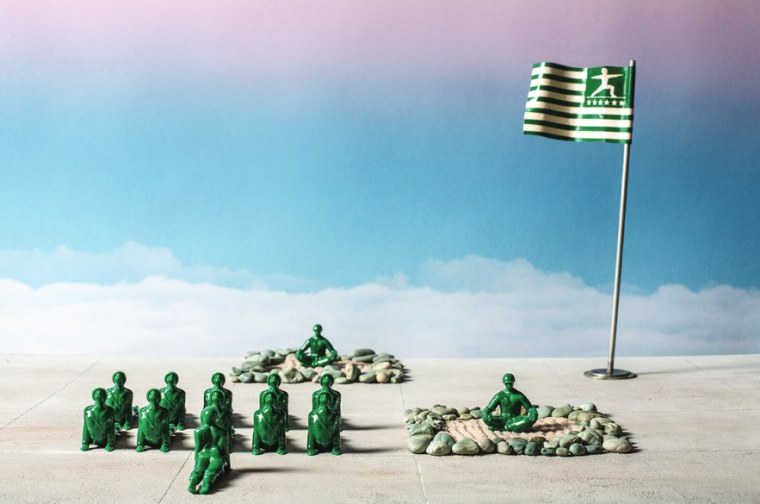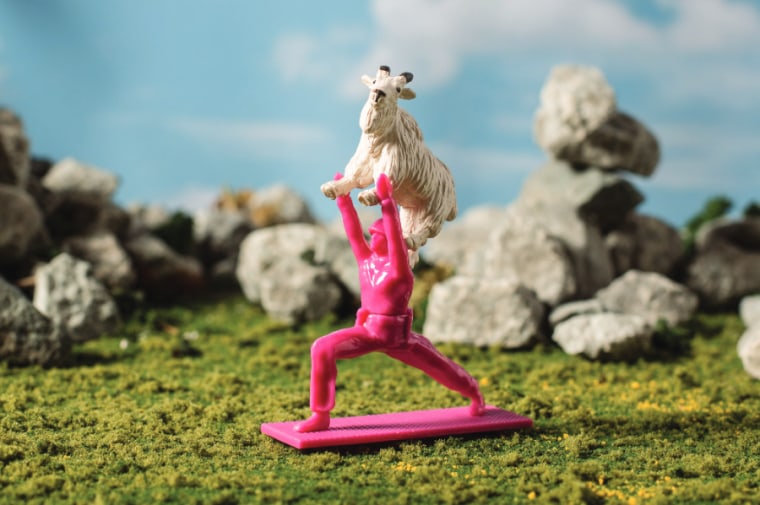 The concept of Yoga Joes has evolved into something much bigger than Abramson anticipated, and has connected to him to projects he never dreamed of being associated with, such as non-profits that bring yoga to soldiers.
"I connected with a great organization called Connected Warriors, and we were able to get Yoga Joes to Afghanistan," Abramson said. "It was so cool, because this project was designed to convince more people to try yoga, and there it was: pictures of the Yoga Joes getting soldiers to sign up for yoga class at Bagram Airfield in Afghanistan."
RELATED: High school adds dress-code restrictions to yoga pants, leggings amid protest
Abramson has enjoyed making a toy traditionally associated with violence that instead delivers a message of peace and healing. He no longer seems concerned about whether Yoga Joes inspire men, specifically to partake in yoga, but whether it can inspire soldiers.
"Yoga celebrates a soldier's most admirable qualities: discipline, focus and a desire to bring peace where there is pain."