When it comes to traveling for Thanksgiving, your turkey can fly.
Guidelines issued by the Transportation Security Administration for travel this week allow airline passengers to transport Thanksgiving turkeys in either carry-on or checked bags, so that special bird raised on Aunt Millie's farm can make the trip.
Even if you're going big and bringing a turducken, that is also allowed as long as it's packed in dry ice, although if you're carrying it in a cooler it may exceed the carry-on size allowance, so TSA recommends to check beforehand.
RELATED: 13 travel hacks for a smooth Thanksgiving holiday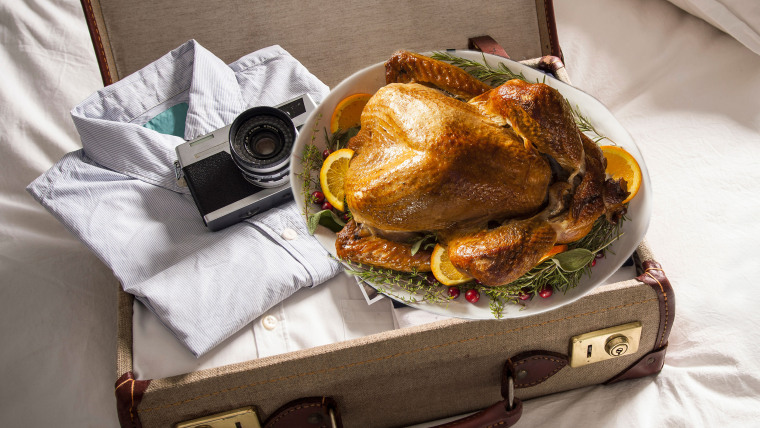 If you want to bring a live turkey on your trip since the flightless bird is unable to fly to your destination itself, the TSA suggests you contact your airline about possible restrictions. People have brought turkeys certified as "emotional support animals" on planes, but that requires documentation and doesn't apply to the animal planned on being stuffed in the oven for dinner.
Gravy is allowed, but it's prohibited in a carry-on unless it adheres to the rule of 3.4 ounces of liquid or less and is sealed in a clear zip-top bag. However, cakes, pies, bread, donuts, fruits and vegetables are all permitted, so dessert is all set.
RELATED: Here are the best and worst airports in the US
If you have any type of odd Thanksgiving tradition and have something out-of-the-ordinary you want to bring on a flight, the TSA has a site to check to see if it's allowed.
For those looking ahead to Christmas, you are taking a chance if you bring gifts that are already wrapped. The TSA notes that if there is something in the gift that needs to be inspected, they could have to unwrap it.
Follow TODAY.com writer Scott Stump on Twitter.