It was performed in schools. It was in a 2020 Super Bowl commercial. It went platinum 14 times. "Old Town Road" by Lil' Nas X was the hit that not only generated nearly 2.5 billion U.S. streams in 2019 but turned heads.
For what seemed like the first time in modern pop culture, a Black cowboy was on the scene, piercing through the notion that cowboys are limited to white stars such as Clint Eastwood and John Wayne — and pushing what some would call the Yee-Haw Agenda.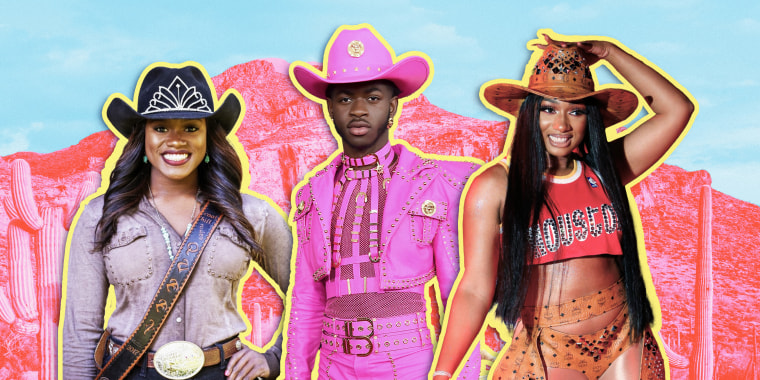 Coined by 32-year-old Bri Malandro in 2018, the term was a play on anti-LGBTQ rhetoric, such as "the gay agenda." Posting under the alias Malandro, the Dallas native is a customer service representative by day and an early 2000s pop culture archivist by night. Featured in Teen Vogue, Rolling Stone and more, Malandro launched the official Yee-Haw Agenda Instagram page in March 2019, accepting submissions from her more than 24,000 followers and counting.
"Growing up in Texas, you see people with cowboy hats just going to the gas station. When everything started to pop off with ("Old Town Road"), it was kind of strange," Malandro told TODAY by phone. "People were acting like they had never seen that before from Black people. The Yee-Haw Agenda is the reclamation of Black cowboys in history. It's letting America know that Black cowboys were here and they're still here."
Now, Black celebrities are helping solidify the Black cowboy's place in the mainstream — from Solange Knowles' metallic boots to Lil' Nas X and his Gucci cowboy hat to Megan Thee Stallion's bedazzled chaps. Musicians, artists and movies — such as the upcoming film "Concrete Cowboy," starring Idris Elba and Caleb McLaughlin — are flipping the script in pop culture.
After the Emancipation Proclamation was issued in 1863, being a cowhand was one of the few roles available to African American men such as Nat Love, who was born a slave and is known as one of the most famous Black Old West heroes. Historians estimate that 1 in 4 cowboys was Black, and though industrialization transformed labor on the frontier, the cowboy lifestyle gave rise to rodeo.
Erroneously perceived as a lost, dying art, modern-day cowboys and cowgirls continue to uphold and reclaim Black western history — and they are here to stay.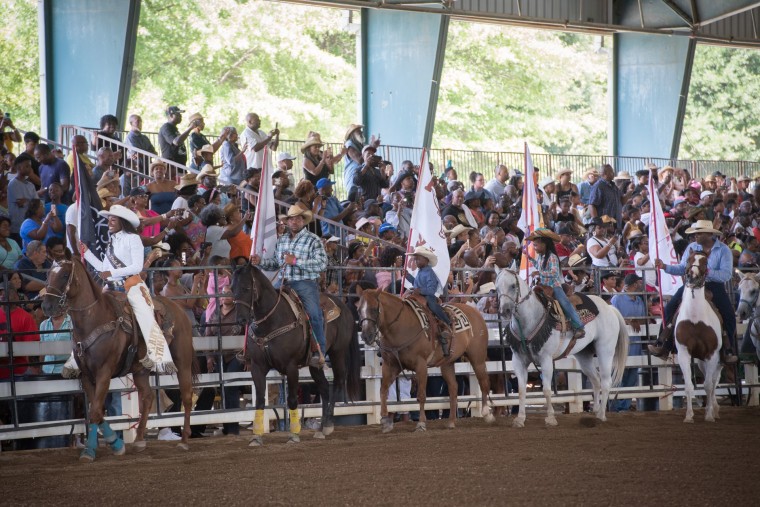 Black rodeo history goes national
Founded in 1984 by the late Lu Vason, the Bill Pickett Invitational Rodeo is the first Black touring rodeo in the nation. Based in Denver, BPIR is named after the first African American to be inducted into the National Rodeo Cowboy Hall of Fame. Apart from providing an entertaining experience, for the past 37 years, the association has educated spectators on the contributions of Black cowboys and cowgirls in building the West.
Vason's wife, Valeria Howard-Cunningham, who is the president, producer and owner of BPIR, wants to ensure that Black audience members feel that this rodeo is their rodeo, a reflection of them.
"We play music that the Black community can identify with. We have the Black National Anthem as part of the rodeo," Howard-Cunningham told TODAY via Zoom. "When you ask people about Bill Pickett, they didn't know who Bill Pickett was. Bill Pickett created one of the events that is in every rodeo across the world, and that's steer wrestling. So we felt, how do we pay homage to him?"
"The history books didn't tell the stories. People can only relate to what they see, so we're trying to change that."
Valeria Howard-Cunningham
Commonly known as bulldogging, the stunt involves a rider jumping off a horse at 30 miles per hour to catch a young steer and then wrestling it to the ground by its horns. Pickett would bite the steer's upper lip to turn it over, pushing the boundaries and setting an impossible bar for future riders to reach. Though that technique has been omitted, the rider who flips the steer on its side the fastest is crowned the winner.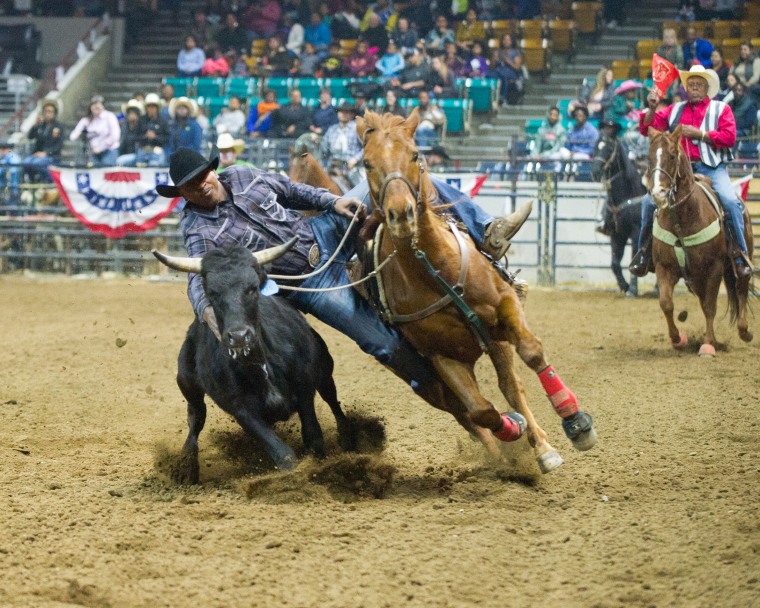 Steer wrestling is one of eight events included in the Bill Pickett Invitational Rodeo, along with calf roping, bull riding, relay racing, bareback/ranch bronc riding as well as two ladies' and two junior events. With four generations of riders throughout the organization, Howard-Cunningham is invested in embracing Black youth and mentoring them in order to keep the legacy going.
"I would say the biggest misconception (about the industry) is that Black folks are not interested in rodeo, because you see don't Black cowboys and cowgirls on TV today," she said. "The history books didn't tell the stories. People can only relate to what they see, so we're trying to change that."
Despite the fact that this year's tour is on hold because of the coronavirus pandemic, BPIR still manages to connect with students and supporters virtually through various social media campaigns such as its Black history series. Traditionally, the rodeo would travel to large metropolitan areas and more than 37 cities across the United States, such as Memphis, Tennessee; Los Angeles; Atlanta and more.
A Black rodeo queen is crowned
Hailing from Fort Smith, Arkansas, 21-year-old Ja'Dayia Kursh didn't grow up near Black rodeos, but she gravitated toward the industry anyway. After being sexually assaulted at 6 years old, Kursh struggled with depression and anxiety for months. Kursh's therapist brought her to a ranch and handed over the reins, and the rest is history.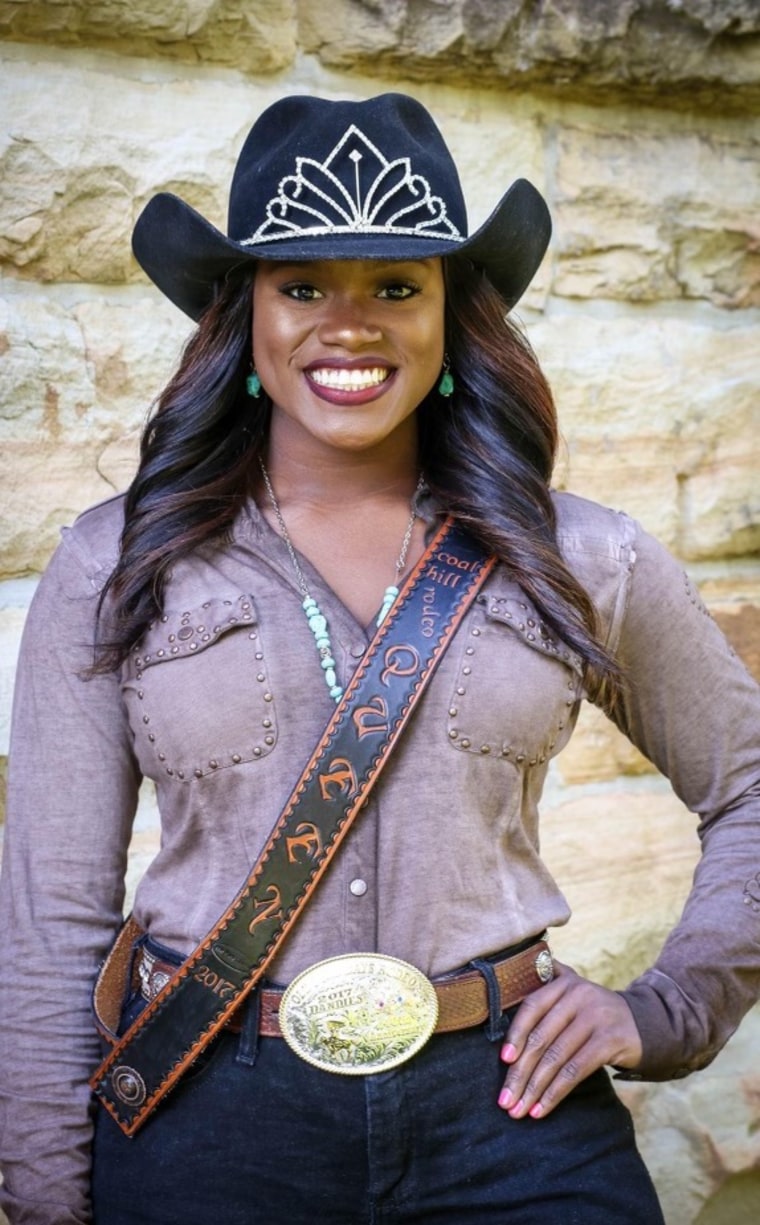 In May 2017, Kursh was crowned the Coal Hill Rodeo Queen, officially becoming the first Black rodeo queen in the state of Arkansas at age 17.
In the hierarchy of rodeo royalty, the rodeo queen serves as an ambassador, promoting and upholding the history and tradition of the sport. After passing an equine knowledge test, undergoing an interview, giving a speech and acing a riding competition, rodeo queens are awarded the title for one year. They must make appearances, attend a minimum of 12 rodeos a year, carry sponsors' flags at the grand entry, help with youth events and more.
"When I won that title, I was just doing it for fun. I didn't even know that I was the first Black rodeo queen in Arkansas until 2019. I'm proud of it," Kursh told TODAY by Zoom. "But for me, rodeo was never a Black and white thing until I had to start dealing with the racism and the stuff that came with me winning."
"One of (my teammates') brothers sent me a Snapchat video saying I looked like a monkey. Being 16 and hearing those things, of course, they were hurting my feelings and they did get underneath my skin."
Ja'Dayia Kursh
Before the 21-year-old earned the coveted engraved leather sash, a diamond-encrusted crown and Wrangler partnerships, her ascent was marked by trials and tribulations. In 2016, she was the only Black girl on a team of 19 girls called the Old Fort Days Dandies, a traveling drill team that competed for 41 years until it disbanded in 2018. Once Kursh started to outshine her peers, she was seen as a threat.
"I've been called a Negro Bob the Builder," Kursh said, recalling a remark she heard after wearing her riding helmet. "One of (my teammates') brothers sent me a Snapchat video saying I looked like a monkey. Being 16 and hearing those things, of course, they were hurting my feelings and they did get underneath my skin. Those things were put in front of me to break me, but they made me more of the woman I am today."
Apart from the racist taunting, there were numerous financial barriers. Kursh didn't formally own a horse until 18, often riding horses loaned to her by mentors and coaches. Her family did not have the land for her to keep the animals, so she had to pay for horse boarding. In rodeo queen competitions, appearance is heavily scrutinized and outfits can cost upward of $1,500.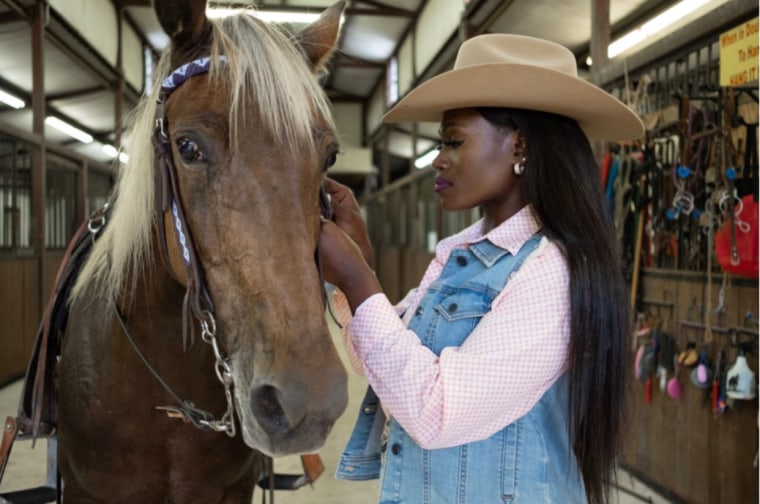 Yet Kursh prevailed and continues to lift others up as she climbs. Known as the Classy Black Cowgirl on social media, the University of Arkansas senior started her platform and website to mentor young girls who are trying to break into the sport. Kursh wants the rodeo industry to look as diverse as the world we inhabit and for people to understand that it's more than an aesthetic.
"I know that there are movies that are being made about Black cowboys and cowgirls, but why not use literal Black cowboys and cowgirls?" Kursh said. "It's so much more than just one show. There's hard work and dedication that goes into it."
A catalyst for Compton and beyond
Over in Compton, California, 31-year-old Randy Savvy, whose real name is Randy Hook, is no stranger to the hard work and responsibility that come with running the Richland Farms ranch; he wakes up early in the morning to check on his ranch manager, mucks stalls and more. Savvy and nine other lifelong friends are a part of a collective called the Compton Cowboys, which seeks to "uplift their community through horseback and farming lifestyle, all the while highlighting the rich legacy of African Americans in equine and western heritage," according to its website.
"The big goal for Compton Cowboys is to have ranches in underserved communities all around the world, where we're able to develop community, get these kids on the right path, provide opportunities and be in the driver's seat of our destiny," Savvy told TODAY by Zoom.
Savvy was born into an equestrian family. His grandfather watched Westerns religiously and in 1988, his aunt founded the Compton Junior Posse, an after-school youth program "keeping kids on horses and off the streets." Upon his aunt's retirement in 2018, he and his friends took over and continued instilling values into local Black youth such as discipline, self-control, calmness and communication through the horses.
"The biggest misconception about Compton is that it is just some war-torn, thuggish, anti-establishment, anarchist kind of place," Savvy said. "Once it becomes a situation where that's all the city is known for, that's problematic. That's what we just address on a day-by-day basis. It doesn't anger us; we're just working towards changing the narrative."
What Savvy values most about Compton is the community: kids riding bikes together, walking home from school together and the sense of sharing among one another. Following the police killing of George Floyd, the Compton Cowboys rallied thousands in the community together for a peace ride. Savvy tells students if they're going to be in a gang, do it for something positive.
While the Compton Cowboys have racked up a number of achievements, such as a recent campaign with Tommy Hilfiger, there's still more to come. The Cowboys want to be a catalyst and an entry point to bring Black youth into the equine space. Whether entertainers ignite the spark or not, they hope that audiences will do their own research and give real-life Black cowboys and cowgirls a chance to tell the real story.
"For us, it was so important to do something that would leave a lasting impact and make a statement on the world stage," Savvy said. "Because everything that we do, it's all about communities first and everything else after that. I shed a bunch of tears thinking about the significance of it all."