For women and their careers, it's often not about what they do but how they look. More proof of that came last week.
Secretary of State Hillary Clinton made headlines around the world not for anything she did but because she appeared without makeup on a trip to Bangladesh.
"Hillary Clinton addresses 'au naturale' liberation," said political blog The Drudge Report, while trend site Styleite.com declared that Clinton "just wants to be normal and do things like wear her hair in a scrunchie, party with her girlfriends and go out without a stitch of makeup."
The kicker was England's Daily Mail, which said Clinton's moment sans makeup made her look "tired and withdrawn."
Similarly former News International CEO Rebekah Brooks drew angry comments Friday not just for her role in a phone hacking scandal but for her appearance, especially her curly red hair, when she testified before a British government inquiry led by Lord Justice Leveson.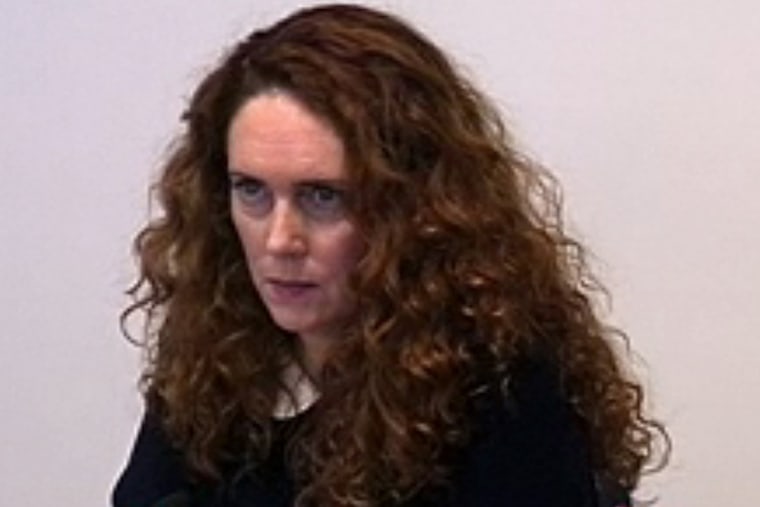 Here are some of the popular Brooks tweets for the day:
A date for your diary / Rebekah Brooks, at the inquiry / Hair and temperament, fiery / Words, liary
Rebekah Brooks. We get it. You have lots of curly red hair, but wearing Orphan Annie's dress to the Leveson hearing? Seriously?
There's even a Facebook page dedicated to Brooks' hair, called Rebekah Brook's hair is so big because it's full of secrets.
It goes to show that no matter how high up in business or politics a woman gets — or how hard she falls — in the end the focus is often about how she looks and not what she does.
"We're still held to a double standard," said Jennifer Siebel Newsom, who produced the 2011 documentary "Miss Representation" about the underrepresentation of women in powerful positions.
"It's tragic," she said. "We have an obsession with women's looks. Unfortunately our culture has bought into this whole double standard that a women's value is her beauty not her capacity to lead."
The Look: Hillary Clinton doesn't care if you see her without makeup
Women certainly feel the pressure to look good. Nearly half of women don't feel good about themselves unless they're wearing makeup, according to a study released this year by the Renfrew Center Foundation, a nonprofit that focuses on eating disorder research and treatment.
The online study, conducted by Harris Interactive for Renfrew, polled nearly 1,300 adult women and found 44 percent "have negative feelings when they are not wearing makeup," including feeling self-conscious, unattractive or that something is missing. Only 3 percent said going without makeup made them feel more attractive.
"Wearing makeup to enhance one's appearance is normal in our society and often a rite of passage for young women," said Adrienne Ressler, national training director for Renfrew and a body image expert. "There is concern, however, when makeup no longer becomes a tool for enhancement but rather a security blanket that conceals negative feelings about one's self-image and self-esteem."
Many women trying to climb the ladder of success believe they need to enhance their looks or face career doom.
"This goes to the heart of what we still see in the work world today," said Nancy Mellard, general counsel for business services company CBIZ, which offers a program to develop of women professionals through focused leadership, mentoring and networking. "Whether you're coming up the career path or at the height of your career like Clinton, we still see women, certainly more than men, judged on appearance not accomplishments."
While blatant discrimination in the workplace is less common than it was 20 years ago, she said, there are still subtle biases that may be hardest to combat.
TODAY Style: Kathie Lee, Hoda dare to bare (their faces)
One study sponsored by the Women's Media Center and She Should Run, a group advocating for more women in public leadership, found that sexist comments about female candidates, including critiques on appearance, lead voters to question how effective they would be.
Often the people bashing how women look are other women. "We're some of the worst," Mellard said.
Newsom agreed. "It speaks to our own insecurities. We are complicit and have also bought into this, and the only way to change things is for women to start seeing each other more as sisters and supporting, not judging each other."
Judging each other based on looks, however, is a reality we all have to face because there's a "beauty benefit" for men as well as women in the workplace.
"Research by economists has shown that 'beautiful people', both men and women, have higher pay than less attractive people, holding constant many other factors about the individuals," said Anne York, associate professor of economics at Meredith College's School of Business. "So it really does pay for everyone to look good for work."
"In the case of Hillary Clinton, though, it was quite ridiculous to me that when she went with a natural face, which millions of men do every day, that it made the news with close-up photos of her face," she added. " While her appearance made a lot of news, I don't think that is necessarily bad if it can start a conversation on accepting more women with a natural appearance."
Of course, men can fall victim to image-bashing as well.
Facebook CEO Mark Zuckerberg's hoodie has been a hot topic on social media lately. But unlike attacks on Clinton's face or Brooks' hair, there's little fear hoodiegate will undermine the main power base in the business world today – rich white guys.
Related:
Have you and your spouse ever competed for the same job?