When Carrie Kemeling wanted a new job, instead of just posting her resume online or leaving it to be lost in a stack in an office, she decided to do something different.
So the 28-year-old took her search to the street, standing at an intersection in Buffalo, New York, next to a sign that read "Not Homeless but Hungry for Success!! Take a Resume."
On Aug. 15 Kemeling quit her job of nearly three years as a sales representative for a jeweler. For the next three days, she was out on the street, hustling for a new one.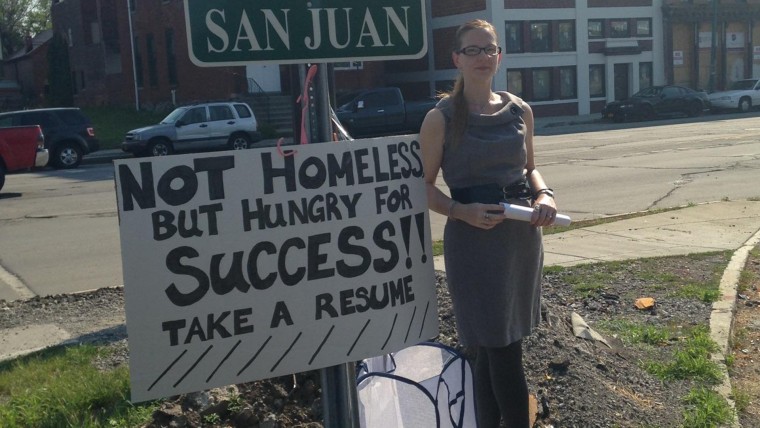 "I just don't want to just sit on my butt and collect unemployment,'' Kemeling told TODAY.com. "That's not me. I said, 'You know what? I'm qualified for anything. I can do anything.'''
Kemeling, who has a high school diploma, figured she might get a part-time job out of it or some temp work. But her unorthodox approach worked better than that.
On Tuesday, she starts new full-time in the Buffalo office of Stampede Global, an audiovisual and IT company that also makes drone video systems. A Stampede Global executive had heard about Kemeling passing out the resumes on the street and sent someone to get one before following up with her, according to Kemeling.
"This was not just the kind of company I want to get a paycheck from, but the kind of company that will help me grow,'' she told TODAY.com while holding back tears. "They also offered me affordable health care and tuition assistance. I never thought I would be able to make it to college. This is the most amazing thing in the world."
VIDEO: New York Yankees and A-Rod team up with TODAY for Hope Week.
Kemeling had worked in the jewelry industry for seven years before deciding to quit after, she claimed, being passed over for a promotion. (Her former employer told the Buffalo News that she was not up for a promotion and did not have management experience to qualify for an opening for assistant manager.)
Kemeling said all the feedback she got during her time on the street was positive. "I had people offer me money, and I rejected it because that's not what I'm after,'' she said. "I was not about that, and I'm still not about that. This is my 2015 'Pursuit of Happyness' story, right in my own little studio apartment in Buffalo." ("The Pursuit of Happyness" is a 2006 memoir by Chris Gardner, a successful entrepreneur who had struggled with homelessness, that was adapted into a film starring Will Smith.)
"I do not have an 'awkward button' or a 'nervous button' in my body,'' Kemeling said. "I love karaoke, and I'm not afraid to get in front of people."
Trying something different was her main focus.
"Giving your resumes to online places is so impersonal,'' she said. "I'm not a professional resume writer and anyone who's seen mine, it looks horrible. If you get to speak to me and see more where I'm coming from, it offers a different level.
"It's a piece of paper with no personality, and I definitely have personality. I just want to let people know to use your creativity, market yourself, and don't take no for an answer."