When you pull out a $10 bill, you know whose face will be on it: Alexander Hamilton. But that's set to change in 2020, according to the U.S. Treasury: Now, they're planning to issue sawbucks with a woman's face on them.
According to Treasury Secretary Jack Lew, who spoke in a video on the department's website, "Our democracy is a work in progress... This decision of putting a woman in the $10 bill reflects our aspirations for the future as much as a reflection of the past."
But who to choose? A recent grass-roots campaign called "Women on 20s," which lobbied to have a woman replace Andrew Jackson on the $20 bill, held a poll that ultimately selected Harriet Tubman in March. (It was not binding.)
Meanwhile, TODAY offered viewers a similar poll, and former First Lady Eleanor Roosevelt came out on top.
We have our own suggestion, of course: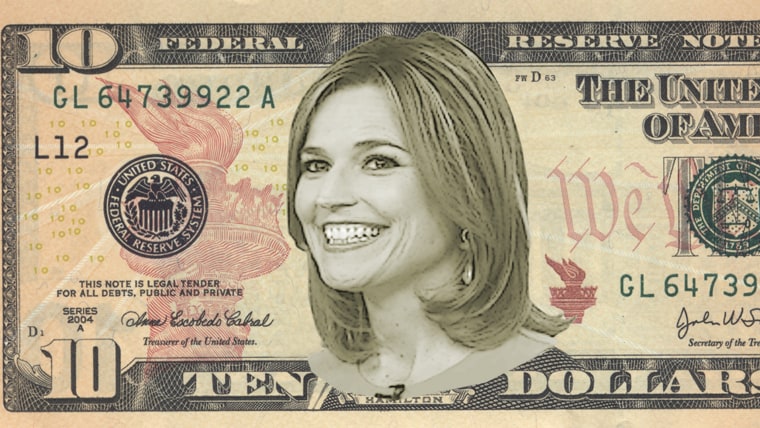 Treasury has not yet chosen even a shortlist of names, and is soliciting ideas from social media. The department has asked users to use #TheNew10 on posts on Twitter, Facebook and Instagram when they offer up suggestions. (But remember, it's illegal to put someone who's still alive on U.S. currency. Sorry, Savannah.)
Everyone has an opinion on who should be the new face of the $10, along with some amusing ideas (Beyoncé! Buffy the Vampire Slayer! Leslie Knope! "My wife!"). Here are some suggestions being floated around:
Whoever is chosen won't be the first woman on U.S. currency. Suffrage leader Susan B. Anthony was featured on the $1 coin from 1979-81, and American Indian guide Sacagawea began appearing on the $1 gold coin in 1999. Martha Washington even showed up on the $1 silver certificate from 1891-96, and Native Indian diplomat Pocahontas appeared on the back of the $20 from 1856-69.
That said, not everybody's happy with the idea, for various reasons:
But Hamilton fans, don't despair: He'll still appear on some of the $10 bills, and older ones will remain in circulation.
Who would you choose? Vote in our poll and put your mouth where your money is!