Forget Comic-Con. "Star Trek" fans have a whole new frontier to look forward to with Star Trek: The Cruise, which is set to sail Jan. 9, 2017 — just in time for the 50th anniversary of the science-fiction franchise.
While the cruise might not be boldly going where no man has gone before, William Shatner has signed on as the host, acting as the voyage's captain — much like his Captain James T. Kirk character.
"I just knew that my participation would be something that our fans would enjoy," Shatner wrote on the cruise's website. "It should be a lot of fun."
The six-day cruise on the Norwegian Pearl sails off to Cozumel, Mexico, Nassau, Bahamas and Norwegian Cruise Line's private island Great Stirrup Cay. "We are really focusing on being an interactive experience and that's getting fans excited," Ron Roy, marketing director of Entertainment Cruise Productions, told TODAY.com. "This is not just a convention at sea. When you wake up at 8 a.m. and go to bed at 2 a.m. there will always be something to do in the theme of 'Star Trek.'"
RELATED: "Star Trek'-inspired mansion is $35 million sci-fi dream
On board, 2,200 fans will have a variety of themed activities, including Holo Night -- where guests can celebrate their favorite holodeck (a virtual reality facility featured in the series) or holosuite characters (or any non-holodeck character) -- Starfleet's Intergalactic Gala, Star Trek Movies Under the Stars on Deck, Star Trek board games, and even a Star Trek scavenger hunt on the private island.
"People are going to be surprised to see the length we went to make this totally immersive," added Roy. "Besides acting talent, there will be scientists and astronauts who will also be on board, [and] we take over every audio and visual, so Star Trek will be playing at all hours on your TV and the staff will even be in costume."
RELATED: Architects seek $2.9 billion to build 'Lord of the Rings' city in U.K.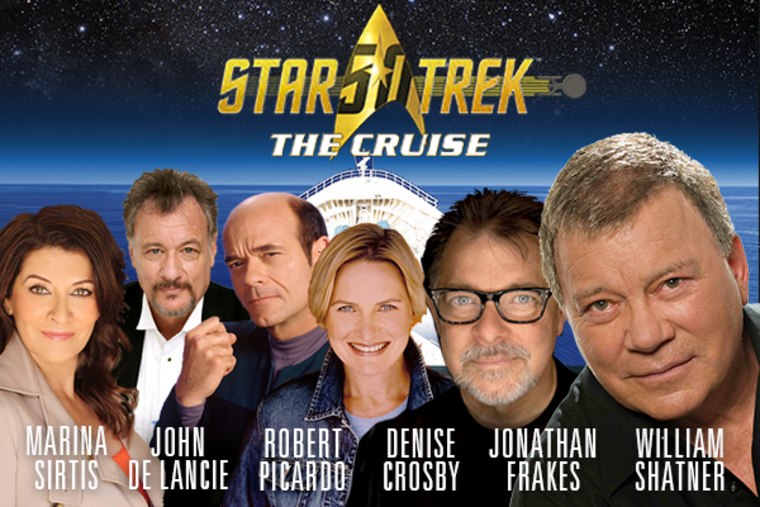 Even the dining and nightlife will make any Trekkie's heart melt; there are three themed bars and performances by the Enterprise Blues Band featuring Vaughn Armstrong, Steve Rankin and Casey Biggs, who have all appeared as actors on "Star Trek" shows.
And clearly fans are already excited about the trip despite it being over a year away.
Roy confirmed the number of bookings has already "exceeded their expectations."
Along with Shatner, other "Star Trek" stars participating in the cruise include James Darren from "Deep Space Nine"; Robert Picardo from "Star Trek: Voyager"; Marina Sirtis, Jonathan Frakes and Denise Crosby from "Star Trek: The Next Generation"; and John de Lancie from "Star Trek: The Next Generation, "Voyager" and "Deep Space Nine."
Fares start at $975 a person, but not to worry if you can't make it this time around. "This is not a one-off cruise," said Roy. "This is a long-term relationship and we are already planning for a 2018 one."