"Can I Google stalk you?"
It seems like a brazen question, but, really, it's almost polite if you consider that a lot of people are doing it without asking. I have been asked it several times, usually ex post facto, during a date initiated online and planned in text messages.
I always say yes, because I don't mind. Or at least I don't think I do. Maybe (almost certainly) I have been dating wrong. Maybe meeting new people in person, calling instead of texting, and not scouring the Internet for someone is the way to go, like our parents did in the pre-Tinder era.
"I notice when people work hard, they discover a lot about themselves and someone else, and that relationship has a much better chance of working," Pepper Schwartz, a sociologist at the University of Washington and author of "Finding Your Perfect Match," told TODAY.
Online daters are no longer social pariahs. In 2013, the Pew Research Center found that a majority of Americans (59 percent) thought online dating was a good way to meet people — up from 44 percent in 2005.
In fact, in some social circles, it's the people who aren't dating online who feel ostracized.
"It has become the opposite," Candis Sucher from Westlake Village, California, told TODAY. "It's more normal to find someone online than it is to ask a friend, 'Hey, do you know anyone who might be single?'"
She would rather meet someone IRL, as the kids call it. But there is a way to split the difference between meeting someone at the grocery store and meeting someone on Tinder. It involves meeting face-to-face ... on Skype.
That is how Andrea Silenzi, host of Why Oh Why, a podcast about dating and technology, met her boyfriend. An economist on NPR's Planet Money told her that downloading more dating apps wasn't the key to finding a better match.
She didn't need more guys to choose from. She needed to maximize her time by weeding out men who were more likely to waste her Thursday nights. He recommended having a "date-like experience before having a date" by asking men on Tinder to video chat on Skype before meeting up.
"It felt like such a crazy thing to ask someone," she told TODAY. "Nobody else was making that demand, but making that demand almost acted like a filter. Anybody who said, 'I don't want to do that' wasn't really taking this process seriously."
(She noted that men might not want to try this with women. "Want to video chat?" has different connotations the other way around).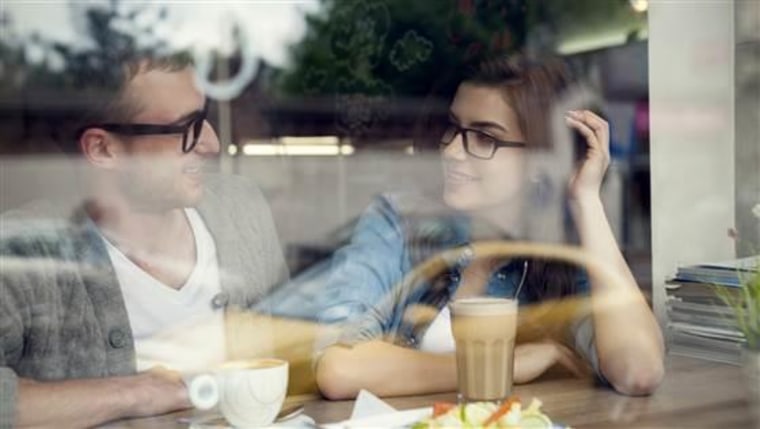 She talked with three guys. Two of them she went out with. One of them became her boyfriend. It turns out narrowing her options made things easier. It's not old-school in the sense of actually meeting someone at a party, but it's more personal and involved than just sending Tinder messages back and forth.
Not that it has to be Skype. A phone call works, too. If a date becomes a relationship, phone calls can keep things going strong. The problem with texts?
"You get so efficient at communication that the emotion gets sucked out of it," Schwartz said. "It starts to dilute the connection. Although for some people, especially young people, it's the only thing they have ever known, so they don't miss it."
Apparently, heart Emoji don't convey the same level of emotion as actually talking to somebody on the phone. Plus, dialing someone and saying hello takes more time and commitment than, say, sending out "Hey ;)" messages to all of your Tinder matches.
It all comes down to focusing on quality, not quantity. The abundance of choice online can paralyze some people and lead to "Seinfeld" syndrome, where you dismiss people for petty "flaws," e.g. eating peas one pea at a time or having "man hands."
"What you don't want to be is a serial dater, someone who is more interested in finding the next person than getting to know the person you are with," Schwartz, the sociologist, told TODAY. "You always think there is someone better out there, so you never invest in anybody."
Oh, and Google stalking? The consensus for this story was that it was OK to check to make sure someone wasn't a serial killer or fedora fan. Just don't take it too far.
"Limiting yourself to the first page of search results is normal, and means that what you find is more or less common knowledge," Anna Davies, a young adult fiction writer, told TODAY.
Showing restraint online means you have more to talk about during your date, she said. It also prevents you from creating a fantasy built around the idea of a person instead of actually getting to know a real, flawed but possibly compatible human being.
"If you fall too deep into a Google-stalking hole, you can start to tell a love story in your head that doesn't exist yet," Silenzi said.
Technology isn't killing romance. For some people, meeting people is hard, and apps like Tinder, OKCupid and Hinge make it a little easier.
"Whatever type of dating works for people seems fine to me," Eli Finkel, a psychology professor at Northwestern University, told TODAY. "But these traditional folks have something very right: The best way to learn whether you're compatible with potential partners is to meet them in person."
So swipe away, America. Just try to fit in a phone call before you get drinks together.
Keith Wagstaff writes about technology for NBC News. He previously covered technology for TIME's Techland and wrote about politics as a staff writer at TheWeek.com. You can follow him on Twitter at @kwagstaff and reach him by email at: Keith.Wagstaff@nbcuni.com
This story was originally published on Feb. 14 at 7:18 a.m.