When Anne Marie Blackman isn't attaching Christmas lights to unsuspecting knits, she's sewing on furry Santas and searching for the tackiest, boldest, over-the-top vintage holiday wear she can find.
It's ugly Christmas sweater season and her customers are in a frenzy to buy.
As the proprietor of MyUglyChristmasSweater.com – a Vermont-based business Blackman started five years ago when she was looking for a way to make extra money – she designs and produces such gaudy collections as "Wacky Santa," "Puffy Frosty" and "The Ugly '80s."
"An ugly Christmas sweater would be something that would make people look and laugh and go, 'Oh my God, why are you wearing that?' " said Blackman, who features plenty of examples in her book, "Rock Your Ugly Christmas Sweater."
Related: Ugly sweater day is here
One of her most outrageous offerings this year? A sweater with giant coils coming out of the chest area – think Madonna's cone bra – with ornaments dangling at the end. It's sold out, as are many of her designs.
Blackman's website has had more than 5 million page views so far this holiday season. Although she doesn't give out specific sales numbers, Blackman estimates that she sells thousands of sweaters each year.
"It's crazy popular," she said.
So why are so many people willing to plunk down their hard-earned money during hard economic times for something so tacky?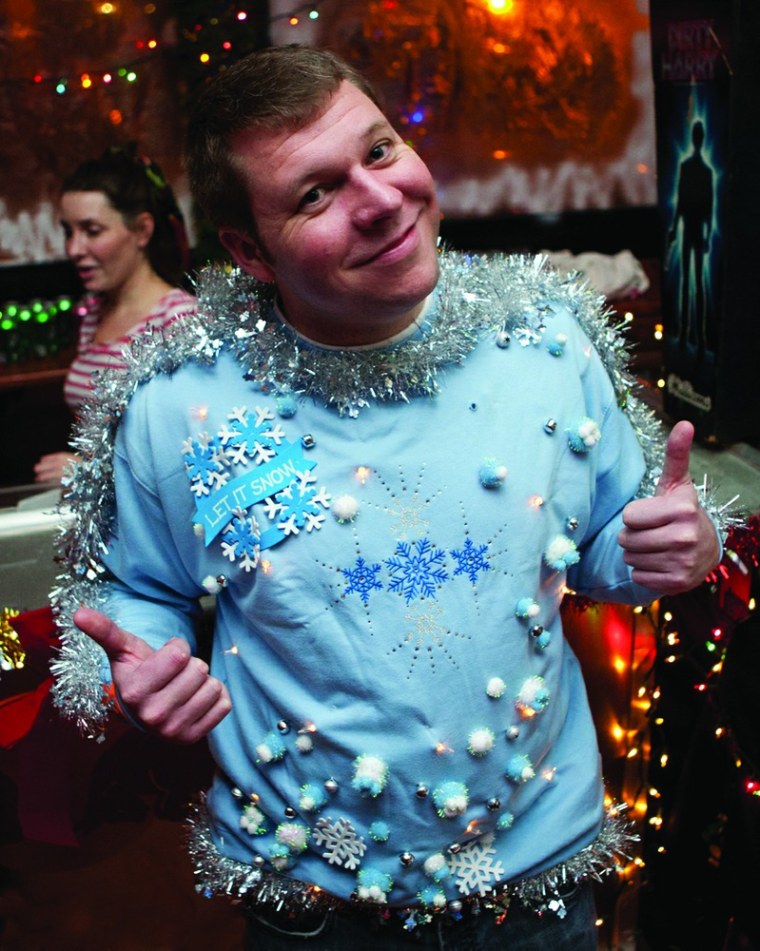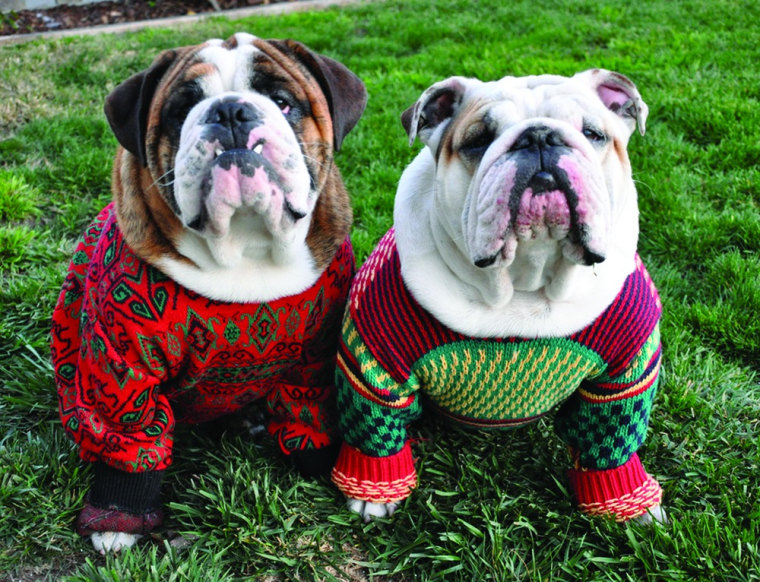 Many buy the sweater for the social connection, said Kit Yarrow, a consumer research psychologist and chair of the psychology department at Golden Gate University.
"You are wearing something that other people want to talk about, which then gives people a reason to talk to you. It makes you seem kind of big-hearted in a way, that you're willing to wear an ugly sweater for other people's amusement," Yarrow said.
"I've known people who have spent $250 on one of these sweaters. Those are people I would call, 'All in.' "
Then, there's the satire factor. College-age consumers love irony, Yarrow has found in her research, so wearing such jaw-dropping fashion is a good-natured way to mock the world, she said.
"It's actually sort of a charming thing, as much as we mock it," Yarrow added.
Adam Paulson – who together with two friends runs UglyChristmasSweaterParty.com – attributes the trend to the exploding popularity of parties that require guests to wear obnoxious holiday knits.
The celebrations first began about a decade ago as college students made fun of their parents' fashions from the 1980s, Blackman and Paulson said, but then evolved into events involving all ages. The ugly Christmas sweater theme is now common at office parties, fundraisers and family get-togethers. There are even online tutorials on how to add an iPad fireplace to your outfit to help you stand out.
"Everyone's grabbed on to it," Paulson said. "Every day we spend so much time trying to look good, and this is kind of just like a Halloween. You get to let loose and look absolutely ridiculous."
UglyChristmasSweaterParty.com began as an Indiana-based blog, but emails began pouring in from people trying to find the featured sweaters. So in 2009, Paulson and his partners, Brian Miller and Kevin Wool – who call themselves "Team Ugly" – began making the rounds at Goodwill stores to find knits they could sell. Each sweater was given a silly name, like "Ryan Treecrest," and the business took off.
Today, the men buy sweaters by the truck-load and sell about 20,000 during a season, Paulson said. The trio even co-authored a book, titled "Ugly Christmas Sweater Party Book: The Definitive Guide to Getting Your Ugly On."
Business is booming, but the competition "has just gone through the roof," Paulson said.
Blackman recalled that when she first started listing her sweaters on eBay, there were about 3,000 for sale. Today, a search for "ugly Christmas sweater" on the site yields almost 35,000 results.
"(The trend) has a lot of legs to it. I think it's going to go on for some time," she said.
Related content: