In the 1990s, there was Take Our Daughters to Work Day, created to address concerns that school-age girls' self-esteem needed a boost. A decade ago, the day morphed into the more inclusive Take Our Daughters and Sons to Work Day.
Now, many of those kids are now part of the millennial generation working in the burgeoning tech industry, and those very same parents have no clue what their child does to make a living.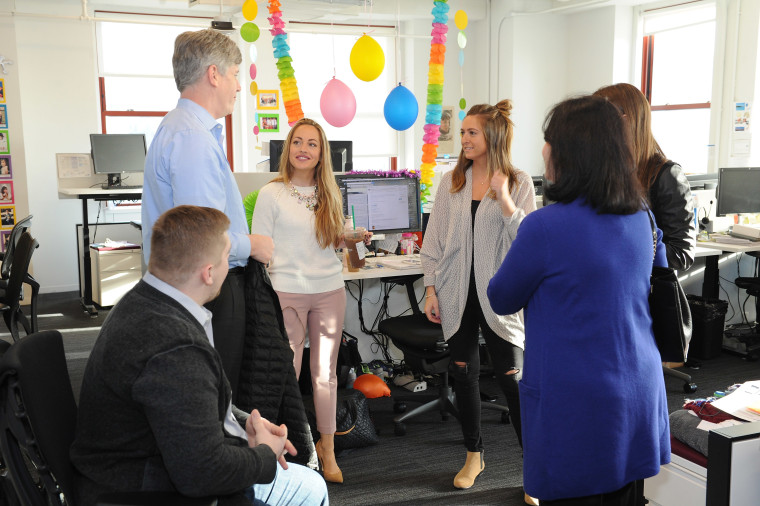 Enter Bring In Your Parents Day.
Companies small and large are giving those same parents who worked so hard to put their sons and daughters into college a chance to step into their world.
Employees at big companies like Google and Amazon now celebrate the day, as well as at smaller ones like PR firm EvolveMKD and the Midwest-based cement-making company, Ozinga Bros.
RELATED: Is the US ready for a 6-hour workday?
At the place where it all started, the career-networking company LinkedIn, TODAY got to tag along as 350 parents went to work with their kids inside New York City's famed Empire State Building on Nov. 4.
In all, there were 3,500 parents across 28 global LinkedIn offices that celebrated this year's Take Your Parents to Work Day.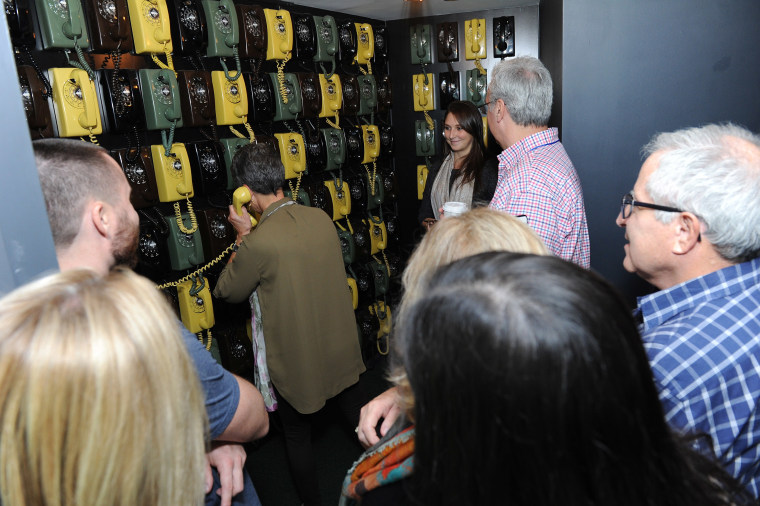 The proud moms and dads got the full experience, including corporate meetings and the company lunch space. They even took in some unusual sites, like employees using scooters to get around.
RELATED: Helicopter parents, you're not done yet: Adult kids still need career advice
"Your parents were such a big part of that first half of your journey, to have the opportunity to see the second half is a really important piece to serving LinkedIn's greater mission," Nawal Fakhoury, LinkedIn's employee experience manager, told TODAY.
For her pharmacist mom and chiropractor dad, it was no different when they came last year.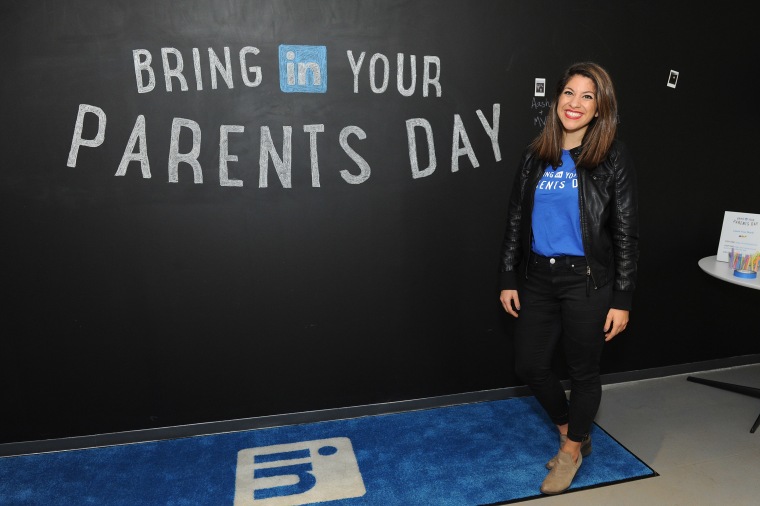 "When my dad saw his first scooter in the office, he was all freaked out, but by the end of the day he was breezing through the halls riding one," Fakhoury said.
Her dad, Manal Fakhoury, returned to Florida and started replicating much of what he saw LinkedIn doing into his practice, easing up on the dress code and allowing group meditation.
RELATED: Writer blasts ex-Yelp employee, fellow millennials on entitlement and 'lack of work ethic'
"It's crazy how big of an impact this day has in making parents more comfortable with what the millennial workforce looks like," Nawal Fakhoury said.
Barbara Friedrich, a client specialist for Talbots, came back for her second year and still can't get over the open office environment.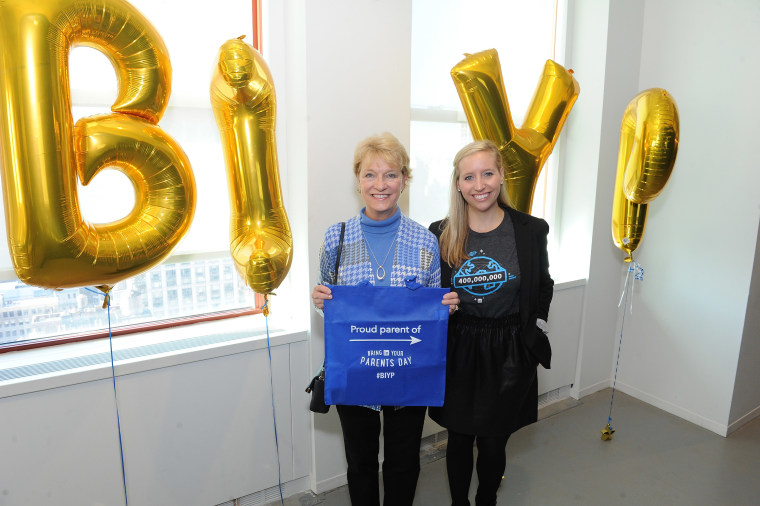 "I went back to North Carolina last year raving about my experience to co-workers and they were all so jealous," Friedrich, 61, told TODAY. "I'll have to let them know about the new foosball table!"
RELATED: Dad gives frank career advice to daughter ahead of graduation
Her daughter, Carrie Friedrich, who works in product marketing at LinkedIn, used to go to her dad for career advice, but has turned to her mom since he passed away.
"I've just always loved being involved in everything she's done since she was a little girl, so to have the opportunity to continue doing so in her professional life is just thrilling to me," Barbara Friedrich said.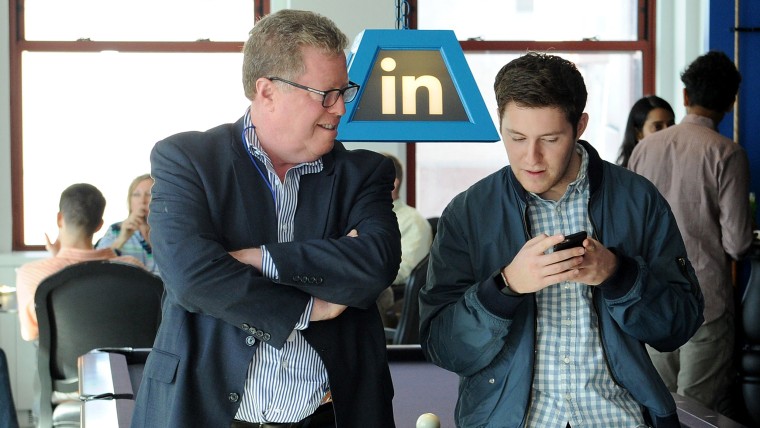 Carol Selkovits feels similarly about the day and is grateful for this window into the life her daughter, Shira Selkovits. And now that Bernie Selkovits, a mortgage banker in Pittsburgh, knows what his daughter does as LinkedIn's senior enterprise and relationships manager, he says he can better advise her.
"Now there's context, so I'm able to give her an answer that's better received," he told TODAY.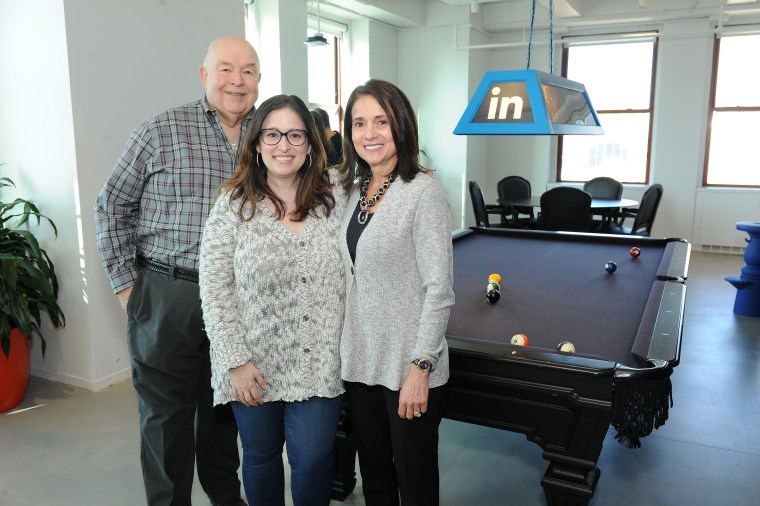 RELATED: It's Take Your Child To Work Day! See 10 of TODAY viewers' cutest colleagues
After Sarah Leydon's parents attended the event in the Dublin office two years ago, she felt it was important to have her parents there again this year — so important that she flew over her dad, Padraig Leydon, an Irish farmer, to America for the very first time.
"He was so mesmerized by the tall buildings when first arriving in the city and this morning he looked out my office window and turned to me to say that he gets why I moved here," Sarah Leydon told TODAY.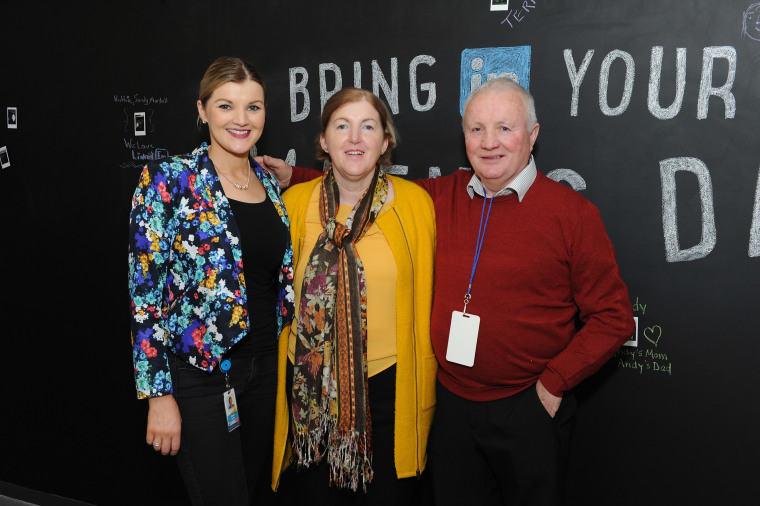 The New York director of human resources sees the day as a big thank you to her parents.
"They've been such ambassadors for me and my career," she said. "To be able to bring them here to see the life they ultimately helped me create is truly an honor for both me and them."