As if the rows of nearly identical bottles in the vitamin aisle weren't confusing enough, a new New York Attorney General report has blasted several major retailers for having sketchy ingredients in their herbal supplements. But if you know what to look for, you can make sure what it says on the bottle is actually what you're putting in your body.
The trouble is that because vitamin and supplements are exempt from FDA regulation, manufacturers are legally allowed to go to market with their product without proving their purity levels to anyone.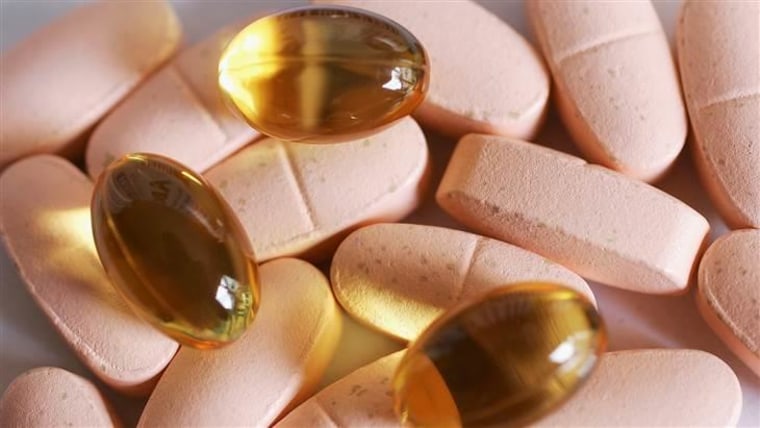 "You could put some stuff in a capsule and put a label on it," said Tod Cooperman, M.D. and president of ConsumerLab.com, a subscription-based independent supplement testing site. "You could sell 'Ginkgo Biloba' tomorrow."
So what can consumers do?
LOOK FOR "USP," "NSF," or "Consumer Lab" on the bottle
The Council for Responsible Nutrition trade association recommends that shoppers look for a quality seal or third-party certification from the USP (United States Pharmacopeia), NSF International or Consumer Lab. These products have undergone rigorous third-party certification to make sure their ingredients meet quality standards.
DO YOUR RESEARCH
The government's Office of Dietary Supplements offers free fact sheets on supplements. Importantly, it notes how well testing backs up the uses the herbs are getting recommended for. And check with your doctor before starting a new supplement regimen.
KNOW THE PERCENTAGE OF THE KEY INGREDIENT TO LOOK FOR
Each extract has a standardized percentage of its key compound that has been established by the medical community as the accepted strength. Before shopping, familiarize yourself with the percentage and look for it on the bottle. For instance in St. John's Wort, you'll want .3% hypericin or 1-3% hyperforin. For Valerian root, look for .5% to 1% valerenic acids.
KNOW WHICH PART OF THE PLANT YOU WANT
Root or leaf? Different parts of the plant have different strengths and uses and the supplement should say on the bottle which part of the plant it came from. Make sure that part of the plant matches the use you're looking for.
DON'T JUST GO BY THE COUNTRY
People used to say that buying supplements made in Germany was a safer bet because the country treated them with the same strictness as drugs, but there's really no guarantee, said Cooperman. Most supplements are made in the U.S. but the ingredients are coming from all over the world, most often from China. So provenance is no safety net.
DON'T BELIEVE THE HYPE
Dietary supplements are not allowed to be marketed to treat, cure, or mitigate disease. "If I saw an herbal product that said it would cure cancer, if they're going to play loose on the claims, how can you have any confidence in the product?" said Steve Mister, CEO of the Council for Responsible Nutrition.
DON'T BUY THE CHEAPEST SUPPLEMENT... OR THE MOST EXPENSIVE
When supplement makers go to suppliers, there's typically a range of quality that they can buy and the good stuff costs more. So it's probably best to avoid the lowest-price one on the shelf or online. But that doesn't mean the most expensive is the best either.
"Some of the highest priced products we've seen have been the worst," said Cooperman. That's particularly the case, he said, when dealing with fad supplements.
While really good Vitamin C can be had for pennies a day, he said, the herbal supplements tend to be more a little problematic.
BUT IS MY MULTIVITAMIN SAFE?
The New York AG's report focused on herbal supplements, not vitamins or multivitamins, but the latest available testing by Consumer Reports found that all brands of multivitamins they tested met their ingredient claims. So in that case, buying on price is fine.
Email ben.popken@nbcuni.com or tweet @bpopken.
This article was originally published Feb. 3, 2015 at 4:09 p.m.