f you need to book a hotel room for an upcoming wedding or family trip, you're probably focused on cost. But consider the rewards, as well. You could be earning points redeemable for a free night during your next getaway.

Hotel loyalty programs, like all customer loyalty programs, are a double-edged deal, however. They offer perks and promises of free travel in the future, and also may prompt you to spend more than you planned in an attempt to accrue more points. Cheapism.com researched which plans are most rewarding for infrequent, budget travelers.
Always join the program
The first lesson we learned is that even if you're not a frequent traveler, the hotel loyalty program is always worth joining. Membership is free and many yield benefits right off the bat. Oftentimes it's just a little perk, like late checkout or a special telephone line, but Carlson, Choice, and InterContinental give members with any status free Internet access. Carlson even gives members a 5 percent discount on food and beverages at select hotels.

Loyalty programs always work across an entire hotel company's properties, meaning points earned at the inexpensive brands can be redeemed for free nights at higher-end locations. That said, sometimes points are earned at a lower rate at budget hotels — 5 points per dollar spent, say, as opposed to 10 points. The number of points required for a free night depends on the specific hotel, and upscale hotels obviously require many more points.
Most programs also maintain arrangements with partner airlines and members can opt to earn miles instead of hotel points. (Cheapism's recent guide to frequent flier programs details which are most lucrative.) Even after choosing to earn hotel points, many programs let members redeem those points for other travel arrangements as well as gift cards, products and services.

The best option for frugal travelers
We compared major hotel loyalty programs, and a few smaller ones, to find which makes it easiest to earn enough points for a free room. We looked at the number of points per dollar spent, which sometimes changes depending on hotel brand, and the cheapest redemption options. To our surprise, the Hilton HHonor program, which awards members up to 15 points per dollar spent and offers redemption options starting at 5,000 points, is the best deal for frugal travelers. (The chains are rank ordered by the dollar amount required to earn a free night, from lowest to highest.)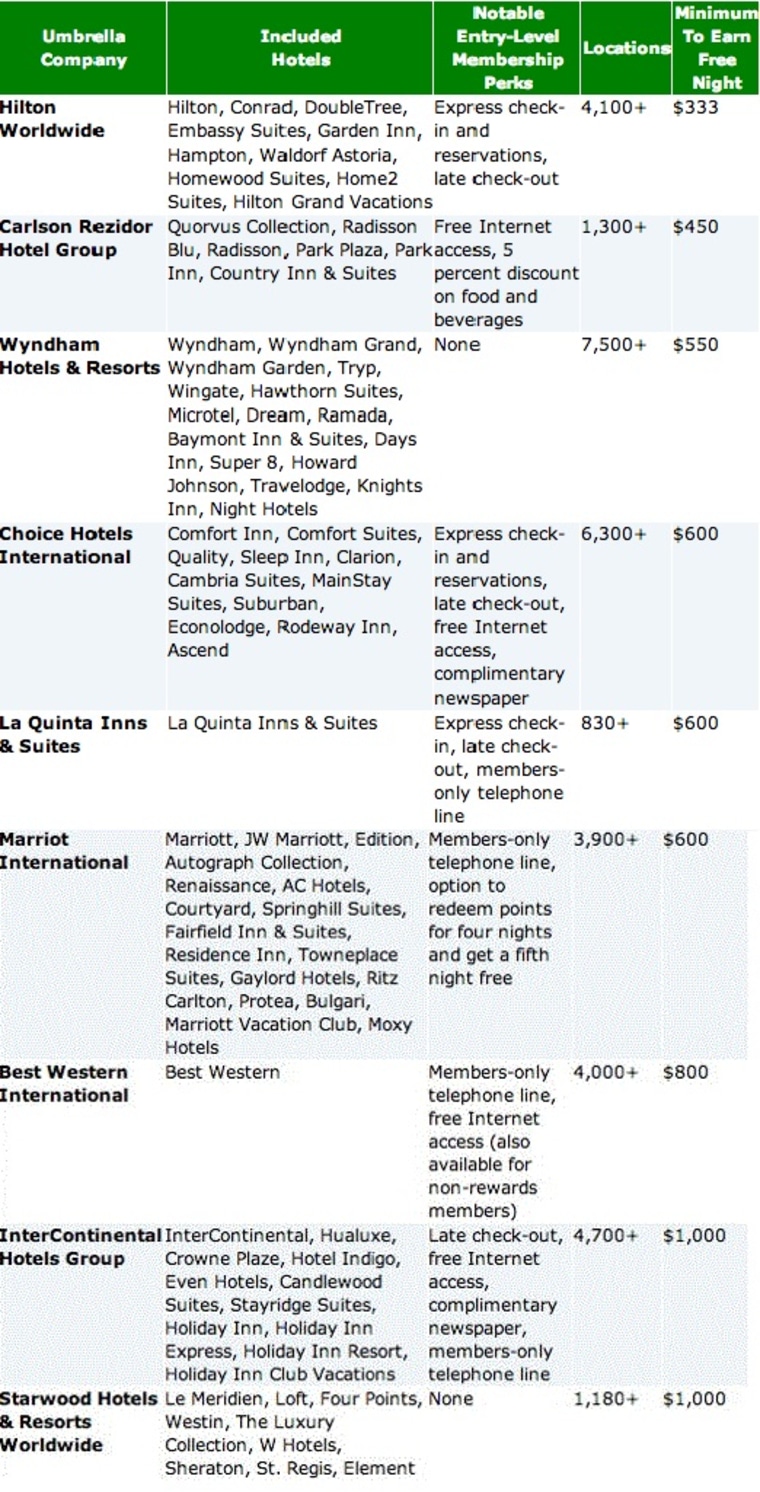 More from Cheapism: