Need to unwind after the busy holiday season? Device-free policies, gorgeous scenery and invigorating activities at these destinations will leave you feeling recharged.
Pocahontas County, W.Va.
The place:West Virginia is one of our most beautiful states, full of rolling mountains, deep green valleys, picturesque farms, and endless options for outdoor recreation. Pocahontas County, on the state's eastern end near the Virginia border, is no exception.

How to unplug: Pocahontas County is also home to an area known as the U.S. Radio Quiet Zone, a 13,000-square-mile expanse in which wireless technology is banned, including cellphones, radios, and Wi-Fi. The ban is meant to prevent mobile technology from interfering with the nearby government radio telescopes. Cellphone service is so spotty in Pocahontas County that the local government puts out an info sheet telling you where you can and can't get it.
Details: If you really want to unplug, you'll want to get a campsite at one of the many private campgrounds here in the Radio Quiet Zone. But if you want to cheat a little, you can stay at the Snowshoe Resort, one of the few places in the county that does have cell phone service, with rates for less than $200/night at a selection of accommodations including the Rimfire Lodge and Allegheny Springs Lodge.
Related: Best places to unplug
Concordia Eco-Resort, St. John, U.S.V.I.
The place: Among the accommodations at Concordia Eco-Resort are the Eco-tents — a collection of solar-powered wooden bungalows with cotton sofas and beds, canvas walls, and oversize screen windows that let in trade-wind breezes. You'll get spectacular views of the two nearby bays and can take it all in on the tent's oceanside decks. There's easy access to snorkeling with sea turtles at Salt Pond Bay or hiking the adjacent Virgin Islands National Park's trails.

How to unplug:  You can get a Wi-Fi signal in two locations at the resort, but they encourage unplugging.
Details:  Most eco-tents can sleep five. Rates for the eco-tents in the Winter/Spring Season (through April 30) are $175/night double occupancy, and $15/night for each additional person, all ages. Rates start at $120/night in the summer season. 
Emerald Lake Lodge, Yoho National Park, Canada
The place: Located in the Canadian Rockies in Yoho National Park (and 2 1/2 hours from the Calgary Airport), the 13-acre property has 24 warm and inviting cabin-style buildings. The rooms have balconies and wood burning fireplaces, which the hotel stocks daily with complimentary firewood.

How to unplug: There's really no choice but to unplug here. There's no cell reception on the property, or in Yoho National Park, except in the town of Field. Get out and enjoy the nature around you – go cross-country and downhill skiing, snowshoeing and more in the winter; in the summer, try white water rafting, mountain biking, hiking, and canoeing. Or, just sit back, relax and enjoy the stunning setting at this luxe getaway retreat.
Details: Rates at this property start at $170/night in winter (and start at $385/night in summer). 
Grand Canyon National Park, Ariz.
The place: The Grand Canyon in winter may not be your traditional season to visit, but it has a number of advantages over summertime — most importantly, the lack of crowds. The services on the South Rim are open all year, including restaurants, hotels, and campsites. During the day you'll hike, visit Indian ruins, and learn more about the canyon's history at the geology museum. And because Grand Canyon National Park protects dark skies to limit light pollution, every night you'll have some of the best stargazing of your life.

How to unplug: The original off the grid American vacation remains a great way to get out of the data stream and into the wild. Despite heavy tourist traffic, Grand Canyon National Park is isolated enough to have very dodgy cell service.
Details: There are a variety of lodging choices in the park, but we like the El Tovar Hotel, which was built in 1905 and has hosted the likes of Teddy Roosevelt and Albert Einstein. The hotel, where rates begin at $186 a night, will be open during an upcoming renovation, and guests can take advantage of a 30 percent off discount from Jan. 4 to March 6. 
Renaissance Pittsburgh Hotel, Pa.
The place: Rooms at the Renaissance Pittsburgh not only have 12-foot high ceilings, but also have beautiful views of both the Allegheny River and the downtown skyline.
How to unplug: The Family Digital-Detox package is aimed at families that want to ditch the digital baggage and get to know one another again without all the electronic clutter. All family members' laptops, cell phones, and digital devices must be surrendered upon check in, and will be held until your departure. Before you get there, the hotel will remove the room's television, phone, and iPod docking station and replace them with board games and playing cards. The hotel claims this package is one of its most popular deals.
Details: Weekend rates are $289 per night. This package includes overnight accommodations in Deluxe Queen Riverview Room. 
Camp Grounded, Anderson Valley, Calif.
The place: This retreat is designed to recapture the summer camps of your youth, with an emphasis on wholesome fun and games and a boycott on tech devices. The site is a former Boy Scout camp about three hours north of San Francisco in the beautiful Anderson Valley, and features sing-alongs, swimming, archery, even a prom. And just like at camp, you'll be sleeping in bunk beds in rustic cabins.

How to unplug: Upon arrival, campers are asked to hand over phones, tablets, watches, and other technology. Guests will take part in a "human search engine" by posting questions on a bulletin board to tap collective knowledge. They even write letters home on vintage typewriters.
Details: There are three sessions planned for June 2014. Three-night weekend program costs $570 per person.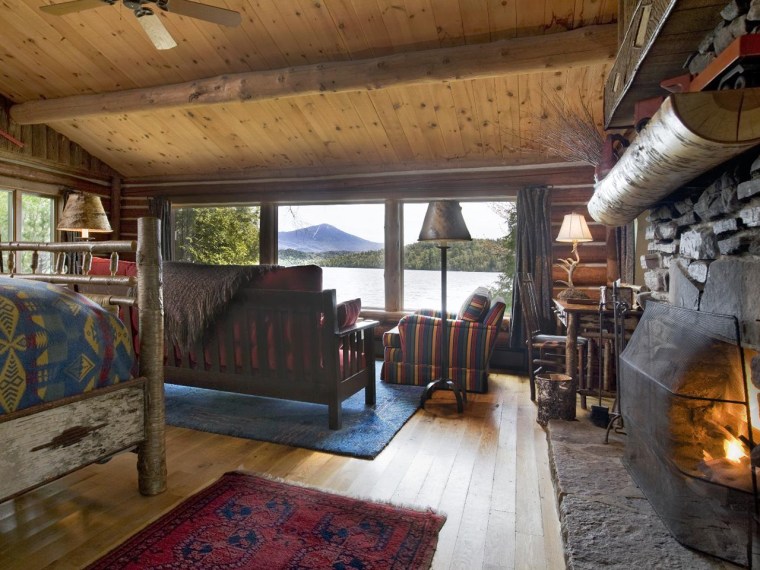 Lake Placid Lodge, Lake Placid, N.Y.
The place: On the luxury end of the scale is the Lake Placid Lodge, an old-school Adirondack camp on the lakeshore in one of the most attractive and lively small towns in America. Each of the guest rooms is spacious, with polished wood furnishings, cozy stone fireplaces, hand-built beds, and Adirondack-style design elements.

How to unplug: The Lake Placid Lodge offers a "Check-in And Check Out Package," for guests who want to get off the mobile merry-go-round. You leave your cellphones, PDA's, laptops, and other electronic devices at the front desk when you arrive. Your only in-room entertainment is the fire in the fireplace, maybe a board game, and, of course, the company of the one you're with.
Details: The two-night package costs $1,340—which, granted, isn't cheap, but includes your guest room or private cabin, complimentary boating, yoga, hiking on the grounds, fishing, and a one-hour cooking lesson with the resort's chef in the Teaching Kitchen. 
Ultima Thule Lodge, Alaska
The place: The Ultima Thule Lodge is about as remote as you can get and still be in the United States. It sits next to the 13 million-acre Wrangell-St. Elias National Park, a hundred miles from the nearest road, and the only way in or out is by bush plane. Instead of worrying what's going on back at the office, guests at Ultima Thule are encouraged to hike in the mountains, learn to fish, and as much as possible get in touch with nature, and themselves.

How to unplug: There's no telephone service. The resort makes its own electricity. It does have an Internet connection, but it's very slow (think AOL dial-up, circa 1999) and limited to one computer.
Details: Rates are $1,700 per person, per night and include all your meals, all bush plane flights, veteran guides, and outdoors equipment. 
Related content from Travel + Leisure