LAS VEGAS — The four-bedroom house that Skye Pearce and Bryan Haas moved into in 2004 was meant to be the place where the couple would settle down and raise a family.
But nearly 10 years and countless financial setbacks later, the bedrooms where Pearce and Haas envisioned their children sleeping are being used for storage and an office. The kid-friendly ledge that runs along the swimming pool is a favorite spot for their dog, Lucky. And Pearce and Haas, now in their forties, say they have never reached that point where they felt financially secure enough to have the children they always wanted.
"When we were talking about having kids and planning on having kids … we were extremely paranoid about the what-ifs," Haas, 45, said. "What if I lose my job? What if this happens? What if that happens?"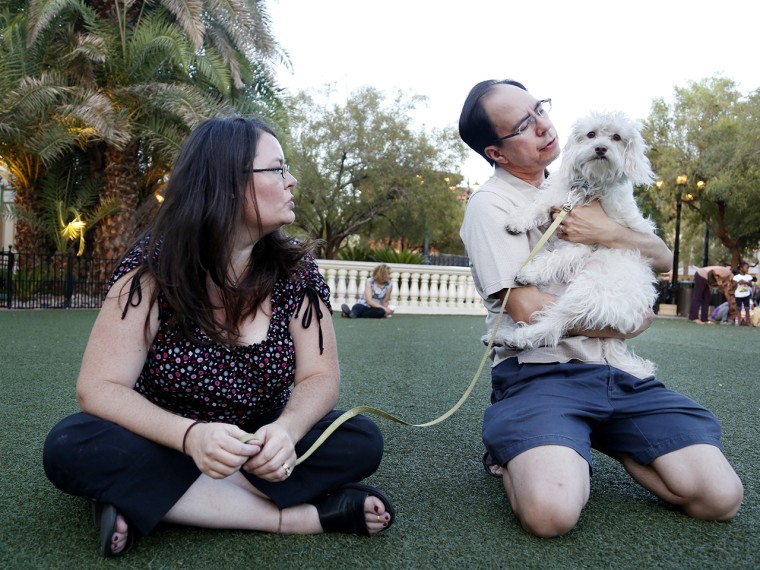 The deep recession and weak recovery appears to have created that type of financial uncertainty among a wide swath of Americans in their prime child-bearing years, according to experts.
The U.S. fertility rate has fallen sharply since the nation went into recession in 2007, hitting the lowest rate ever reported in 2011 and staying there in 2012. There were 63.2 births per 1,000 women ages 15 to 44 in 2012, according to the Centers for Disease Control, down from 69.3 births per 1,000 women in that age range in 2007.
It's common for people to have fewer kids when a recession hits, because they worry that they will lose their job or their home, or just not be able to afford another mouth to feed.
"When times are up, births go up," said D'Vera Cohn, a senior writer at Pew Research Center. "When times are bad, births go down."
This economic cycle has been especially weak, and lasted particularly long. Nevertheless, many experts expect that women who put off having kids because of financial worries will eventually at least try to play catch up. Still, no one knows for sure whether those women will end up having as many children as they might have if the economy were stronger.
"The net effect in the past has been that you had about the same amount of babies … but they were just born a little later," Cohn said.
But, she notes, that may not happen this time.
For one thing, it's unclear when Americans will start to feel good enough about their long-term financial prospects to take on the expense of having a child.
The recession has officially been over for four years, and there are plenty of signs that the job market and the housing market are improving. But Alice Schoonbroodt, an assistant professor of economics at the University of Iowa who has studied fertility and the economy, said many people likely still feel like their financial situation is precarious.
"It takes nine months," Schoonbroodt said. "You need to be confident … that in the foreseeable future things are going to be good."
It's also difficult to parse out the crisis of the recession from longer term changes in how American women are thinking about parenthood.
Even before the recession began, U.S. fertility rates had for decades generally been much lower than the during the Baby Boom era of the 1950s and 1960s. Experts say that's because there are other factors outside the weak economy, such as higher education levels among women, that seem to be pushing many women toward having kids later, and perhaps having fewer children overall.
"It's going to be fascinating to see," said Jonathan Last, author of the new book "What to Expect When No One's Expecting: America's Coming Demography Disaster." "Did the recession just exacerbate trends, or did it really put its thumb on the scale and move people into depressing fertility rates?"
Of course, there's no objective measure of whether a person has enough money to have children. The U.S. Department of Agriculture estimates that a middle-income two-parent family will spend $234,900 raising a child, and that's before college costs. That 2011 estimate is a 23 percent increase from 1960, adjusted for inflation.
For lower-income women, the concern may be that having a new baby will push them below the poverty line. Wealthier parents, in turn, may worry that having another child will mean that they can't parent in the way that they would like – which in this modern world often includes everything from fancy strollers to pricey sports camps, plus a hefty college fund.
"For many in that group, they parent in a very expensive way," said Laura Lindberg, a senior research associate with the Guttmacher Institute who studies fertility trends.
Haas, the childless husband in Las Vegas, said he's given a lot of thought to the question of how much money you really need to have a child. Recently, he said, a co-worker who is so financially strapped that he can't afford a car nevertheless had a new baby.
"Am I selfish because I want to have a car?" Haas wondered.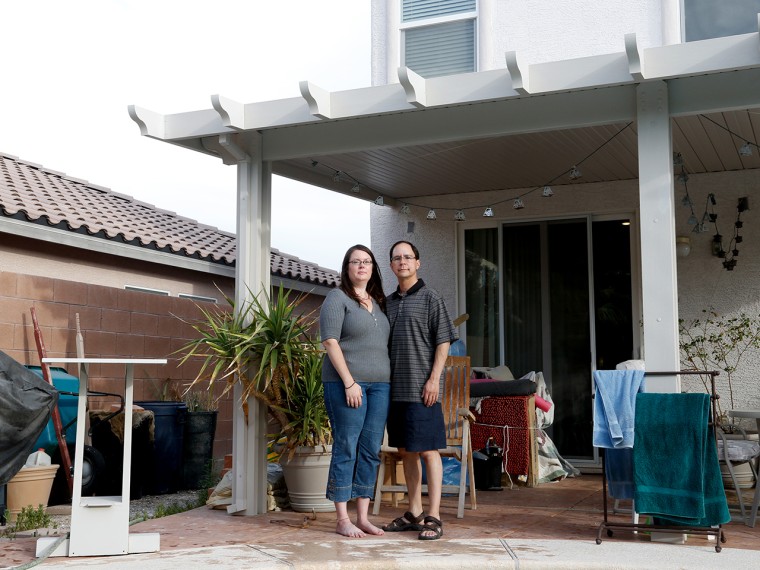 One setback after another
Haas and Pearce, who have been married for nearly 15 years, suffered their first major setback in 2001, when Pearce lost her job and Haas was demoted at his.

They were living in Northern California at the time, and buying a house in the pricey Bay Area seemed to grow even further from reach. They decided to move to Las Vegas for the lower cost of living and more affordable housing.
They chose a brand new house in a quiet subdivision on the outskirts of town. Pearce said she opted for a design with bedrooms on either side of a bathroom, in case the kids didn't like sharing a wall. An extra bedroom off the kitchen was meant for Pearce's mother, who was talking about moving out from Texas to help with the kids.
Pearce landed an administrative job in the commercial division of a bank, and Haas stayed in California for about a year before finding a full-time position as a manager at a temporary employment company.
He took a second, part-time job with the major shipping company he had worked for in California, often clocking in seven days a week so he could help out his mom, who was having her own financial struggles.
All along, the couple talked seriously about when they would have kids, even looking at cribs, buying a few baby items and attending parenting classes.
Then, in 2008, Haas lost his full-time job. He was able to go full-time at his other workplace, but his total pay was reduced to around half what he had been making working both jobs.
In 2010, Pearce fell and fractured her elbow. She has had three surgeries and, for the past year, has been unable to work because of chronic pain. Meanwhile, the couple suffered another blow when Pearce's mother passed away, leaving the couple to sort out financial issues including a home in Texas in need of extensive repairs.
Haas is still working at the shipping company, and he was recently promoted to assistant manager of a busy branch. But he's still making far less than he once did, and these days, he and his wife rarely even talk about having kids.
Haas likens it to how it feels when you're cruising along the freeway in the far left lane and see your exit coming up. You keep thinking you have time to get over, so you keep putting it off.
"Now we've reached the point in life (where it's like), 'Crap, I missed my exit," he said.
At nearly age 42, Pearce knows there's a significant risk she won't be able to have kids at all. But to even try to get pregnant, she said, she would have to feel more confident that she could work again and the couple could make enough money to afford child care.
"I could never really see that in 12 months things will be perfect," she said.
Uncertain future
Fertility rates for women in their early 40s actually increased slightly in recent years, bucking the overall trend, according to the Centers for Disease Control. Experts say that's likely because those women are reaching the point where they can no longer physically expect to delay parenthood, and are deciding it is worth the risk.

Meanwhile, fertility rates for teens and women in their early 20s have seen the sharpest drops.
Some researchers believe that is evidence that many women who have put off having kids will have time to make up for those delays, and will still have the number of children they always wanted. But as the economic uncertainty drags on, and other factors delaying childbirth continue to come into play, some women may miss the window during which they can have children.
"History teaches us that there will be a bounce back. But whether it will be a full recovery, I don't know," said Cohn, of Pew.
Pearce admits that she sometimes feels jealous of her friends who have kids, and Haas said it can be awkward to talk to people who either assume they have kids, or think they just didn't want to be parents.
About a year ago, the couple lost their elderly cat. After what Pearce called the loneliest week of her life, they went to the pound and picked out a puppy they named Lucky. Soon after, they brought home a kitten named Bunny.
"It helps fill the void of having no kids," Pearce said.
Allison Linn is a reporter at CNBC. Follow her on Twitter @allisondlinn or send her an e-mail.
More from TODAYMoney: