Love is in the air. Forget the boxed chocolates and last-minute Walgreens pickup and put some thought into your Valentine's gift this year with these early ideas. From mood-setting, color-changing candles to DNA portraits—the most personalized gift of them all—here are some of my top picks (and some bonuses not seen on-air) for this Valentine's Day.
Playbulb Candle, $18.99, playbulb.comCandles have reached a whole new level with the LED, app-controlled Playbulb Candle. You can control the color of the light, flicker, brightness and even sync it with a group of other Playbulbs so they all change colors at the same time. The unique design also allows you to flip it upside down and it acts as a candle holder (to a real tea light candle, that is), and, thanks to a sensor, you can blow it out to turn it off! Comes with lavender scent and runs on three AA batteries.
S'mores Pillow Warmer, $39.99, smokonow.comGot cold feet? Heat 'em up with this super adorable heated S'mores pillow! The plush pillow works great when it's in use (it comes with a rechargeable lithium ion battery) and just as cute when it's sitting on your couch as decoration.
Nordicware Cookie Cups, $17.50, nordicware.comCookies just got decidedly more complex with the Nordicware Cookie Cups. Say ciao to the boring old flat, circular treat and hello to shapely cookie cups and cookie globes! One cookie cup makes a cookie bowl, or top with another to make a cookie sphere, and then get as creative as you want with decorating and filling. Icing-covered-ice-cream-filled cookie globes, anyone? Two trays make up each set.
Heat Changing Mugs (including heart), starting at $9.99, thinkgeek.comI use every holiday as an excuse to give out these mugs, and Valentine's Day is no exception. Watch as the Pixel Heart changes from black to red as you fill the cup with your favorite hot beverage. Other favorites: Tetris and 8-Bit Rise and Shine. Good morning!
DNA portraits, starting at $175, dna11.comCustom art takes on new meaning with these portraits. With this kit, you can create a portrait that transforms your own DNA, fingerprint or kiss into personalized modern art. I love the idea of taking the DNA from a couple or family (up to four people) and livening up any room with it.
Heart Message Pillow, $19.99, personalcreations.comWe all know and love Conversation Hearts. This calorie-free, sugar-free option lets you customize your own message—up to three lines—and present it on a pillow. How sweet is that? Comes in pink, purple, red and blue and each pillow heart comes with a box of Sweethearts.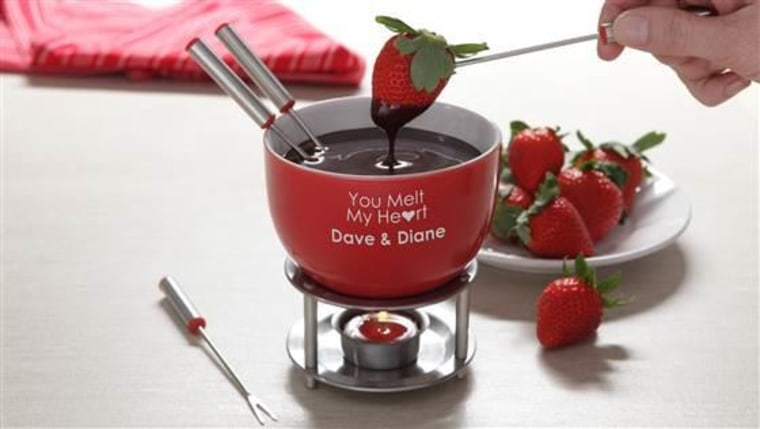 Personalized Fondue Set, personalizationmall.com, $32.95Why drop big bucks on a dinner out when you can create your own romantic, candle-lit fondue meal? Add a heart-felt message and your names to personalize the fondue set, then gear up for chocolate and cheese!
Heart Egg Molder, $5.99, perpetualkid.comWho wants circular eggs when a heart-shaped egg says it all? Start Valentine's Day off right with this heart egg molder. It's versatile, so you can also use it to shape pancakes, cookies and other edibles.
I ♥ You Toast Stamper, $3, archiemcphee.comNeed some toast to go with your heart-shaped eggs? Don't just serve a complete breakfast, serve a complete message with the "I ♥ You" toast stamp.
You can follow tech contributor Katie Linendoll on Twitter and Facebook.