Alex Morgan, part of a group of U.S. women's soccer stars who filed a federal complaintover equal pay, is speaking out about her decision to publicly raise the issue.
In an essay for Cosmopolitan published on Equal Pay Day, Morgan, 26, writes about the effect of growing up in a household where her mother and father played equal roles and how that has motivated her to speak out about pay equality. She joined fellow U.S. Women's National Team stars Carli Lloyd, Megan Rapinoe, Becky Sauerbrunn and Hope Solo on March 31 in filing a complaint with the Equal Employment Opportunity Commission against U.S. Soccer claiming the women's team should be paid an equal amount as the U.S. Men's National Team.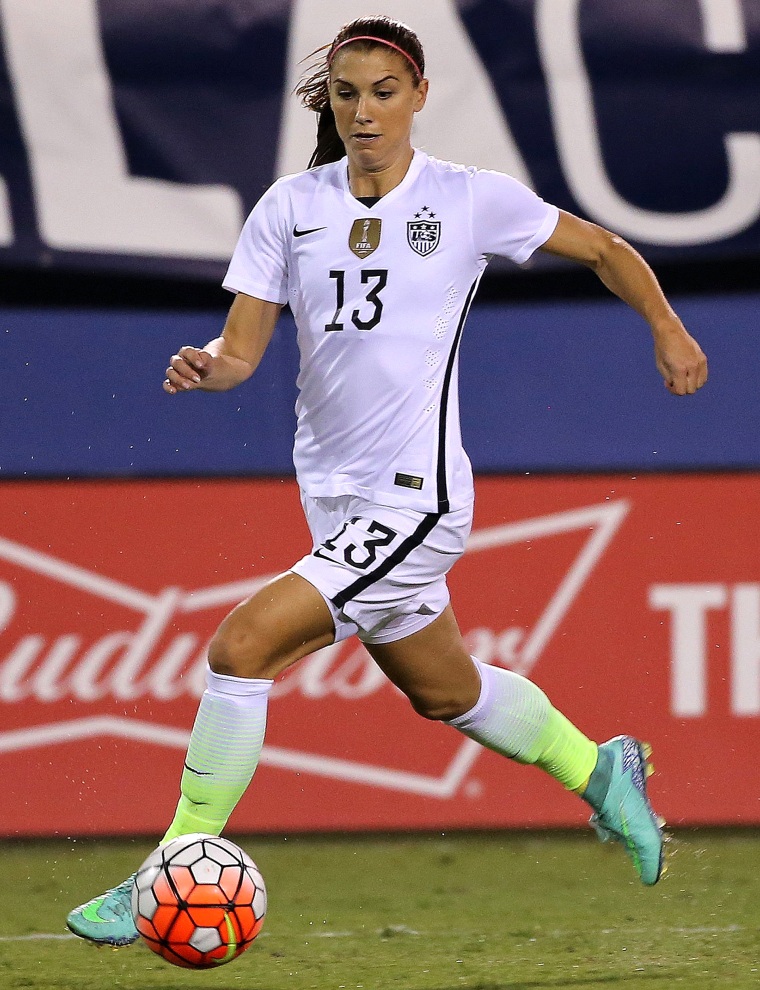 "This is not about the women's team going after the men's team, or comparing stats and records with them,'' Morgan wrote in her essay. "We love those guys, and they havecome out publicly in support of our filing and have offered to help however possible.
RELATED: Carli Lloyd on World Cup win: We'll 'cherish this moment'
"They have also fought their way to better compensation, and without them fighting for what they have, we would have no general benchmark for what we deserve: equal pay for equal play. It's a pretty simple concept. But as with so many professions in the United States, it is still not a reality for the female soccer players who represent this country."
When the USWNT won international soccer's most prestigious event, the World Cup, in 2015, the team earned $2 million in prize money that was given to the national federation to be distributed to the players and the organization. Meanwhile, the men's team, which lost in the World Cup's Round of 16, earned $9 million. The men's team that won the tournament, Germany, earned $35 million.
RELATED: Patricia Arquette: I 'lost' roles after Oscars speech about equal pay for women
"We believe now the time is right because we believe it's a responsibility for women's sports, specifically women's soccer, to really do whatever it takes for equal pay and equal rights and to be treated with respect,'' Solo told TODAY in an exclusive interview on March 31.
The women's team is projected to make millions in revenue this season, while the men are projected to lose at least a million, according to Morgan.
"And yet we continue to lag behind in pay,'' Morgan wrote. "It was time to take a stand."
RELATED: Equal pay, more work perks: 5 job search trends for 2016
U.S. Soccer responded by noting that the women's players signed off on their salaries in their last collective bargaining agreement and that they enjoy benefits like maternity leave and injury pay that the men's team does not receive, according to The New York Times.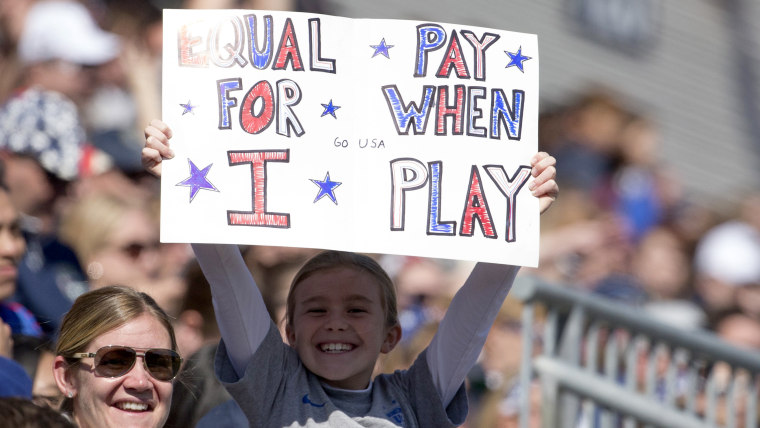 The group of stars also decided to file their federal complaint with an eye on influencing the next generation.
"We ultimately decided to file this motion for all the little girls around the world who deserve the same respect as well as the boys,'' Morgan wrote. "They deserve a voice, and if we as professional athletes don't leverage the voices we have, we are letting them down. We will not let them down."
Follow TODAY.com writer Scott Stump on Twitter.