The blizzard that has dumped inches of snow across the Midwest could not have come at a worse time for many travelers trying to get home for Christmas. It's also pretty bad timing for the nation's shipping companies on one of the busiest days of the year.
If they don't deliver their packages on time, grandma may not get her scarf for Christmas, or worse, hundreds of companies may not live up to the promise they made to online shoppers to deliver packages in time to go under the tree.
Enter the meterology teams from FedEx and UPS. 
Each company employs in-house weather experts who examine jet streams, satellite images and temperature trends to make sure trucks and planes have all the information they need when delivering all those packages that need to get there now.
"They will tell you that a boring day for them is a good day for UPS because when the weather is quiet, that's good. We can operate well," said Mike Mangeot, a spokesman for UPS Airlines.
"When they are really, really busy, that's usually not ideal for the company because we are going to have to deal with snow or a hurricane."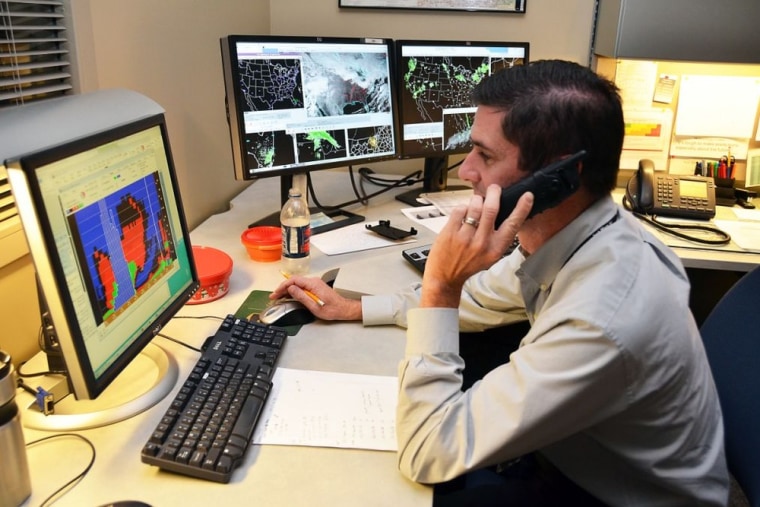 The staff of five UPS meteorologists – located at the company's Worldport international air hub in Louisville, Ky. – was certainly hard at work on Thursday, the busiest day of the holiday season for UPS and the second day of a massive winter storm that was disrupting travel in the Midwest.
Related: Holiday travel alert: Storms deliver foot of snow in central US
The timing couldn't be worse for a company that expects to deliver 28 million packages today, or almost double a normal day's load. So far, UPS is reporting service delays in parts of Iowa and Nebraska because of the snow.
Similar bad weather prompted the company to start hiring meteorologists in 1994, when a major ice storm shut down Louisville for days.
"Our customers in Barcelona and Beijing don't care that it snowed in Louiville, Kentucky. They want their packages," Mangeot said. "So we felt the need to have a greater read on the weather that was coming."
Today, the company's forecasters are on duty 24 hours a day, five days a week, and they're on call on the weekends. They watch everything from snowstorms in the Midwest to tsunamis in Asia to Icelandic volcanoes, Mangeot said.
Their tools include a simulated airplane wing with built-in sensors that sits outside their building to help forecast possible icing conditions.
The meteorologists brief flight controllers, contingency planners and other operations experts at the UPS Global Operations Center in Louisville, who then decide how to keep things running smoothly even during bad weather, Mangeot said.
Thursday was a good example. Up to a foot of snow was expected to fall in the Des Moines area, where UPS sorts a number of packages, so based on the forecasters' information, the company made the call to shift all those packages for sorting in Louisville, Mangeot said.
FedEx is also closely following the storm with the help of its 15 staff meteorologists, all based at the company's headquarters in Memphis, Tenn. The company warned that the weather could cause pickup and delivery delays and disruptions in the Midwest.
"We joke around that sunny and clear is kind of a boring weather day, and days like today when there's a major storm going on, we get a little excited because we're more in the spotlight," said Kory Gempler, a senior meteorologist at FedEx.
"We're being counted on to deliver accurate weather information so our decision makers can manage the weather, work around the weather and make weather invisible to the customer and packages get delivered."
FedEx's in-house meteorology department began in 1986 when founder Fred Smith decided he wanted his crew members to have the best weather information, Gempler said.
Operational forecasters are on duty 24 hours a day, seven days a week. How far ahead they look depends on who is asking for the information: a pilot flying across the country may want to know what's going on in the next six hours, while a hub may be interested in what kind of winter to expect so they know how much de-icing fluid to order, Gempler said.
There are daily weather briefings at the company, with any adverse conditions affecting FedEx hubs getting the most attention. This is the most intense time of the year for the meteorologists because they know the timely delivery of precious presents is on the line, Gempler said. But count on your packages getting there on time, he added.
"This company has been around a long time, we've seen a lot of weather events and disasters. We can go back and see what we did and work around the weather," Gempler said.