Little Suzy has soccer practice. Timmy needs to get to his recital. You have an important meeting. Don't worry, a new startup says it has you covered.

It's called Shuddle. It was founded by Nick Allen, one of the guys behind Sidecar, a ride-sharing service like Uber and Lyft that connects drivers with passengers through a smartphone app. This service, however, is meant for (although not necessarily limited to) children. 
"The foundation of this whole thing is trust," he told TODAY. "When you create an account, you actually get a phone call from us welcoming you. We are there to answer any questions you might have, and parents have a lot of them."

It certainly sounds convenient. But would you put your kid in a Shuddle car? Tell us what you think!
Obviously, the idea of entrusting a child to an unknown driver will give some parents pause. That is why Shuddle only hires drivers with two references confirming that they have experience working with children. They also have to pass national and local background checks, a vehicle inspection, and a face-to-face interview and training process.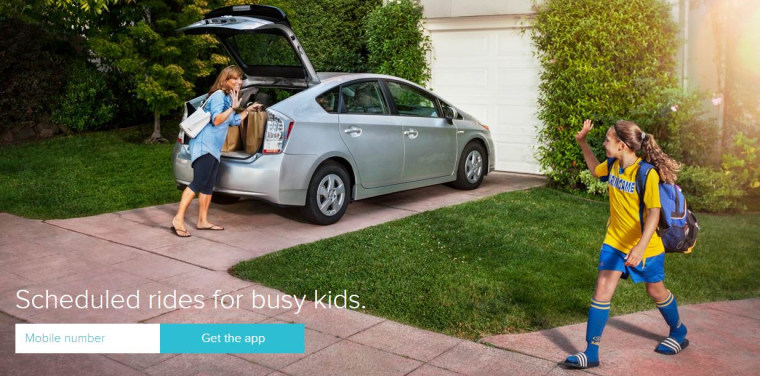 After that, ordering a car from Shuddle works like this:
Parents download the app and sign up for a Shuddle Pass membership, which costs $9 a month, plus fares for each ride. 

Rides can be scheduled anywhere from a day to a week in advance through the app. 

The driver arrives and answers a secret word chosen by the family to confirm their identity as a Shuddle driver.

Parents can watch the progress of their kids in real time on their phones. 

Once the ride is over, parents get a message from Shuddle telling them their kids have reached their destination. 
Right now, the service is only available in San Francisco, but Allen plans to expand in the future. He originally got the idea watching parents order Uber cars for their kids. Companies like Uber and Lyft, he said, don't have the insurance to cover passengers under the age of 18. Shuddle does. 
He is also using the family-focused service to attract female drivers who might not be comfortable driving drunken guys home from a bar at 2 a.m.
"Most of our drivers are nannies, teachers and child-care providers," he said. "Our value proposition to them is, 'Hey, our customers are all families, these rides are happening during the day and you can schedule them ahead of time,' and that really resonates with women."
In fact, right now all of Shuddle's drivers are women. The company is accepting new members slowly to make sure it can recruit enough drivers to offer families rides whenever they need one.