The image of the 11-inch Subway sandwich marketed as "Footlong" that ignited an online chuckle-fest last week has now sparked a lawsuit.
Citing "false, deceptive" and "misleading affirmative statements of fact," two New Jersey men, John Farley of Evesham and Charles Pendrak of Ocean City, sued Subway on Tuesday to regain losses of 5 to 8.3 percent on the several "Footlong" sandwiches they bought from the sandwich store -- about $.41-$.54 per sub, depending on whether it was the $5 or $6.50 kind. The lawsuit, which is seeking class-action status for anyone who bought a sandwich in New Jersey from January 22, 2007 to the present, asks for triple damages. That comes to a grand total of $1.23-$1.62, which is not even enough to buy yourself a new sub. The lawsuit specified one date in December Farley bought a Footlong, and three dates between December and January that Pendrak bought Footlongs, along with "various other dates" on which each bought Footlong sandwiches.
After Australian Matt Corby, having a bit of fun, last week posted a photo of a "Footlong" Subway sandwich next to a measuring tape showing it as only 11 inches long, the picture went viral and kicked off a media pig pile. The two approached lawyers after reading the short sandwich news coverage, their lawyer Stephen DeNittis told the New York Post. Online commenters identifying themselves as Subway employees speculated that the consumers were receiving exactly the same dough as others who got 12-inch subs but that the dough, which arrives frozen at franchise locations, hadn't been properly tugged, pulled and "proofed" before it was baked.
Because the legal action is still pending, Subway spokesperson Les Winograd declined to comment on the case specifically.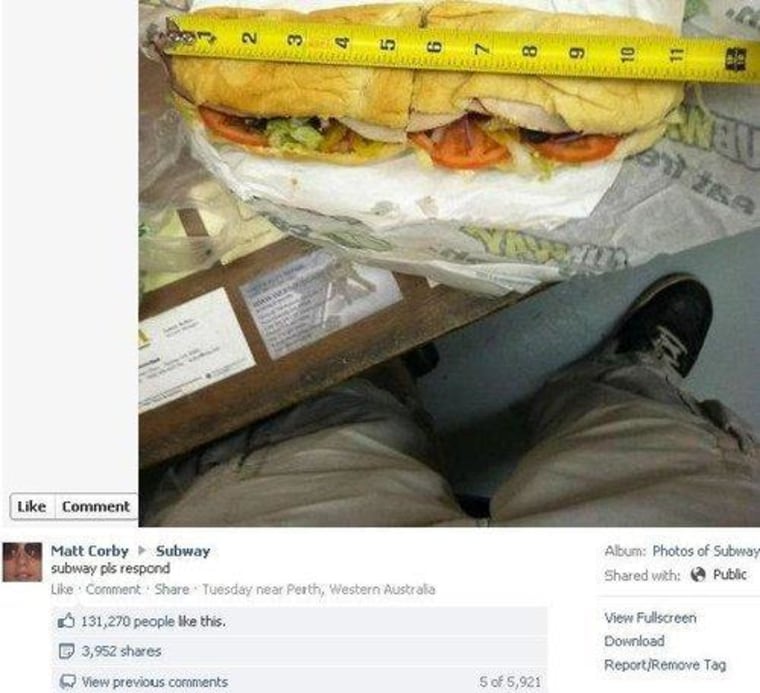 "We regret any instance where we did not fully deliver on our promise to our customers," Winograd told TODAY via email. "We freshly bake our bread throughout the day in our more than 38,000 restaurants in 100 countries worldwide, and we have redoubled our efforts to ensure consistency and correct length in every sandwich we serve. Our commitment remains steadfast to ensure that every SUBWAY® Footlong sandwich is 12 inches at each location worldwide."
Stephen DeNittis, the lawyer for the plaintiffs, told TODAY that his firm had "Footlong" sandwiches from 14 different Subway locations measured, and each fell short. 
DeNittis shrugged off the suggestion that regardless of the sandwich length, consumers were still getting the same amount of dough in their loaf, saying, "If they were selling by net weight, that would be a good argument."
The case is worthy of the court's time, DeNittis said. "It's no different than if a wireless company is profiting on a 14-cent hidden fee."
DeNittis, an experienced class-action lawyer, is familiar with the criticisms of his trade, such as class actions profit the lawyers with big fees while consumers walk away with coupons. DeNittis said class-action courts were set up to deal with consumers with small-damage cases. Any fees lawyers receive are court-approved, he said, and are based on the "hundreds of thousands of hours" they can take to prosecute, as well as factoring for the risk the lawyers take on when they accept the case. 
"If you believe it's OK to shortchange consumers on little fraud ... if you think it's only OK to go after companies for big fraud," then you probably won't think this case measures up, he said.
The case is about "holding big companies to deliver what they promised," said DeNittis. "When you expend it over millions of sandwiches, it adds up." He added that his firm "will be investigating to find out if Subway intentionally made sandwiches smaller to profit unfairly off consumer deception."