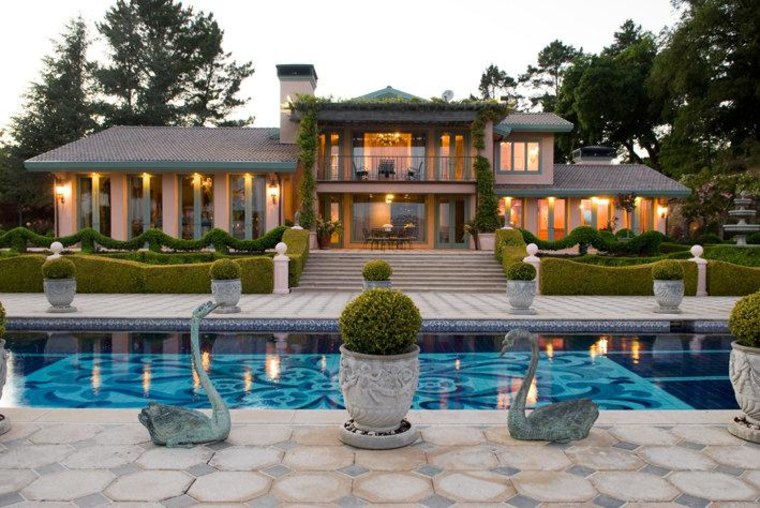 Listing: 2 bedroom, 4 bath, 2 additional guest residences, Cabernet vineyard
Location: Napa Valley, California
Price: $13.75 million
More than 25 years ago, the Ristows thought they knew exactly where they wanted to build their first Napa Valley home. But then a friend showed them a 30-acre plot near Silverado Trail in the Napa Valley and they bought it on the spot. They named it Quinta de Pedras — Portuguese for "place of stones"— because they would have to plant the vineyard on a very rocky terrain.
The Ristows worked with a San Francisco architect to build their dream home, which also includes a pond, pool, tennis court and two guest residences. But the real magic of the property is the Cabernet vineyard, where the Ristows produced their own wine under the Ristow Estate label up until 2004. They used the home as a weekend getaway and hired a vineyard manager to oversee the vineyard.
"The property could be a lifestyle only or for someone who seriously wants to make their own wine and market it," said property realtor Nicki Naylor, of Alain Pinel Realtors.
The drive from the Napa Valley to San Francisco is only about an hour, Naylor added.
Seem expensive? Maybe. But consider the average price for an acre of vineyard land in Napa County is between $70,000 to more than $300,000 according to Dave Holt, owner of Agri-Comm Appraisal in Napa and Sonoma counties.
Listing courtesy of LuxuryRealEstate.com, Alain Pinel Realtors and Pacific Union International