Donald Trump to YouGov about its survey that suggests he's to blame for a 45 percent drop in Macy's popularity among women: "It's total bull@!$%#."
"The survey is a joke. The person who did this is a joke," the Donald told TODAY regarding YouGov's online survey that saw a steep dropoff in the retailer's popularity after a SignOn.org petition asking Macy's to "Dump Trump," launched and began gaining over 670,000 digital signatures.
Trump spokesman Michael Cohen added, "These aren't controlled surveys."
YouGov holds daily surveys of 1,000 consumers on hundreds of brands, sometimes in exchange for prizes and compensation.
"YouGov is recognized as one of the most accurate and highly respected researcher companies in the U.S. and internationally. In our daily BrandIndex survey, we carefully select a representative sample of 5,000 U.S. consumers age 18+ and collect their opinions on 1,000 brands.  Hundreds of companies depend on our information every day and trust us to present the data truthfully, whether it is good news or bad news," said YouGov BrandIndex SVP and Global Managing Director Ted Marzilli.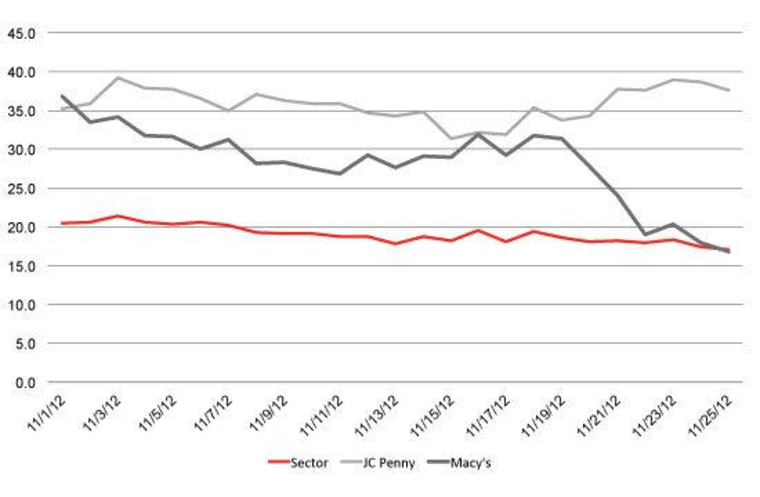 Trump noted his continued television success and high demand for guest appearances. "You can't have a successful show without women," he said.
The online petition started on October 24th and declared that Donald Trump, known for being obsterperous, "doesn't reflect the Magic of Macy's." Macy's offers a line of Trump branded ties and fragrances in its store and featured Trump in a recent holiday television ad that at one point comedically played off Trump's skepticism over President Obama's birthplace. The petition urged the retailer to cut ties with Trump, rather than sell them.
The petition was started by Angelo Carusone, the director of online strategy for Media Matters, which is a DC based organization "covering and correcting conservative misinformation in the media." The online petition quickly racked up a several hundred thousand digital signatures within a week. Carusone's plan is to deliver it in-person to Macy's CEO Terry Lundgren.
In a statement, Macy's told TODAY:
"Macy's marketing and merchandise offerings are not representative of any political position. Many of the individuals associated with products sold at Macy's – or at any retailer, for that matter – express personal opinions that are not related to the merchandise we sell or to the philosophies of our company. 
Trump said that he and Macy's have not discussed the petition.
"Two million people follow me on Twitter," said Trump. "I can get any kind of petition going I want."
Trump's reputation, and notoriety, is built on being outspoken. 
A recent report in The Daily News said Trump's children had cautioned him to tone down his remarks on Twitter, which have attacked President Obama and Cher. "It's a false story," said Trump. "Ivanka and Don never did that. They would know to never do that."
So, no plan to tone down the public utterances?
"I don't do it by plan," said Trump. "I do what's right. I don't have a plan."
Los Angeles based image consultant Farrah Parker told TODAY, "Trump already presents an authentic liability for the brand. The only question is how much is Macy's willing to risk on assuming that consumers simply don't pay attention."
Ashley McCown, president of Solomon McCown & Company, a Boston-based PR and crisis communications firm, said Macy's "knew what they were getting into," when they signed up with Trump.
"If they start to see a true impact on sales, they may make minor adjustments, like featuring him less prominently in ads."
Until then, she said, "they're standing by their man."